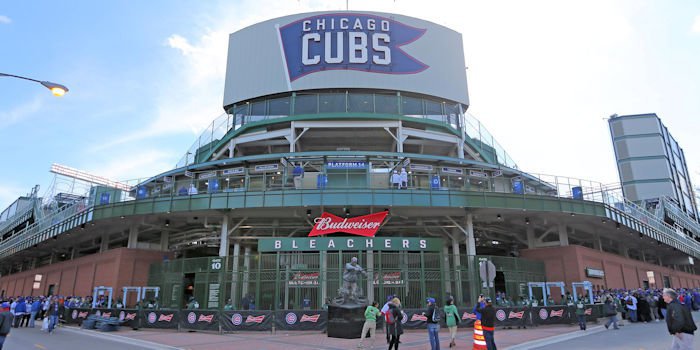 | | |
| --- | --- |
| Cubs to host the World's largest Flip Cup Game | |
---
| | | |
| --- | --- | --- |
| Thursday, May 26, 2016, 4:11 PM | | |
CHICAGO--(BUSINESS WIRE)--Hefty® in partnership with the Chicago Cubs today announced the launch of "Hefty Flips for Charity," a new activation that celebrates the spirit of fun and camaraderie symbolized by Hefty® Ultimate™ Party Cups. On June 3, 2016 Hefty will host the World's Largest Flip Cup Game at Wrigley Field and donate a total of $40,000 to two charities of the Cubs players' choice.
On June 3, 2016 Hefty and Chicago Cubs will set the record for the World's Largest Flip Cup Game at Wrigley Field.
Tweet this
Following the Cubs home game against the Arizona Diamondbacks on June 3 at 1:20 p.m. CDT, participating fans will converge on Wrigley Field—led by Cubs' player team captains—to set the world record for the largest flip cup game ever played. The cups will be filled with water, and participants will take turns drinking the liquid and then flipping the cup so it stands upright on the table, signaling the next person to take his or her turn. The first team to finish wins. Officials from RecordSetter.com, an independent, third party validating organization, will be present at the game to witness the historic feat and designate the event with official world record status. Fans are invited to capture and share the fun on social media using the hashtag #HeftyFlipCup. Interested participants age 21-and-older may register to play, with a game ticket provided by Hefty, at www.cubs.com/hefty.
Hefty® Ultimate™ Cups became the Official Cups of the Chicago Cubs and Wrigley Field through a partnership that was announced last April between the Chicago Cubs and Reynolds Consumer Products. Since then, the collaboration between these two iconic Chicago brands has resulted in innovative activations such as the Reynolds Wrap™ foil tarp that covers the entire baseball diamond when it rains. Hefty has also focused on creating content designed to spark social engagement, teaming with agency partner Havas Chicago to create the "Hefty® Ultimate™ Cubs Game" online video, which generated more than one million views on Hefty's YouTube channel, and most recently Cubs and Hefty co-branded Snapchat filters.
"By hosting the World's Largest Flip Cup Game for Charity we wanted to create an experience that captures the brand spirit of bringing people together with a sense of fun and friendly competition, all within the context of how consumers are already using our party cups," said Lynnette Hinch, Director of Marketing, Hefty® Tableware.