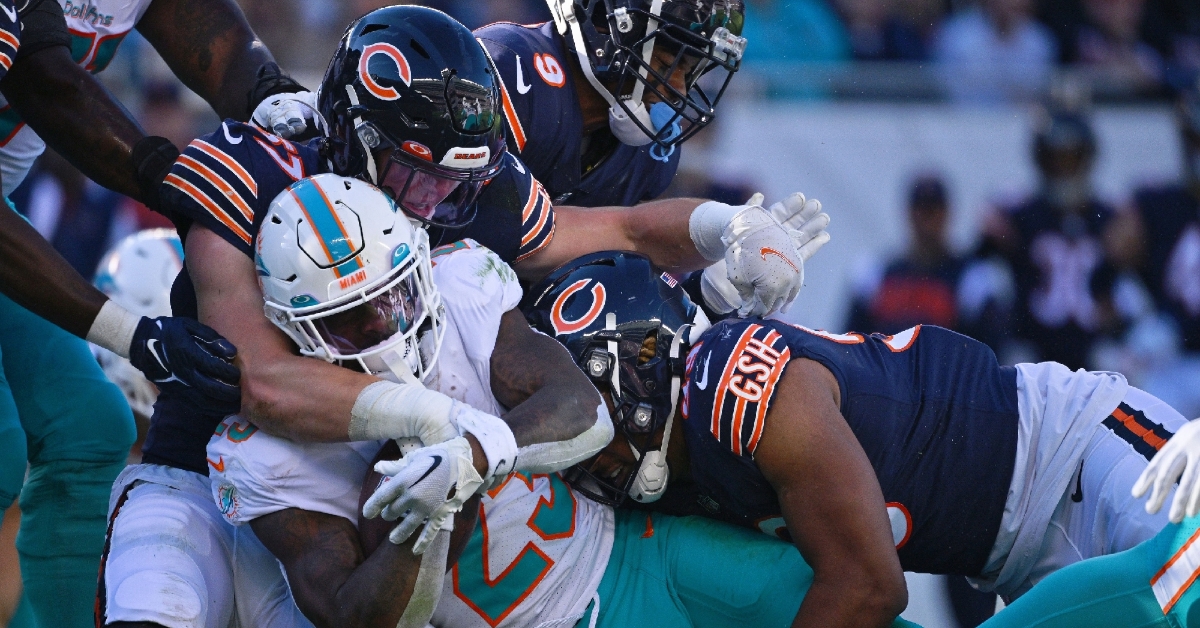 | | |
| --- | --- |
| Bears may have found their future linebacker duo | |
---
| | | |
| --- | --- | --- |
| Tuesday, November 15, 2022, 10:32 AM | | |
In a season with its share of ups and downs, the Bears continue to focus on the task at hand and aim for the future. Part of the task at hand is realizing that this is a rebuilding year and doing whatever it takes to improve for the future, even if some of those decisions are not easy.
I am referring to getting rid of Khalil Mack this offseason, then turning around and trading both Robert Quinn and Roquan Smith within a week. The result was that the once daunting Bears defense had become one of the worst in the league as they can't stop their opponents.
No one expected the Bears defense to play at their 2018 level this season, but at the same time, no one expected them to be this bad either. However, when you look at how much change that unit has seen over the last nine months, does it surprise you?
This unit returns Eddie Jackson and Jaylon Johnson as the lone starters from last season, with more players leaving as a part of the deadline. Despite their struggles, some good might come out of it, as the Bears may have a future linebacking duo in Jack Sanborn and Nicholas Morrow.
Morrow shouldn't be a shock to anyone, as the Bears acquired him via free agency last offseason after spending some time with the Raiders. Primarily a backup or particular package type of linebacker, Morrow always produced when called upon, and you are seeing that again this season.
When on the field, Morrow has played well this season, and that continued on Sunday when he picked up six tackles. Three of those tackles were for a loss as he has filled in to play the role left by Smith. Morrow is a veteran in the middle of the defense that will handle getting the plays — something Roquan did previously — and provide speed on the weak side.
Whether that is a long-term or short-term thing will have to be unpacked later, but the bottom line is Morrow can play and is getting his opportunity. Sanborn, on the other hand, is one to not only watch this season, but someone who could be turning himself into a starter right before our eyes.
The former Wisconsin Badger LB was a dominating force for Jim Leonard, and that defense coming away with 89 tackles, five sacks, and 16 tackles for a loss during his senior season. Despite that type of production, Sanborn somehow went undrafted, which was one of the biggest shocks of the weekend.
Well, one man's trash is another man's treasure, and for the Bears, 31 teams' trash is their treasure, as Sanborn was signed as an undrafted free agent and was elated to be joining the Bears. Not only did Sanborn make his first career start on Sunday, but he played so well that many more starts are in the future for this year and possibly beyond.
If you watched the Bears during the preseason, his play shouldn't surprise you, as there were flashes of this all camp long and into the preseason. His biggest issue was getting an opportunity to play which is coming now.
Not only that, but Sanborn is an Illinois native that balled out in his first start, as everyone loves a feel-good, home-town story. Granted, he still makes a ton of rookie mistakes which is to be expected, but the tapes don't lie. This guy can play, and there is a good chance he could become a permanent starter.
Credit Ryan Poles for finding a guy like Sanborn and giving him a chance to prove himself during the summer. In doing so, the Bears may have a diamond in the rough and potentially one of the best LBs in the 2022 draft class, even if he was undrafted.
IT'S SANBORN SZN @PSchrags | @ChicagoBears | #DaBears pic.twitter.com/dEYXJpOwit

— Good Morning Football (@gmfb) November 15, 2022
Penalty shmenalty... it's Jack Sanborn. pic.twitter.com/HDK0PQW3Ol

— Bearlissimo (@Bearlissimo1) November 13, 2022
Remember when nobody drafted Jack Sanborn?#Badgers pic.twitter.com/ISEOPzNNpy

— Evan Flood (@Evan_Flood) November 13, 2022