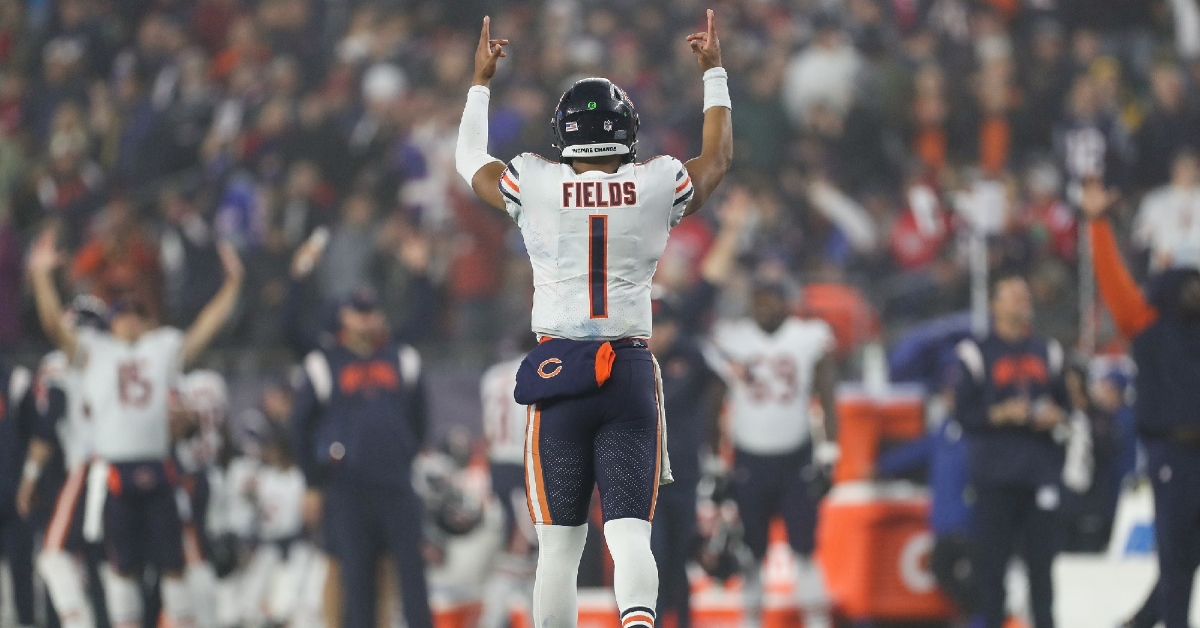 | | |
| --- | --- |
| Bears with complete performance in win against Patriots | |
---
FOXBORO - It is incredible how much difference a week can make. One week after being embarrassed on Thursday night football by the Washington Commanders, the Chicago Bears (3-4) found themselves on Primetime again as they took on the New England Patriots (3-4). Not only was Chicago the beneficiary of coming into this game off a mini-bye, but they had some extra motivation as a lot of history was on the line.
The most obvious number was 325, as Bill Belichick had a chance to win game No. 325 as a head coach, which would move him into sole possession of second place ahead of George Halas. Belichick also entered the game 5-0 against the Bears as the Patriots head coach, and Chicago came to Gillette Stadium looking for their first-ever win at Foxboro.
All signs pointed in the direction of the Patriots, but that is why you play the game. Not only did Chicago start fast, but Justin Fields and the offense played their best game of the season as they ripped off 23 unanswered points to end the game and came away 33-14 victors. The win not only ended a three-game skid, but kept Belichick tied with Halas for at least one more week.
Getting back to Fields and the offense, this is the guy Chicago drafted as he put on quite a show. Sure, at 13-21 passing for 179 yards, a lot still needs to be corrected, but he did show significant improvement. He threw for one touchdown mixed with an interception, but it was the other part of his game that stood out. Not only did he finish with 14 carries, but he led the team in rushing with 82 yards and another score, as his legs were the difference in the second half.
Luke Getsy has been under fire all season regarding his play-calling ability for this offense. However, this was the one game where those questions were laid to rest. With David Montgomery getting things going on the ground, Fields was able to use his arm to hook up with Darnell Mooney and Eqanimeous St. Brown to help set up a 42-yard field goal from Cairo Santos.
Following another quick three-and-out from Mac Jones and the Patriots offense, the Bears went back to work on the offensive end, where Fields continued to spread the ball around, finding Cole Kmet, St. Brown, and N'Keal Harry to keep things moving. Fields finished that drive with a three-yard touchdown run as the Bears were up early 10-0.
This was when things looked like they were about to change as Jones finally started to put a decent drive together, only to have Jaquon Brisker come away with an interception. That was the final pass Jones threw as he finished the game 3-6 for just 13 yards as Belichick benched him in favor of the rookie Bailey Zappe.
Ever since Zappe took over this offense, the Patriots have looked like a much different team, and the moment he entered the game, you could see why. With the offense doing next to nothing for their first three possessions, Zappe goes 3-3 for 54 yards on his first drive, including a 30-yard touchdown strike to Jakobi Myers to put New England on the board. Following a costly interception from Fields that gave the Patriots excellent field position, Zappe needed just three plays to take the lead hooking up with Davante Parker for 43 yards, while Rhamondre Stevenson ran one in from four yards out to take a 14-10 lead.
When that score happened, you could see a jolt of energy enter the Patriots sideline as the momentum was entirely behind Zappe and company. Unlike other games that saw the Bears crumble in these situations, Chicago used this as motivation and put together one heck of an impressive ending. Not only was Fields using his legs to extend plays, but he continued to get his receivers involved to move the chains. Add in some strong runs from Khalil Herbert, including a 25-yard touchdown catch, and the Bears retook the lead for good 17-14 late in the first half.
Chicago's defense then came up with the massive play on the Patriots next possession, recovering a Zappe fumble before a second Santos field goal gave the Bears a 20-14 lead at the half. At this point, I don't know what was more surprising. The Bears leading at the half, or the fact that they had 20 points against one of the better defenses in the league.
The Bears were a long way from finishing and continued to keep the pressure on for the duration of the second half. Not only did Santos connect for a 38-yard field on the Bears first possession of the second half, but he added a 50-yarder later in the third to put Chicago in front 26-14. Santos was 4-4 on the night for his field goal attempts and remains perfect at 12-12 this season.
With the Bears in front by two scores, it allowed their defense to play with their hair on fire which is exactly what they did. Add in a 27-yard punt return from Dante Pettis to give the Bears a short field, and everything was going right for Chicago. Eight plays later, it was time for Montgomery to find the endzone as his one-yard touchdown made things 33-14 and capped off a run of 23 unanswered points for the Bears.
Chicago's defense finished things off as Roquan Smith, and Kyler Gordon added a pair of late-game interceptions to give the Bears three on the night as Chicago responded with a massive Monday night win. Along with the 82 yards from Fields, Chicago received 62 yards each from Montgomery and Herbert as they rushed for 243 yards as a team. Mooney led the way with 53 yards receiving, but had a nice compliment from St. Brown, who finished with 48 yards.
After entering the game to replace Jones, Zappe continued to play well, going 14-22 for 185 yards. He did throw another touchdown, but had two fourth-quarter interceptions in what was otherwise another solid performance. Despite being mum about his QB situation going forward, at this point, it feels like it should be Zappe taking over the reins as he has looked better than Jones.
New England was held to just 70 yards rushing in the game, with Stevenson coming away with 39 yards on 11 carries. He also added 59 yards receiving, with Parker hauling in three catches for 68 yards. Chicago will now get a short week before hosting the 5-2 Dallas Cowboys on Sunday.