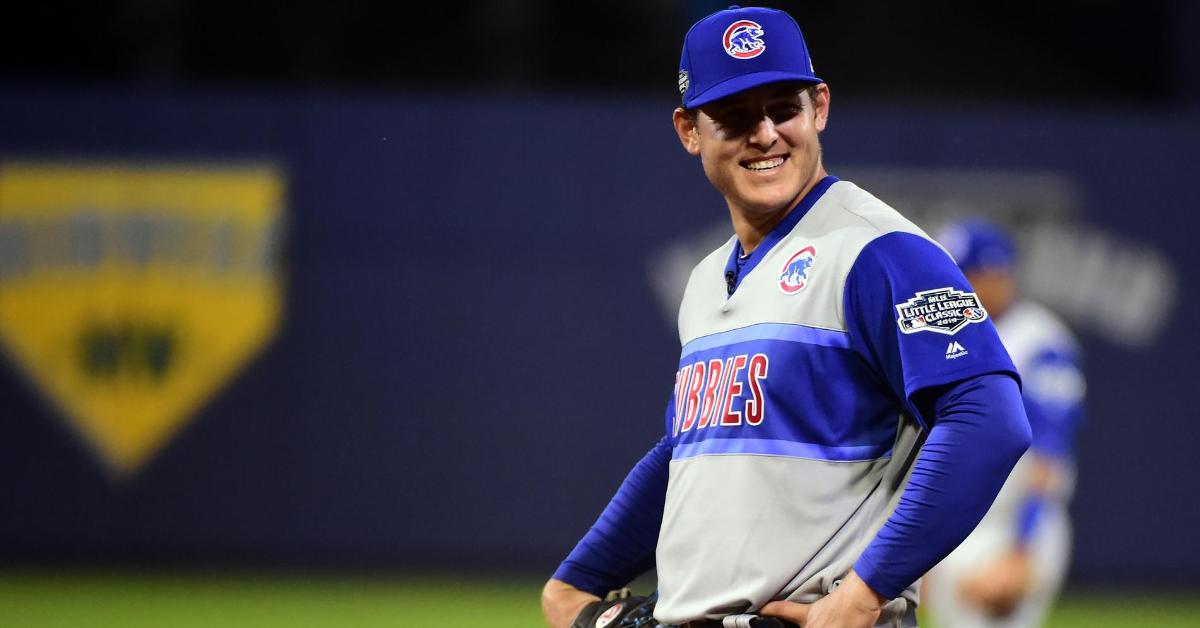 | | |
| --- | --- |
| Cubs News: Anthony Rizzo Foundation donates $1 million to Children's Hospital | |
---
Anthony Rizzo is the captain for the Cubs on and off the field.
The Anthony Rizzo Family Foundation announced on Tuesday that they have donated one million dollars to the Joe DiMaggio Children's Hospital in Hollywood, Florida.
The money will be from two endowments, one to be used for families in need of funds due to treatment costs and will also fund a full-time oncology child specialist.
Congratulations to the Rizzo family and everyone involved in this tremendous work with this inspiring foundation.
Here is the full letter from the Rizzo family:
Dear Supporters, When we started the Anthony Rizzo Family Foundation eight years ago, it was our dream to help families in their darkest days and make a positive impact on the pediatric cancer community. Now, thanks to the generous support of donors like you, we are able to make an impact on children and families battling cancer every day.
In 2017 we created a 3.5-million-dollar endowment to the Ann & Robert H. Lurie Children's Hospital of Chicago. Since the endowment's inception, we have been able to witness your donations transform lives. We are so grateful that more oncology patients have access to child life specialists to cope with the emotional stress that comes along with cancer treatment. Because of your generosity, families can focus on their child's care instead of their bills.
Your commitment to assist us in our goal of reaching more families has been unwavering. Through our partnership with Family Reach we have been able to support families nationwide who are struggling to meet the overwhelming financial needs associated with cancer. In the last four years, 1.5 million dollars in direct grants have been given to families!
The Hope44 fund was created at the Shirley Ryan Ability-Lab to aid the rehabilitation services of oncology patients. Moreover, a fund has been started at Northwestern Memorial Hospital and the Robert H Lurie Comprehensive Cancer Center to better serve the adolescent and young adult oncology population. Additionally, we have committed one million dollars towards critical cancer research at the Sylvester Comprehensive Cancer Center at the University of Miami Health System.
With that being said, this is just the beginning. Anthony's determination and positivity during his cancer treatment serves a corner stone of our mission. It is what motivates us to grow our community and outreach. The generosity of our supporters continues to allow us to offer critical support to more families in Chicagoland, Florida, and across the nation.
Our growth is not limited to the Chicago area. Our reach is also extending further in Florida as demonstrated by the continued growth of the Walk-Off for Cancer event. The Parkland community shows up year after year to walk alongside the bravest of families and raises much needed funds for local families battling cancer.
In the spirit of growth and positivity, we are thrilled to announce our 1-million-dollar gift to the Joe DiMaggio Children's Hospital of Hollywood, Florida. This 1-million-dollar gift will be donated in the form of two endowments; the Hope 44 Endowed Fund and the Anthony Rizzo Family Foundation Child Life Endowed Fund. By making this donation in the form of endowments, we are ensuring that patients at JDCH can receive these needed resources for generations to come.
The Hope 44 Endowed Fund will provide grants on a case-by-case basis for families facing financial hardship due to unexpected needs resulting from a child's treatment for cancer. These expenses include, but are not limited to, groceries, parking, rent, utility bills and childcare for siblings. The fund will enable oncology social workers to immediately assess a family's need for assistance, without restrictions on a patient's age or stage in diagnosis or the need for a formal application.
The second endowment, the Anthony Rizzo Family Foundation Child Life Endowed Fund, will provide the financial resources for a full time Oncology Child Life specialist. These integral members of a patient's healthcare team employ a variety of methods to reduce anxiety and normalize the hospital experience for both patients and families. Child Life specialist positions are funded entirely by philanthropy.
These endowments would not be possible without YOU! We can't thank you enough for your continued generous support. You are making a difference!
Together WE WILL knock Cancer out of the park!
With Gratitude,
The Rizzo Family
November 5, 2019
Big things happening. We are proud to partner with @JDCHospital to help make a difference in the lives of cancer families. pic.twitter.com/l8CveIdQUP

— A. Rizzo Foundation (@RizzoFoundation) November 5, 2019