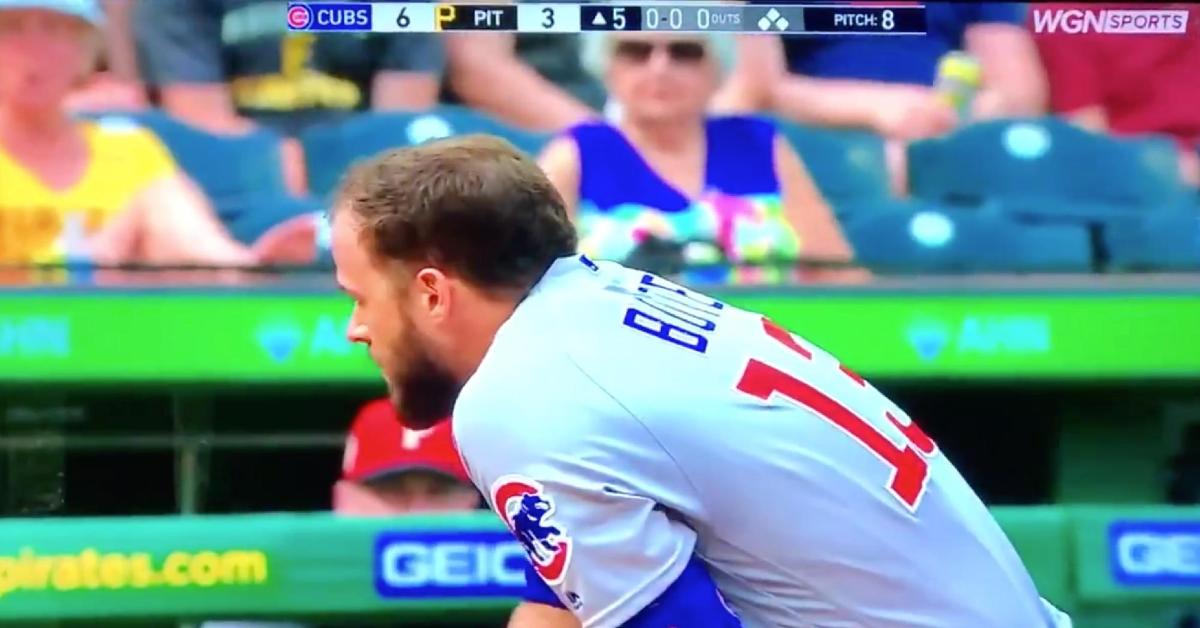 | | |
| --- | --- |
| WATCH: David Bote gets drilled in helmet, becomes testy when asked about it | |
---
| | | |
| --- | --- | --- |
| Thursday, July 4, 2019, 9:21 PM | | |
PITTSBURGH — Bad blood spilled over in the Fourth of July matchup at PNC Park between the Chicago Cubs and the Pittsburgh Pirates on Thursday. A bevy of high, inside pitches from Pirates starting pitcher Jordan Lyles led to Cubs manager Joe Maddon getting ejected for barking at home-plate umpire Joe West and Pirates manager Clint Hurdle about it in the top of the fourth. Maddon then had to be held back by West and Cubs slugger Kris Bryant when he tried to confront Hurdle.
Even after Lyles was pulled from the game, the Pirates continued to rely on pitches that were up and in, and a pitch from Pirates reliever Clay Holmes drilled Cubs third baseman David Bote in the helmet in the top of the fifth. Bote fell to the ground as a result of the 94-mile-per-hour fastball beaning his batting helmet, but he was able to shake it off and remain in the game.
Pirates love to throw high and inside and David Bote catches one off the helmet. No warning to the Pirates. Bote is ok pic.twitter.com/5Da8WrPxJt

— Bears Barroom (@BearsBarroom) July 4, 2019
Bote was clearly not pleased with the Pirates' pitching strategy, and he revealed as much when asked by reporters about the hit by pitch following the Cubs' 11-3 win. Telling the media that he is "fine" while briefly talking with the media, Bote downplayed the pain inflicted by taking a shot to the helmet while simultaneously building up the heated rivalry beginning to unfold between the Cubs and the Buccos.
Terse and irritable, Bote told the press, "Just a good overall win. That's all we're going to say about that. Go talk to Garcia."
Referencing rookie second baseman Robel Garcia, who went 3-for-5 and finished a double shy of the cycle on the afternoon, Bote was clearly not in the mood to engage with a horde of journalists after striking out four times and getting nailed in the noggin by a heater. Thankfully, Bote did not show signs of concussion-like symptoms during or after the game, and he is expected to be just fine moving forward.
David Bote says he's fine after getting hit on the helmet with a 94-mph fastball: "Just a good overall win. That's all we're going to say about that. Go talk to Garcia." #Robel

— Patrick Mooney (@PJ_Mooney) July 5, 2019