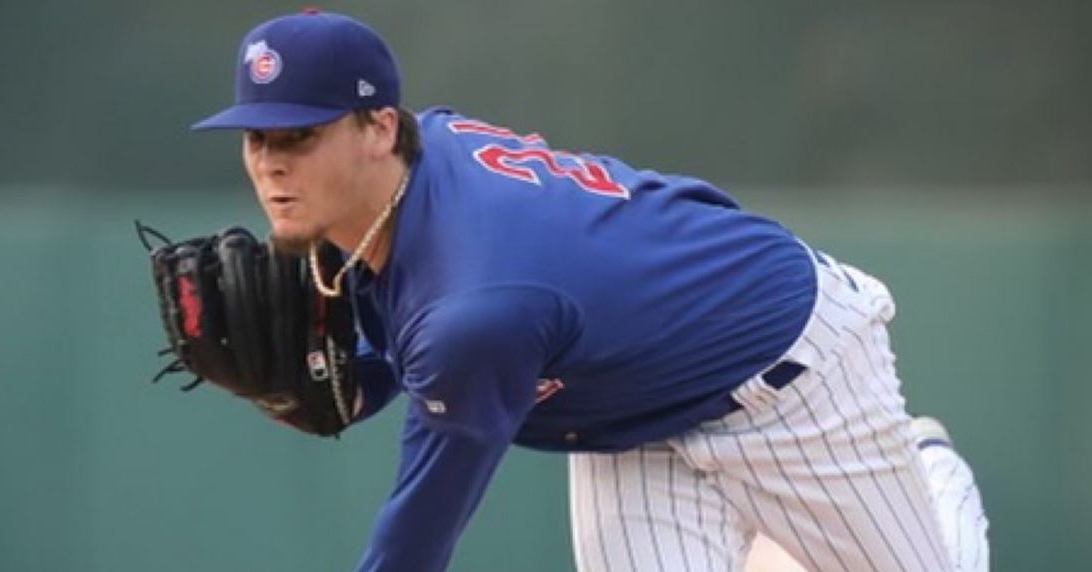 | | |
| --- | --- |
| 2021 Season in Review: Iowa Cubs | |
---
Now that the 2021 Minor League season is officially over, we can now look back at the year in Minor League baseball in the Cubs system. Today we look back at AAA as the Iowa Cubs had a rough go of things all season.
After making the playoffs by winning their division in 2019, Marty Peavey and his staff had their work cut out for them as they returned to the diamond following a year off from competition. Unlike 2019 that saw Iowa remain primarily healthy, 2021 was a challenging season as Iowa saw constant roster turnovers given the health status of the Cubs major league roster.
That made things difficult for Iowa to field a team despite the Cubs investing in several depth pieces over the offseason. While there were a lot of players who struggled all season, several players not only had great seasons, but contributed to the Cubs at some point this season. Regardless of what the results show in Iowa's 51-78 season, the Cubs will head into 2022 with a chance at being a much better team going forward.
One of the biggest reasons for the Cubs struggles this season was their pitching, as they posted a team ERA close to 6.00. That shouldn't come as a shock when you look at ERAs across AAA, but it doesn't make things easy when trying to win games. Cory Abbott struggled from the get-go until late in the season. Adrian Sampson and Kohl Stewart were strong early before both spent significant time on the MLB Roster.
Of the starters, Justin Steele and Keegan Thompson had the best run of success, but they were only part of the rotation for about a month as the Cubs were stretching them out to be starters on the MLB team. Guys like Matt Swarmer, Mike Hauschild, Luis Lugo, and Erich Uelmen will be looked upon as some of the key guys going forward and look for Abbott to return as the team's ace next year.
Despite struggling most of the season, going 5-6 with a 5.91 ERA across 19 starts, Abbott finished the season much better than he started posting a 2.68 ERA in September. That alone earned him a start on the major league roster the final week of the season, where he continued to pitch well. For his career, Abbott has accumulated a 21-20 with a 3.63 ERA across 72 starts. He will continue to be an innings eater capable of big strikeout numbers and will once again enter 2022 as the Ace of the Iowa staff.
Outside of Dakota Mekkes and Dillon Maples, there were not many familiar names in the bullpen familiar to Cubs fans. That didn't mean there weren't guys who performed well. Adam Morgan's name comes to mind as the lefty was signed as a minor league free agent this offseason. After performing exceptionally well, posting a 2.20 ERA across 15 games. He then went on to pitch for the Cubs, giving them quality performances.
Tommy Nance, Trevor Megill, Jason Adam, and Rowan Wick all put up great numbers during their time with the Cubs, but struggled to find consistency in the bigs. The one name to watch going forward surrounds 2020 undrafted free agent Ben Leeper. Leeper appeared in 27 games across AA/AAA in his first season as a pro, with 17 of those games coming in AAA. Not only was he impressive, but near lights out as Leeper went 4-3 with a 1.29 ERA, including a 1.31 ERA while with Iowa.
Leeper was the definition of a lockdown reliever holding opponents to a .125 average and walking 13 compared to 53 punchouts. He also recorded three saves in four attempts. For an undrafted player, Leeper proved he is much more than that. As a late-inning reliever, he may have supplanted himself in the Cubs future as 2022 could be a significant season for him.
While the pitching was an issue all season, Iowa was also inconsistent on offense despite seeing several great showings during the season. Trayce Thompson immediately comes to mind, leading the way with 21 homers and 62 RBIs before hitting four homers with the Cubs in September. He wasn't alone in having a great season as Abiatal Avelino, Nick Martini, Ian Miller, and Andrew Romine all had solid seasons with the Cubs in 2021.
Miller and Avelino never saw action on the Major League roster, but they did more than enough to earn another look should the team want them back. Perhaps the biggest story of the AAA season for Iowa revolved around Brennen Davis, who reached AAA by September. After oping the season with South Bend, Davis tore the cover off the baseball in AA and eventually got the call to AAA.
Once there, he continued to show why he is a top 15 prospect hitting a .268 with four homers across 15 games of action. Fellow top 20 prospect Christopher Morel also saw time on the AAA roster after leading AA Tennessee in homers and RBIs. Although extremely raw, Morel will be a crucial piece for this team, whether as a trade chip or as an everyday player. Both men will most likely start 2022 in AAA, while Davis could end up on the Cubs sooner rather than later.
In a trying season both mentally and results-wise, Iowa did a great job getting through the season without any COVID-related scares. In the process, the organization saw plenty of faces who are bound to contribute somewhere along the road while gaining plenty of experience along the way. While the record was less than appealing, Iowa has the pieces to be a solid team next season. As pitchers get more experience at the AAA level and as the hitters mature, this team is loaded with potential as they could be one of the better teams in AAA next year.

Tags: Cubs Baseball
,
Cory Abbott
,
Kohl Stewart
,
Justin Steele
,
Keegan Thompson
,
Luis Lugo
,
Erich Uelmen
,
Dakota Mekkes
,
Dillon Maples
,
Trevor Megill
,
Jason Adam
,
Rowan Wick
,
Abiatal Avelino
,
Ian Miller
,
Brennen Davis
,
Christopher Morel