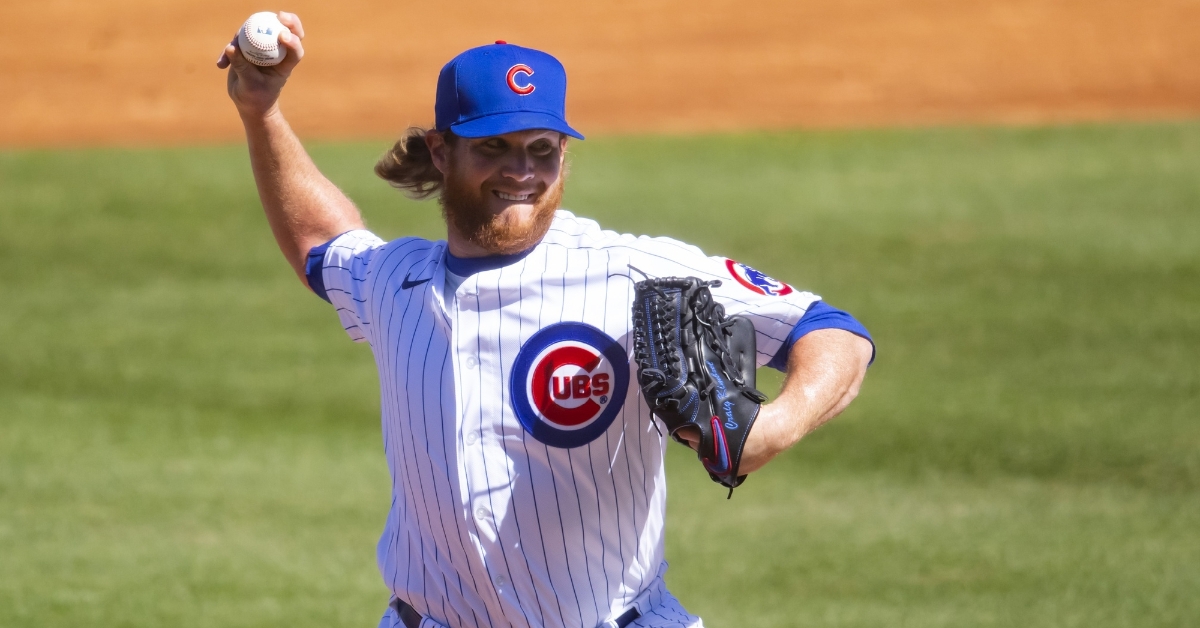 | | |
| --- | --- |
| 2021 Season Report Cards: Cubs relievers | |
---
We have reached the final installment of our season in review report card series, as it is all about the bullpen today. Unlike our previous installments that broke down each player individually, there were too many moving parts in the Cubs pen this year to continue along that track.
Instead, we will break it down by grade, putting each pitcher in the graded category they deserve based on their season's performances. This will once again be an area of need for the Cubs, but unlike in the past, their help will most likely have to come from within instead of digging into the free-agent market to make things happen.
A Grade: Category (Ryan Tepera, Andrew Chafin, and Craig Kimbrel: There was a time when the Cubs had the best bullpen in the National League. A big reason for that was the three-headed Monster that finished out games with Tepera, Chafin, and Kimbrel getting the job done. While Tepera had the worst ERA among the three, he was still under 3.00, showing how dominant these men were.
There weren't many areas that went well for David Ross this season, but this was one thing he could count on during the season. When the Cubs had the lead after six innings, he would turn to these three men, who more often than not getting the job done. With plenty of bullpen spots open for the taking next season, fans would love to see at least one of these guys back.
B Grade: (Jason Adam, Rowan Wick, Codi Heuer, Adam Morgan, Brad Wieck, and Scott Effross): Once the Cubs started to trade their pieces away, the team went into a tailspin they couldn't recover from. Despite the offense playing much better as the season went on, the pitching began to crumble, especially the bullpen.
That tends to happen when your key guys get dealt, and you are trying to piece together some wins. However, the Cubs continued to mix and match and eventually found new names that had solid seasons and may contribute next year. Both Adam and Wick returned from nearly season-long injuries and got back to doing what they do best. They will immediately be trusted in late-inning roles if the Cubs bring both or either of them back next season.
Weick emerged as the team's best left-handed reliever during the first part of the season, only to have another heart issue end his season. At this point, you have to wonder if he will ever pitch again. Heuer was acquired in the Kimbrel deal and immediately proved he is capable of handling late-inning situations.
Guys like Morgan and Effross were added to the roster in August, and although they did struggle at times, for the most part, they showed tons of promise, which helped this team out. Most of the pitchers in this grade category will get looks from someone next season. Whether it is the Cubs or not remains to be seen.
C Grade: (Tommy Nance, Michael Rucker): Two more mid-season minor league additions were Nance and Rucker. Nance got off to a great start when he first came onto the scene, only to sputter during the second half of the season. After suffering an injury, he eventually landed back with Iowa but made his way back to the bigs in September, giving the Cubs some quality outings.
Rucker is a pitcher with a lot of potential and someone the Cubs may be looking at to make the opening roster next year. Not only does he throw hard, but he pounds the strike zone with the capability to induce plenty of ground ball outs. That was the biggest key for him this season, as it seemed when his command was off, he struggled to get guys out. This is another one of those young pitching pieces the Cubs have been developing with hopes of them breaking out sooner rather than later.
D Grade: (Dillon Maples, Dan Winkler, and Manny Rodriguez): This is the part of the bullpen area where they became a team liability making it hard for Ross to trust either one. Ironically, all three pitchers followed similar trends this season which is why their performance was what it was.
Winkler and Maples posted remarkable ERAs the first half of the season as they were often tough to hit. However, their consistent lack of command was a struggle, and it was bound to bite them sooner or later. During the second half of the season, Winkler saw his ERA rise by three runs forcing his release from the team, while Maples was eventually DFA and sent back to Iowa.
Rodriguez, on the other hand, suffers the toughest break given that he had such a small sample size. From a stuff side of things, Rodriguez possessed an upper 90s fastball some elite-breaking stuff. His biggest issue was consistency. He was nearly unhittable when he was on, often making some of the best hitters look terrible. However, it was like batting practice when he was off, which is how most of his final outings finished.
In desperate need of high-velocity arms, Rodriguez is someone the Cubs will count on next season. He has closer experience from the Minor Leagues while also possessing some of the best stuff in the entire system. He needs to harness that consistently, and the Cubs could be on the verge of owning a tremendous high-leverage reliever.
F Grade: (Rex Brothers and Trevor Megill): It is tough to earn an F grade for a bullpen, but two guys indeed landed with that grade. Brothers and Megill were by far the worst relievers on the team this season, and it wasn't even close. Ironically, Brothers was very consistent the first two months of the season before completely losing it after that.
From the moment Megill arrived in Chicago, it was human batting practice off him as the long ball was the biggest issue. His high velocity mixed with an impressive 12-6 breaker makes him an ideal closer candidate. However, he has a long way to go to even be trusted in late-game situations. Not only did he allow homers, but plenty of hard contact, which you can't have out of a bullpen arm.

Tags: Cubs Baseball
,
Ryan Tepera
,
Andrew Chafin
,
Craig Kimbrel
,
David Ross
,
Jason Adam
,
Rowan Wick
,
Brad Wieck
,
Scott Effross
,
Michael Rucker
,
Dillon Maples
,
Rex Brothers
,
Trevor Megill