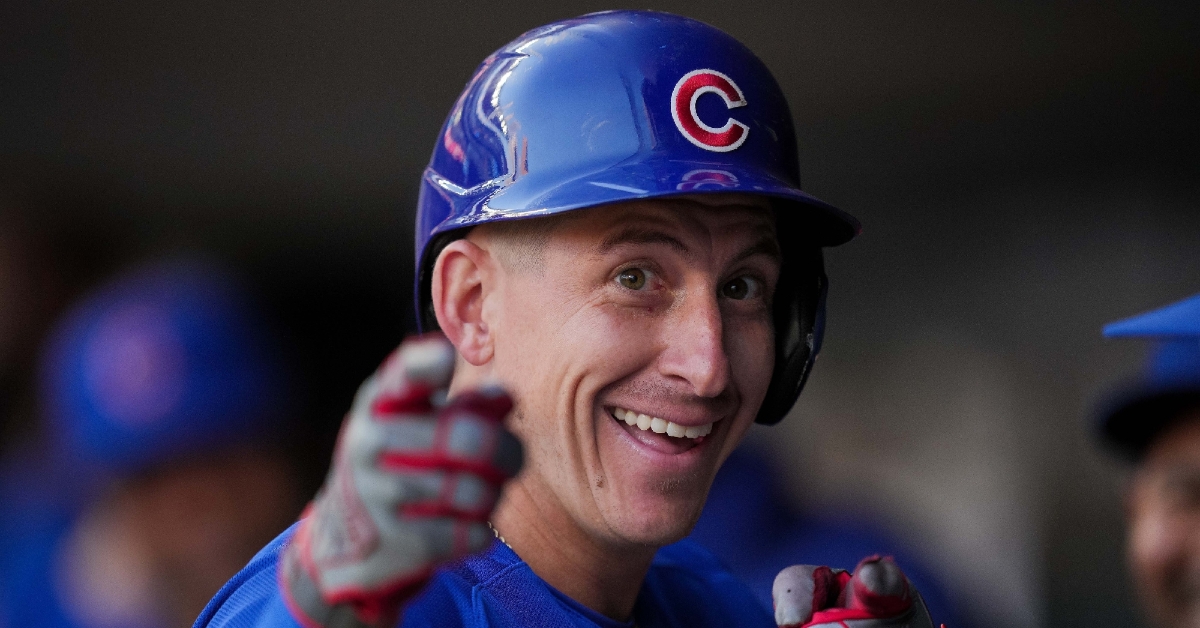 | | |
| --- | --- |
| Cubs News: 2022 Season Prediction: Frank Schwindel, Alfonso Rivas | |
---
For the first time in over a decade, things will look drastically different at first base as the heart and soul of the Cubs will not be there. In case you missed it last season, Anthony Rizzo was traded to the New York Yankees for Kevin Alcantara and Anderson Vizcaino.
The Cubs have a pair of guys in Frank Schwindel and Alfonso Rivas who can serve as first base placeholders until they find more of a permanent solution. No one knows what Rivas will bring to the table, but Schwindel was one of the more pleasant stories of the entire 2021 season.
Cast as a role player looking to latch on somewhere, Schwindel not only latched on, but put on a display with the Cubs. Always known as a good hitter in the minors, Schwindel never had the opportunity to show it in the majors and broke out when given that chance last year. It will be interesting to see what follows for him as we creep ahead to 2022.
Frank Schwindel
As mentioned, Frank the Tank became a fan favorite last season and now has a permanent short-term spot on this team. His smile alone makes him an excellent presence to have, but what he did with his bat stood out the most. After hitting a .296 with 17 homers and 49 RBIs across 54 minor league games a season ago, the Cubs made a move to claim him off waivers and gave him a shot with the big-league club.
Schwindel was on a mission as he became a fastball killer capable of putting up big numbers from the moment he stepped on the field for the first time. In 64 games, the sweet-swinging first baseman not only hit .326, but managed to connect for 14 homers and 43 RBIs. Add that to his minor league line, and you have a .311 average with 31 homers and 82 RBIs across 128 games. That is plenty of production to stick in the starting lineup.
Season Prediction 126 games, .287 average 17 homers 71 RBIs
No one is expecting Schwindel to duplicate the start he got off to last season, nor should they. However, that doesn't mean he won't put together a solid season. Although not an elite power hitter, Schwindel does have some pop in that bat, but is more of a doubles hitter capable of hitting for a high average.
That is what the Cubs are looking for with him this season, and should he improve his overall patience at the plate, his walk rate will increase, leading to an elite OBP. A short-term solution, he is precisely the piece the Cubs need right now.
Alfonso Rivas
A one top 20 prospect in the Oakland system, the Cubs acquired Rivas a few years ago in exchange for Tony Kemp. Like Oakland, Rivas initially landed in the top 30 before falling out of that list last season. That doesn't mean he is a bad prospect, but the overall talent in the system is better.
One thing you notice about him compared to other first basemen is that he is not a slugger. In fact, he has yet to hit more than 10 homers in any minor league season, which is weird for a first baseman. What he does do better than most is make contact which is why his career average was a .288 in the minor leagues. He also offers a keen eye at the plate, where he takes almost as many walks as punchouts.
While his eye didn't show up at the Major League level, his ability to make contact certainly did, as he was impressive during his brief stint. Across 18 games, Rivas put together a .318 average with one homer and three RBI. He also showed versatility in the field, bouncing between first base and left field.
Prediction: 67 games, .300 average, three home runs, 19 RBIs
Rivas will be an interesting case this year as the Cubs need to decide where to put him. Given his lack of MLB experience, I do look for him to begin the season with Iowa so he can play as many games as possible. As the season goes on, look for him to get promoted, especially with the universal DH coming into play.
From an offensive side of things, Schwindel is better than Rivas, but Rivas does have him with the glove at first. That alone intrigues the Cubs enough to possibly entertain the idea of having him start at first and moving Schwindel to DH, but that is for them to decide later.