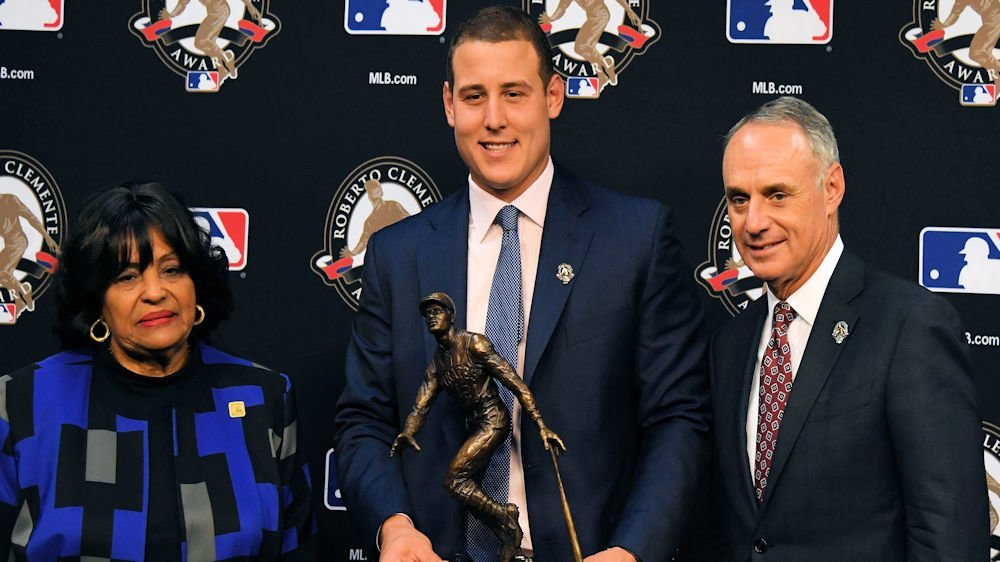 | | |
| --- | --- |
| A look at the individual Cubs' charities | |
---
| | | |
| --- | --- | --- |
| Tuesday, November 6, 2018, 10:23 AM | | |
We spend a lot of time praising our favorite Cubbies for what they do on the field, but today I thought I'd take a moment to recognize them for their selfless contributions off the field.
Several members of the team have charities and foundations for worthy causes, and every penny raised counts toward their goal of helping others.
Please do not misconstrue the order of the list below as a personal representation or endorsement of one charity over another.
(NOTE: descriptions in quotations are taken directly from the charity's/foundation's website.)
The Anthony Rizzo Family Foundation: "The Mission of the Anthony Rizzo Family Foundation is to raise money for cancer research and to provide support to children and their families battling the disease.
2017 Anthony Rizzo Family Foundation Video from Anthony Rizzo Family Foundation on Vimeo.
The Hamels Foundation: "The Hamels Foundation is dedicated to enriching the lives of children through the power of education by giving them the tools they need to achieve their goals. The Hamels Foundation supports quality, community-based education in the United States and in Malawi, Africa. We assist U.S. schools and other education-based nonprofits to provide stimulating learning environments, high-quality educational programs, and necessary provisions to promote learning."
(Jon Lester's) NVRQT: "Short for "never quit," the NVRQT campaign, run by Pediatric Cancer Research Foundation, helps to raise awareness and funds for children's cancer research with the help of Chicago Cubs pitcher, Jon Lester. Our commitment is simple: to strike out pediatric cancer."
(Kyle) Schwarber's Neighborhood Heroes: "Launching Neighborhood Heroes in 2017, the campaign is designed to recognize first responders by honoring their heroism, courage, and devotion to duty."
(Joe Maddon) Respect 90 Foundation: "Respect 90 provides children and families opportunities to develop championship attitudes through sports, academics and community involvement." Respect 90 also serves to fight homelessness, pediatric cancer research and a variety of other missions.
(Albert Almora) Intentional Walk Program: "In June 2017, the Almora's, in partnership with PAWS Chicago, launched the Intentional Walk campaign to raise awareness about the need to walk and socialize dogs at local shelters. Albert and Krystal were joined by members of the Cubs front office at the PAWS Chicago Adoption Center in Lincoln Park for a special volunteer day to kick-off the initiative."
The Brian Duensing Foundation: "The Brian Duensing Foundation is dedicated to providing hope and support to families battling cancer or serious illness. This is accomplished by increasing awareness and by raising funds to support in two main areas: (1) research to improve prevention, diagnosis, and treatment; (2) outreach projects specifically designed to ease the emotional, financial and spiritual burdens endured by families facing these diseases."
(Theo Epstein) Foundation To Be Named Later: "Foundation To Be Named Later is dedicated to improving lives through education, leadership and the healthy development of youth and families. FTBNL raises funds through unique and exciting events centered on baseball and music. Hot Stove Cool Music, the benefit concert founded by Peter Gammons, is our signature fundraiser."
During my research for this article, I had located news of a foundation operated by Willson Contreras who was helping to serve homeless veterans, but I was unable to find any website information. While we do know that Willson is very involved with special needs children, he has not yet established a foundation or charity to help them- but give him time.
With the holiday season almost upon us, take some time to research these great causes taken on by our beloved Cubs, and then donate until it hurts. Will five or ten dollars cure cancer or homelessness? Not by itself, but every penny counts and together, we can help to make the difference.
These guys give us plenty to cheer about on the field, so let's make them cheer off of it.
Donate here:
https://www.thehamelsfoundation.org/
https://www.schwarbersheroes.org/about/
http://www.pawschicago.org/albert-krystal-almoras-intentional-walk-program/