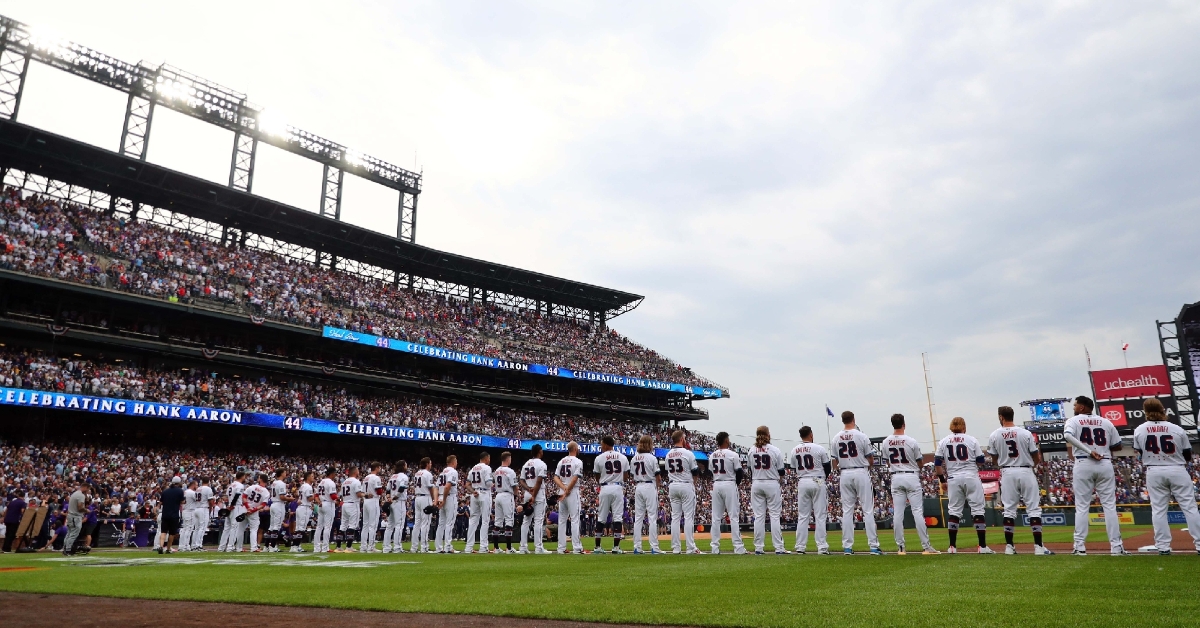 | | |
| --- | --- |
| American League defeats National League in 2021 MLB All-Star Game | |
---
| | | |
| --- | --- | --- |
| Wednesday, July 14, 2021, 12:36 AM | | |
DENVER — In the thin air at Coors Field, three home runs of over 400 feet were hit, and, for the eighth consecutive time, the American League defeated the National League in the MLB All-Star Game. The 2021 Midsummer Classic saw Chicago Cubs third baseman Kris Bryant, who came off the bench and played in left field on the night, go 0-for-2 with runners in scoring position. Additionally, Cubs closer Craig Kimbrel gave up a double but recorded two outs in a scoreless ninth. The American League never trailed on Tuesday and ultimately won 5-2.
Washington Nationals ace Max Scherzer and Los Angeles Angels jack-of-all-trades Shohei Ohtani started on the mound and each went 1-2-3 through the first. Ohtani led off the game and grounded out. Toronto Blue Jays designated hitter Vladimir Guerrero Jr. smacked a hard-hit comebacker that Scherzer had to duck to avoid. The two then playfully hugged it out as Guerrero headed back to the dugout. Playing at his old stomping grounds, former Colorado Rockies and current St. Louis Cardinals third baseman Nolan Arenado hit a grounder that ended the first inning.
Vlad Max: Wholesome Road pic.twitter.com/Ziotm3fHbW

— MLB (@MLB) July 14, 2021
Milwaukee Brewers starter Corbin Burnes walked New York Yankees right fielder Aaron Judge to begin the second, and Boston Red Sox third baseman Rafael Devers then hit a double near the foul line in right. Toronto Blue Jays second baseman Marcus Semien tallied an RBI infield single that plated Judge. Burnes buckled down after that and struck out Kansas City Royals catcher Salvador Perez before Toronto Blue Jays right fielder Teoscar Hernandez grounded into an inning-ending double play.
The AL gets on the board first. #AllStarGame pic.twitter.com/qUxTeXk4eM

— MLB (@MLB) July 14, 2021
Guerrero took Burnes deep with a jaw-dropping 468-foot solo jack in the third. The two-out blast was crushed out to left. Cincinnati Reds right fielder Nicholas Castellanos grounded into a double play to end the fourth inning. The former Cub went 0-for-2 in his All-Star start. San Diego Padres starter Yu Darvish and Washington Nationals left fielder Kyle Schwarber, both former Cubs, were unable to play due to injury. Yankees closer Aroldis Chapman, another erstwhile Cub, was active but did not pitch in the contest.
WELCOME TO THE #ALLSTARGAME, VLADDY. pic.twitter.com/h3c93bBMn2

— MLB (@MLB) July 14, 2021
The American League went three up, three down with Rockies starter German Marquez pitching at his home ballpark in the fourth. However, Hernandez doubled off the wall in right to kick off the fifth frame, with Miami Marlins starter Trevor Rogers giving up the leadoff two-bagger. San Francisco Giants shortstop Brandon Crawford then committed a fielding error on a chopper hit up the middle by center fielder Cedric Mullins, and Hernandez reached third on the play. A few at-bats later, Guerrero recorded an RBI groundout by driving in Hernandez. Red Sox shortstop Xander Bogaerts then hit a two-out RBI single off Rogers, plating Mullins and placing the American League up 4-0.
.@germanmarquez5 with a 1-2-3 inning and a standing O from the hometown fans. pic.twitter.com/TyuGugvRCH

— All-Star Game (@AllStarGame) July 14, 2021
Xander Bogaerts is simply a good hitter. #AllStarGame pic.twitter.com/PRzlVZZ1lY

— MLB (@MLB) July 14, 2021
Philadelphia Phillies catcher J.T. Realmuto put the National League on the scoreboard with a 430-foot solo dinger to right-center. Detroit Tigers starter Gregory Soto gave up the homer, which came with one out in the fifth. Bryant entered the game in the top of the sixth, which New York Mets starter Taijuan Walker pitched. Walker was taken deep by Tampa Bay Rays catcher Mike Zunino with two outs. Zunino walloped a towering 433-foot solo shot out to right.
The NL is on the board, courtesy of @JTRealmuto. #AllStarGame pic.twitter.com/xU8ZhNq6s7

— MLB (@MLB) July 14, 2021
Mike Zunino is good. #AllStarGame pic.twitter.com/6uA55UOXHB

— MLB (@MLB) July 14, 2021
Oakland Athletics starter Chris Bassitt gave up a single and issued back-to-back walks with two away in the sixth. Bryant then dug in at the plate with a chance to come up with a pivotal hit. A passed ball suffered by Zunino enabled San Diego Padres third baseman Manny Machado to score from third, but Bryant proceeded to strike out swinging with runners at second and third. Brewers starter Freddy Peralta struck the side out swinging in the seventh, as the National League remained within striking distance.
Red Sox closer Matt Barnes toed the rubber in the eighth, and Bryant once again stepped into the batter's box with two outs and the bases loaded. Jared Walsh of the Angels robbed Bryant, who finished 0-for-2, of a hit and a bailed out Barnes by pulling off a sliding catch in left. Interestingly, Walsh has never served as a left fielder in an official big league game. Following Bryant's lineout, Kimbrel forced Walsh to fly out in the first plate appearance of the ninth, with Chris Taylor of the Los Angeles Dodgers making a nice catch at the center field wall.
Jared Walsh has never played left field in the majors.

He makes this catch to save a couple runs in the #AllStarGame. ?? pic.twitter.com/XcqXcIDPcy

— MLB (@MLB) July 14, 2021
Texas Rangers center fielder Adolis Garcia hit a double to center with one out in the ninth and reached third on an ensuing groundout by Minnesota Twins designated hitter Nelson Cruz, which featured Kimbrel covering first and recording the putout. Philadelphia Phillies starter Zack Wheeler entered to pitch at that point, and he fanned Athletics first baseman Matt Olson. Milwaukee Brewers catcher Omar Narvaez reached on a leadoff infield single in the ninth, with Chicago White Sox closer Liam Hendriks giving it up.
Narvaez went on to get thrown out at second by Zunino, who recovered a pitch in the dirt that bounced behind him and gunned down Narvaez. Taylor struck out a dropped third strike, with Zunino retiring Taylor by throwing to first. On an evening dedicated to the memory of Atlantaa Braves legend Hank Aaron, Braves second baseman Ozzie Albies hammered a two-out double to right. Hendricks forced Nationals shortstop Trea Turner to ground out after that, thus concluding the American League's 5-2 victory over the National League. Guerrero, 22, was named the MVP of the affair, making him the youngest MLB All-Star Game MVP of all time.