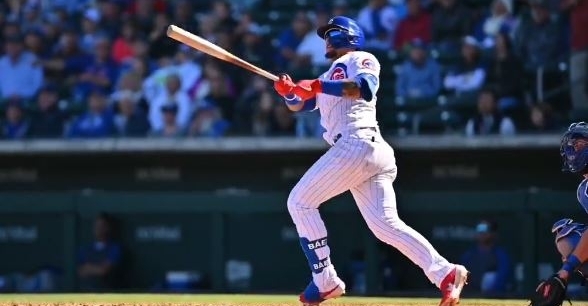 | | |
| --- | --- |
| Baez, Almora lift Cubs to win over Mariners | |
---
| | | |
| --- | --- | --- |
| Sunday, March 1, 2020, 6:41 PM | | |
Spring win/loss records may not matter, but dropping three-straight has to be a little disconcerting to David Ross and the Cubs. This afternoon Chicago (3-5) hosted the Mariners (3-5).
Jon Lester got his second start of the season, undoubtedly hoping to have a better outing. In his initial appearance on February 25th (vs. Rockies), Jon gave up three runs in the first and was charged with two more in the second (total of three earned runs), failing to get a fourth out before he was replaced. During that game, he gave up three hits, and a walked a pair, while not collecting any strikeouts.
David Ross posted the following starting lineup: Kris Bryant (3B), Anthony Rizzo (1B), Javier Baez (SS), Jason Heyward (RF), Willson Contreras (C), Jason Kipnis (2B), Albert Almora Jr. (CF), Daniel Descalso (DH) and Ian Miller (LF).
T-1 Lester came out looking much better, retiring the first man on a groundball back to the mound. Jon gave up a single to Crawford, but Contreras nailed him trying to swap second. He'd fan the next man to end the frame.
Don't run on Willson. pic.twitter.com/GaieMo0x6U

— Marquee Sports Network (@WatchMarquee) March 1, 2020
B-1 KB (GO-6), Rizzo (GO-4), Baez singled to center, Heyward walked, and then Contreras got it with a pitch. Kipnis fanned to end the threat. Game tied 0-0.
T-2 Good inning for Lester: FO-7, FO-8, K
B-2 Almora GO-6, Descalso (K), Miller (K). Still scoreless
T-3 Lester came back for more. He started with another K, then after giving up a single, Contreras erased another would-be base thief. Lester's fourth K would the inning. Still 0-0.
?? + ?? = ?? pic.twitter.com/3gzU1uXfBe

— Marquee Sports Network (@WatchMarquee) March 1, 2020
B-3 Bryant FO-7 (nice catch robbed KB of a double), then Rizzo, Baez, and Heyward all walked. Contreras fanned, Kipnis FO-4 ends the inning. Still 0-0.
Three scoreless innings from @JLester34 in today's #Cubs win! pic.twitter.com/Ha1NeyrAJ5

— Chicago Cubs (@Cubs) March 1, 2020
Lester on pitching to contact pic.twitter.com/KH1Ap2iTIf

— Mark Gonzales (@MDGonzales) March 1, 2020
T-4 LHP Kyle Ryan: FO-7, FO-9, BB, then Heyward absolutely robbed Vogelbach of a home run to end it.
B-4 Albert Almora's bomb to the left put the Cubs up 1-0. Descalso (FO-2), Ian Miller (K), KB double, Rizzo FO-9.
Holy Cow! pic.twitter.com/YDNyBJi2aZ

— Marquee Sports Network (@WatchMarquee) March 1, 2020
Subs: Andy weber (3B), Corban Joseph (1B)
T-5 RHP Trevor Megill: Single, FO-8, FO-8, single, K.
B-5 Two words: Javy Bomb. Heyward (FO-6), Contreras singles to center (pinch-runner), Kipnis RBI double. Almora lines out to center, Descalso infield single, Miller's infield single scores Kipnis. Weber singles, but Descalso is caught trying to score. Cubs lead 4-0.
One-way flight! ???? pic.twitter.com/jz5A6hybzb

— Chicago Cubs (@Cubs) March 1, 2020
Subs: Trent Giambrone (LF), Noel Cuevas (CF), Robel Garcia (2B), Donnie Dewees (RF), Miguel Amaya (C), Zack Short (SS).
T-6 RHP Manuel Rodriguez: Walk, FC 5-3. Rodriguez injured throwing a curveball after nine pitches, removed, then replaced by RHP Jake Stinnett: RBI single (Vogelbach), GO-1, GO-4. Cubs lead 4-1.
Cubs pitching prospect Manuel Rodriguez exits with an arm injury. pic.twitter.com/eoT8LkKQHr

— Aldo Soto (@AldoSoto21) March 1, 2020
B-6 (Carl Edwards Jr. pitching): Joseph (BB), Short fans, Joseph caught stealing, Garcia (GO-4). Cubs lead 4-1.
T-7 LHP Wyatt Short: FO-9, BB, single, FO-8, GO-4.
B-7 Dewees walks, Giambrone infield single, Cuevas GO-6, Higgins fanned. Amaya's single to right netted two RBIs, then Weber and Joseph walked to load the bases. Short fans to end the frame. Cubs lead 6-1.
Miguel Amaya bloops one into shallow right field and then spring training things happen for the Mariners lol pic.twitter.com/T3GM2Y1fmd

— Aldo Soto (@AldoSoto21) March 1, 2020
T-8 RHP Caleb Simpson: K, GO-6, BB, single to right, run scores (throwing error on Dewees). Single to right, GO-3. Cubs up 6-3.
B-8 Garcia (K), Dewees triple to right (RF lost the ball in the sun), Giambrone sac-fly (Dewees scores), Cuevas FO-8. Cubs lead 7-3.
T-9 RHP Oscar De La Cruz: K, single to the left, infield single, 6-4-3 double play to seal it.
Final Score: Mariners-3; Cubs-7.
Cubs' Offense: 12 for 33 (.375); 4 for 12 (.333) with RISP.
Next Game: Tomorrow, Split-squad action: 2:05 PM: Angels @ Cubs from Sloan Park, then 8:05 PM Cubs @ Athletics from Hohokam Stadium.

Tags: Cubs Baseball
,
David Ross
,
Jon Lester
,
Kris Bryant
,
Anthony Rizzo
,
Jason Heyward
,
Willson Contreras
,
Albert Almora
,
Daniel Descalso
,
Ian Miller
,
Kyle Ryan
,
Corban Joseph
,
Trevor Megill
,
Trent Giambrone
,
Noel Cuevas
,
Robel Garcia
,
Miguel Amaya
,
Manuel Rodriguez
,
Jake Stinnett
,
Wyatt Short
,
Oscar De La Cruz