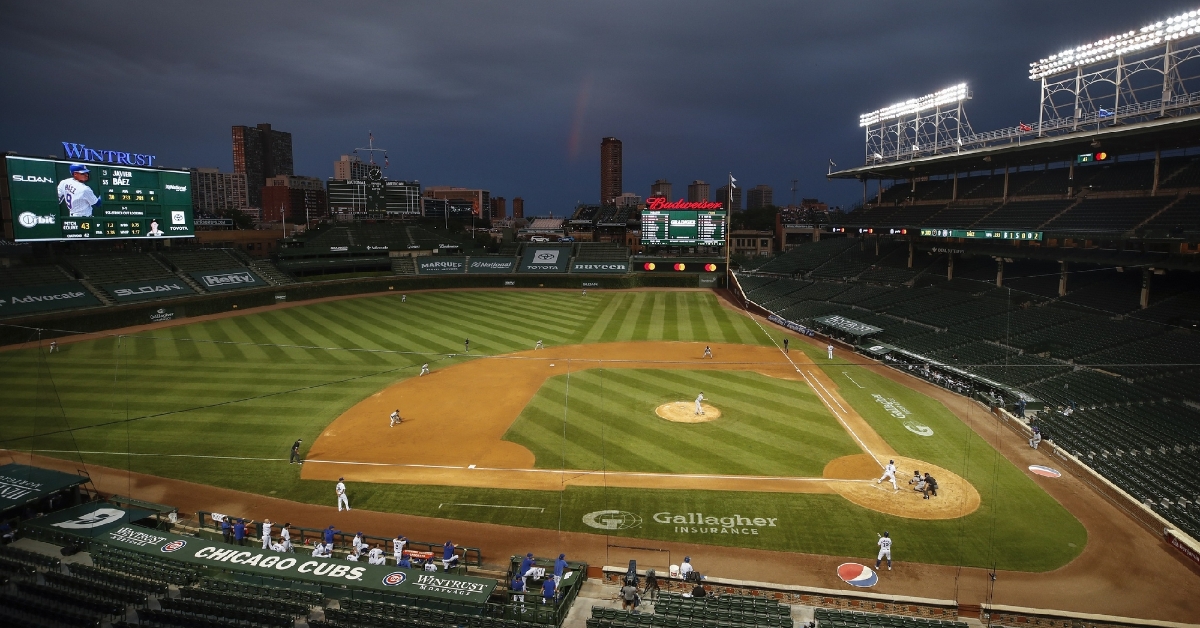 | | |
| --- | --- |
| Commentary: 2021 MLB season already facing hurdles | |
---
| | | |
| --- | --- | --- |
| Friday, November 13, 2020, 1:06 PM | | |
We're not even a month removed from the 2020 season, and it already looks as though the 2021 MLB season may be facing another rocky start – that is, if they start at all.
COVID-19 s once again running rampant throughout the country, with the state of Illinois now reporting a seven-day, statewide positive test rate at 14%. Chicago's mayor, Lori Lightfoot, is in lockstep with Illinois Governor JB Pritzker, and the pair is preparing to shut down the state once again. They're currently asking that nobody leave their home for anything other than work, take-out food, grocery shopping, or medical services, though Pritzker is now considering another statewide shutdown.
EFFECTIVE MONDAY: I'm issuing a Stay-at-Home Advisory asking all Chicagoans to only leave their homes for essential needs, including work and school. More info ?? https://t.co/zDpEmEUk6c. #ProtectChicago pic.twitter.com/DAjuqfuRPP

— Mayor Lori Lightfoot (@chicagosmayor) November 12, 2020
"But Ken," you say, "there's still three-and-a-half months until spring training starts."
Yes, that's true, but national news this morning reported that Joe Biden's advisors have led him to consider instituting a 4-6-week nationwide lockdown when he takes office on January 20th. If that occurs, it automatically pushes spring training back, which could ultimately delay and (most likely) shorten the start of the regular season.
Faced with a lag in the transition process, Joe Biden's team is working around the hurdles President Trump has created to prepare its Covid-19 response on day one, sources say. https://t.co/86d87vROLo

— CNN (@CNN) November 13, 2020
In the interim, all MLB winter meetings have been canceled, no in-person scouting order continues, and free agency is likely going to suffer, as the league continues to use COVID-19 related revenue losses as a reason (or, as some would believe, an excuse) to drive down what they can afford to pay players.
An insider recently told me to look for a lot of one-year deals for free agents this winter. Teams will be offering lower rates, causing players to want single-year deals. For guys like Brandon Kintzler and Trevor Bauer, this works out just fine. Kintzler is motivated by one-year deals, as he knows nothing is guaranteed for the next season unless he performs. Meanwhile, Trevor Bauer has said he isn't signing anything other than one-year deals as his stock continues to rise.
Not that the big-ticket free agents don't usually wait a while to sign but look for teams to focus more on mid-level free agents with an even bigger emphasis on trades. Fortunately for the Cubs, this seemed to be the plan anyway, so I wouldn't set my hopes on the Cubs signing Bauer or any of the other big names floating around out there.
Several players are considering switching over to either the Korean Baseball Organization (KBO) or NPB (Nippon Professional Baseball). Both Japan and S. Korea have had success in controlling the virus, but even more appealing are the attractive salaries with guaranteed contracts.
Due to the outbreak last year, baseball became the litmus test for other professional sports. This time around, as the virus continues to spread again, the focus shifts to the NFL and the NBA. Football has had to cancel games, and it's questionable whether or not the NBA will start their season, especially with new shelter in place orders being handed down. The NBA has already stated that if they attempt to allow fans, they will be ejected if they come within 30 feet of the players or benches. A lot of good that does if they manage to contaminate anyone before being ejected…
To the best of my knowledge, no stats have been released about the spread of the virus during the LCS and World Series, where some fans were allowed. Of course, that doesn't account for Justin Turner and those he likely infected.
Stay tuned – 2021 is likely to be more of the same. In the meantime, stay healthy and safe as we begin to enter the holiday season.

Upgrade Your Account
Unlock premium boards and exclusive features (e.g. ad-free) by upgrading your account today.
Upgrade Now