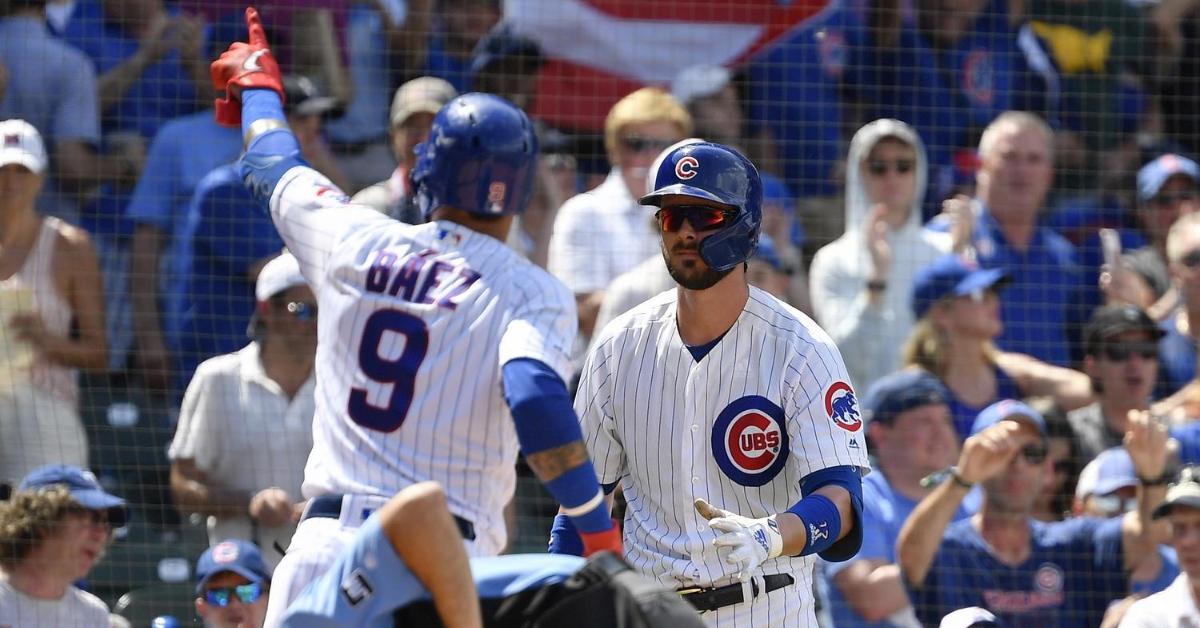 | | |
| --- | --- |
| Commentary: Cherish the Cubs games that don't matter | |
---
| | | |
| --- | --- | --- |
| Friday, September 27, 2019, 6:16 PM | | |
Games that don't matter.
September baseball, that's what it's all about. Or, that's what it has been about lately.
The Cubs will play the last few this season without any playoff implications. Marking this first games of the careers of Kris Bryant, Kyle Schwarber, Ian Happ, Willson Contreras, Albert Almora Jr. and Addison Russell that don't matter.
Almost equally as impressive, this is the first few games in Joe Maddon's five-year tenure as Cubs skipper that the Cubs will miss the playoffs and play a handful of games without implications.
The last time the Cubs played a game that "didn't matter" this is how the lineup looked:
Chris Coghlan LF (WS Champion)
Javier Baez SS (WS Champion still on team)
Anthony Rizzo 1B (WS Champion still on team)
Jorge Soler RF (WS Champion)
Luis Valbuena 3B
Arismendy Alcantara CF
Chris Valaika 2B
John Baker C
Jacob Turner P
Fittingly, Anthony Rizzo homered in that game, and the Cubs won the game 5-2 over the Milwaukee Brewers.
Currently, the Cubs' are stuck on the 82nd win and can't seem to get over that plateau as they are 0 for their last 9 in terms of games and wins in those games. However, it's impressive to think that the Cubs have had five straight winning seasons since that 89 loss year of 2014.
Despite the Cubs recent struggle and collapse as of late, it would be impossible to think of this run as an unsuccessful one.
The Cubs won the most games in the MLB from 2015-2018 and were just recently passed up by the Astros and Dodgers (both with 20 more wins than the Cubs this season). The Cubs are one of five teams to win over 450 games, sitting at 469 currently.
They are one of four team's to win a World Series, and one of four teams to make the playoffs four times.
The Cubs and the Dodgers are the only teams to make it to three league championship series since 2015 as well.
Not to mention, the Cubs are the only team to have won the MVP (Kris Bryant), the Cy Young (Jake Arietta), Rookie of the Year (Kris Bryant) and Manager of the Year (Joe Maddon).
Even though Theo's roster never entirely became the dynasty it was supposed to. It is impossible to deny that they have had the sustained success Theo promised years ago.
So while the Cubs suit up this weekend for games that do not matter, don't forget the last four-plus years of Cubs success that have made this weekend so shocking.
And remember what they feel like, because they may not last forever. Remember the top and rememberer the bottom, because nobody truly knows which the Cubs are closer to being.

Tags: Cubs Baseball
,
,
Kyle Schwarber
,
,
Willson Contreras
,
Albert Almora Jr
,
Addison Russell
,
Chris Coghlan
,
,
Anthony Rizzo
,
Jorge Soler
,
Joe Maddon