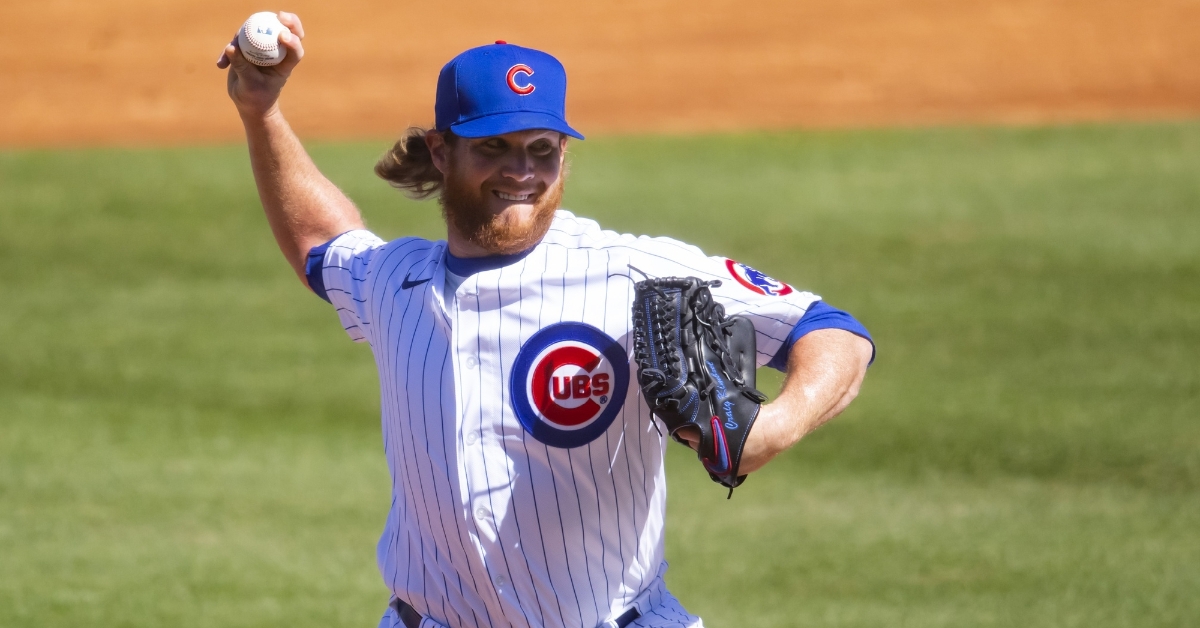 | | |
| --- | --- |
| Commentary: Cubs bullpen has been a lone bright spot | |
---
| | | |
| --- | --- | --- |
| Monday, April 12, 2021, 11:47 AM | | |
The Cubs have had some noticeable struggles in their first three series of the year. The Cubs offense, which has seen struggles since late in the 2018 season, has shown the same flaws in the early going. Meanwhile, the starting rotation has been solid — but a lack of ability to punch out batters leads to high pitch counts and success for opponent offenses the second and their third times through the order.
However, one bright spot for the season thus far has been the Cubs' bullpen. While their starting rotation is not particularly known for strikeouts, the David Ross' unit outside of the pen has been near the tops in MLB in that department. In just under 40 innings of work (roughly 50% of all innings pitched by the Cubs), the bullpen has allowed just 11 runs (of the Cubs' 37 total runs allowed).
Needless to say, the unit has been solid. Thus far, the unit has been anchored by Craig Kimbrel in the back-end. The veteran reliever just picked up his 350th career save and is showing signs of his former, dominant self. In 4.2 innings of work, Kimbrel has struck out nine batters and hasn't allowed a run — while picking up two saves along the way.
Near the backend of the bullpen has been where veteran receiver Brandon Workman and Jason Adam have worked. Workman was signed late in the offseason to fill a back of the bullpen need and has pitched to the tune of a 4.91 ERA in four appearances. He was excellent in three of his four outings. It's just one of those outings were rough, and his ERA ballooned. Thus far, Ross seems to trust Workman in the late innings. Adam, a pitch lab product, has also worked valuable late innings out of the pen. The right-hander has built on his success late in 2020 during his four appearances this season. Adam has a 2.45 ERA and seven punch-outs so far this year.
The Cubs bullpen has lacked a dominant lefty for a while, but it seems that they may have o in Andrew Chafin. Chafin joins Kimbrel as the only reliever to have not yet allowed a run while striking out eight batters in less than four innings of work. His mustache has captivated social media, and his performance has built a level of trust within the Cubs' bullpen.
As you work back down the bullpen pecking order, Ryan Tepera has been a solid piece. Tepera was a valuable member of the Cubs' 2020 bullpen before hitting free agency and ultimately settling to come back to Chicago. Tepera displayed last season that he can eat late-game innings. While his ERA (4.91) is a bit inflated from one bad appearance against the Pirates, the Cubs are happy to have him back in the pen.
A couple of members of the pen that were question marks to begin the season were Dan Winkler and Rex Brothers, the Cubs' other lefty. Winkler has been developing his stuff all offseason and has led the Cubs in appearances this season so far with five. Winkler sports a 2.25 ERA as well. Brothers isn't your traditional lefty specialist — but those aren't as valuable nowadays anyway — and has proven to be capable of getting outs for David Ross.
The arm who received the last spot on the roster was Dillon Maples, the hard-throwing right-hander with plus stuff, who has struggled with command in his career. Out of the entire Cubs' pitching staff, Maples' slider is arguably the most unhittable pitch. Maples is out of options back to the minors, so he is essentially pitching for his job, and he is doing so admirably. While the youngster has appeared in just two games so far, he has covered four innings of one-run ball. Expect Maples to get some long relief appearances in this bullpen.
The last piece of the puzzle is Alec Mills, the Cubs' Swiss Army knife. Mills' name is forever etched in the history books because of his no-hitter last season, but he enters the season as a member of David Ross' bullpen. So far, Mills has worked in an outing longer than an inning and also earned a save. Ross trusts mills to execute various roles in the Cubs' bullpen so that Mills may be an X-factor of sorts.
At the alternate site or on the injured list sit a few more players that the Cubs expect to be a part of their 2021 bullpen. No name is more important than Rowan Wick, a dominant right-hander who has shown signs of potentially being a closer. Wick has demonstrated an ability to pitch high leverage innings in both 2019 and 2020 before the injury, an injury that has delayed his return.
Brad Weick, a tall left-hander, had a strong finish to 2019 for the Cubs out of the bullpen before a bumpy, injury-prone 2020. If the Cubs could get him right, he would be a welcomed addition to a righty-heavy pitching staff.
Jonathon Holder was one of the Cubs' first acquisitions this offseason. The 28-year old righty has shown flashes of dominance during his five seasons with the Yankees, although he currently sits on the ten-day injured list.
Pedro Strop, the storied Cubs reliever who broke protocol during camp, also waits in the wings. While Strop's velocity is not what it used to be, he showed signs during Spring Training of someone Ross could trust to get big outs at the major league level.
Kyle Ryan was the team's only lefty at points last year and did not initially make the big league roster out of camp. The Cubs believe they can figure some things out with Ryan to make him even more effective, but I certainly expect to see him at the major league level at some point this season.
In addition to all of those, Keegan Thompson, Justin Steele, Kohl Stewart, Manuel Rodriguez, Cory Abbot, and top prospect Brailyn Marquez are all under 30-years old and on the Cubs' 40-man roster.
It has not been an ideal start in most aspects of this season, but the bullpen has been a highlight for the Cubs. Not only has the pen served as a strength for the Cubs, but the unit could also be getting some reinforcements soon.

Tags: Cubs Baseball
,
David Ross
,
Craig Kimbrel
,
Brandon Workman
,
Jason Adam
,
Andrew Chafin
,
Ryan Tepera
,
Rex Brothers
,
Dillon Maples
,
Alec Mills
,
Rowan Wick
,
Pedro Strop
,
Kyle Ryan
,
Keegan Thompson
,
Justin Steele
,
Kohl Stewart
,
Manuel Rodriguez
,
Brailyn Marquez