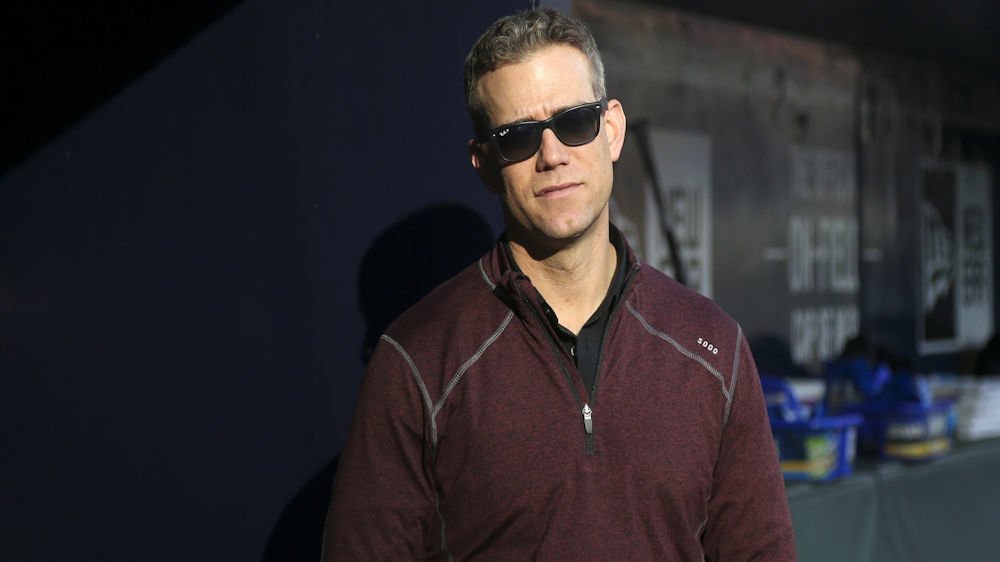 | | |
| --- | --- |
| Commentary: Cubs need to search for another shortstop, not second baseman | |
---
As time continues to fly toward July 31st (the trade-deadline), Theo Epstein seems to (once again) be dragging his feet. I don't envy that man. At this point, his job is to- quite literally- make some game-changing decisions, which is not an easy task, especially considering the circumstances.
The Cubs are in first place, their lead in the division has been increasing since the All-Star break, and yet, this is a team who teeters between needing almost everything and nothing, all at the same time. The offense is screaming hot- until it's not, and the pitching is fantastic- until it isn't. About the only thing, the Cubs do have going for themselves, is the consistency of the starting rotation- but then again, even those guys are (mostly) aging, and 40% of the rotation is about to hit free agency. Sigh. WAIT! They do have Craig Kimbrel, so at least that's one area that doesn't need to be considered.
Not that waiting until the last minute is ever a good idea, but for now, the starting rotation doesn't rank as a priority- at least as far as the trade deadline is concerned. What does seem to be a priority, is securing a leadoff man, a second-baseman who's solid and acquiring some left-handed relievers who can throw quality innings- even though they have some. There's one huge problem here though- the Cubs aren't far from the top luxury tax threshold (still millions to go, but start signing guys of quality, and that money starts adding up fast), meaning that there's a 75% tax on every salary-dollar paid, when they cross that demarcation line. Hmm.
Let's start with this second-base thing.
"I think it's impossible to forecast. There's a chance the roster looks a little different on August 1st. We'll see exactly how things shake out roster wise." -Theo Epstein on how he sees the 2nd base spot shaking out

— Bernstein & McKnight (@Bernstein_McK) July 19, 2019
Addison Russell has found himself, despite his questionable behavior, in a position where he's damn near untouchable- at least for now. Russell offers solid defense- though I question his arm at times- and he plays a mean middle-infield, but the one thing he offers is a quality, backup-shortstop for Javier Baez, I think the Cubs would dump him in a minute for "something better," but if Baez goes down, who plays short? Russell is getting time at second base to keep him fresh, and his bat has been helpful, but he's not the best man for the job.
David Bote offers good defense, and we all know about that bat of his, but he also provides the ability to play third (and some shortstop, among other positions), leaving Joe Maddon the opportunity to play Kris Bryant in the outfield (not something that I'm overly fond of either). Bote isn't going anywhere, as he just signed a team-friendly extension (I hate that term), to spend the next handful of years in Chicago, but for whatever reason, Theo & Company don't view him as the answer at second base either.
I'm content with making (or at least attempting to make) Robel Garcia the permanent second-baseman. The kid may be new, but he has this Bote-esque quality about him; he can field, and he swings a wicked bat, never presenting himself as a rookie, but rather as an established big-leaguer. Oh...but, he doesn't play short.
Fans, speaking from the heart, want to see Ben Zobrist at second and batting in the leadoff spot, but even Theo's words seem to be preparing fans- and maybe the team- for the worst.
"We're going to know something more in about a week. That will be the time to ultimately make a decision. We are not counting on this at all. We are not operating under the strong assumption he is going to be back." -Theo Epstein on Ben Zobrist

— Bernstein & McKnight (@Bernstein_McK) July 19, 2019
I've said since the day that he took his second leave, that Ben would be hanging up his cleats, as his life and priorities would become more about his kids, due to his divorce. Zobrist's presence does (did) offer quality at the plate, at second base, and in the clubhouse, but sadly, I believe circumstances have set that ship a sail.
It seems evident that this second-base issue is more of a shortstop thing, yet I've heard nothing about the Cubs looking at bonafide middle-infielders, who could double as a backup shortstop.
As for those other issues (lefty relievers and a leadoff man), I guess we'll see. Randy Rosario had been good but was demoted when Carl Edwards Jr. was recalled the other day, and Kyle Ryan has improved, but for how long?
Just as quickly as the Cubs were linked to guys like Will Smith and Tony Watson, the chatter quieted, and there hasn't been much talk (at least publicly) about interest in anyone else. Whit Merrifield would seem to solve the leadoff man issue, and although he plays solid outfield and a great second base, he isn't a shortstop.
Good luck, Theo. You have less than ten days to figure this out.

Upgrade Your Account
Unlock premium boards and exclusive features (e.g. ad-free) by upgrading your account today.
Upgrade Now

Tags: Cubs Baseball
,
Addison Russell
,
,
David Bote
,
,
Robel Garcia
,
Ben Zobrist
,
Randy Rosario
,
Kyle Ryan
,
Joe Maddon
,
Theo Epstein