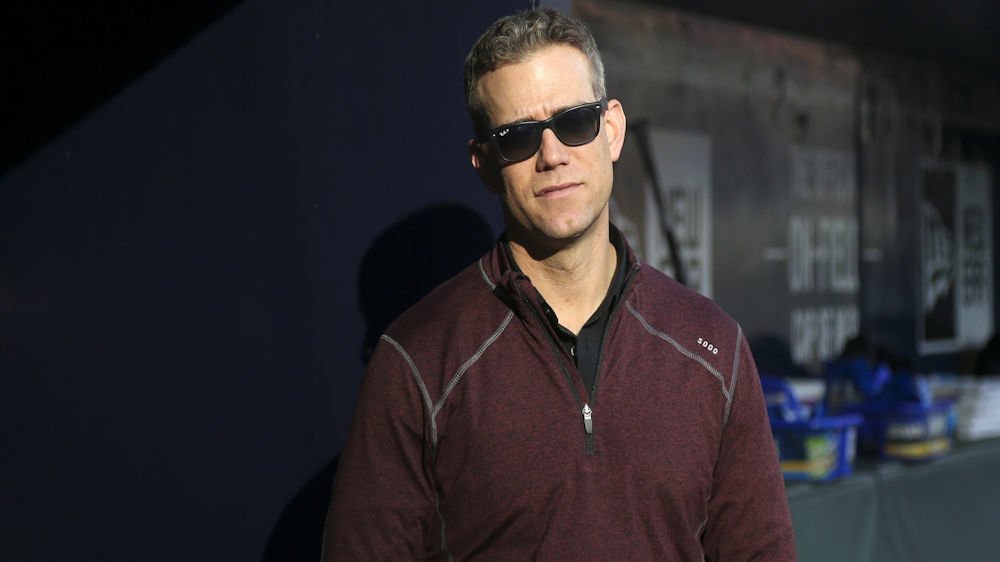 | | |
| --- | --- |
| Commentary: Has an influx of different Cubs coaches caused disconnect? | |
---
| | | |
| --- | --- | --- |
| Thursday, July 11, 2019, 5:15 PM | | |
We have officially hit the all-star break of the MLB season, and for Chicago Cubs fans, they can feel fortunate yet disappointed at the same team despite being in first place at the break. I look at this as a glass half full glass half empty situation right now given what has transpired this season.
On the positive side of things, we are still in first place despite dealing with injuries to our rotation, inconsistent offensive play and a revolving door of a bullpen that continues to be band-aid late in games. Also, the Cubs have been fortunate that the rest of the division has played nearly as bad as them over the past two months were; they haven't found themselves out of second place since early April.
On the negative side of things, this team has had a lot of issues dating back to last season that has not been ironed out quite yet. We have also seen teams like the Reds and Pirates get hot as of late to bring themselves right back in the mix as the second half is going to be an absolute blood bath. Listening to Frank Thomas the other day, he has said there is a disconnect in the Cubs clubhouse.
As much as I don't want to believe that, he may indeed be right, but what exactly is this disconnect coming from? Is it the players continuing to decline and not reaching 2016 levels? Is it a team that is at the end of a grueling schedule where they were running on fumes heading into the all-star break? Or is it the most talked about topic of whether Manager Joe Maddon still has respect from some of his players?
Although most of those mentioned above could be accurate at some point, I think looking a little deeper is the leading cause as to why the Cubs have been where they have been the past few seasons. One thing that nobody talks about is the constant influx of coaches the Cubs have brought in as they are on their third different staff in three seasons. That can take a toll on players, and it has shown the past two seasons.
The first three years Maddon was here, he had the same staff intact with Dave Martinez as his bench coach, John Mallie as the hitting coach and Chris Bosio as pitching. In their three years together, the Cubs managed to make the playoffs all three times with two division titles, three straight NLCS appearances, and a World Series win in 2016.
Since then, the Cubs have had a different bench coach, different hitting coach and different pitching coach in each of the past two seasons and it appears that the team does have some overall disconnect in terms of their level of play. Why do I feel that way you may ask? Well, the main reason is continuity as the players were familiar and comfortable with the original staff.
During Maddon's first years, the Cubs knew what to expect from both Mallie and Bosio as the results spoke for themselves. Mallie was all about working the count, hitting long balls and a two-strike approach at the plate, while Bosio preached aggressiveness and working the corners. Not only did those teachings work, but the Cubs bought into those systems right away and were playing baseball at such a high level that many thought this team was on dynasty status entering the 2018 season. That is when everything changed.
Not only did Martinez bolt to take the Washington Nationals managerial job, but both Mallie and Bosio were out the door leaving their positions open in the process. Maddon's long time buddy Jim Hickey replaced Bosio while Chili Davis took over the hitting duties. After three years in the same system, the youthful lineup for the Cubs now had to learn something new in hopes of keeping their overall play at the same level.
Hickey was all about matchups and analytics and was less worried about pitching to contact. That is why the Cubs struggled with walks and keeping the ball in the yard early last season as they tried to be too fine at times instead of doing what made them successful the previous three seasons. Davis was about as opposite of Mallie as you can be which I think broke the Cubs offense in the end.
Chicago is going to hit homers and strikeout as that is in their DNA. Davis knew that and wanted them to be a higher on-base percentage team. He was willing to sacrifice power for more contact and more walks. In theory, that sounds like a good idea, but when the rest of the league is blasting long balls at a record pace that could also prove to be the wrong message if things go wrong.
The first half of the season, not a whole lot was being said about the hitting as Chicago continued to look like the team that we came accustomed to the previous three seasons. Then the second half began, and the team not only struggled but limped to the finish line as one of the worst offenses in all of baseball after the all-star break which resulted in two straight one-game playoff losses.
Whether the second half was a result of fatigue or a team trying to get back to what they did best when something new was being preached, the Davis combo with the Cubs never seemed to mesh as the offense looked lifeless toward the end. Fast forward to this season, and once again the Cubs have yet another new coaching staff in place.
Bench coach Brandon Hyde is now in Baltimore as the manager and was replaced by Mark Loretta. Davis is now with the Mets and Hickey is not coaching in 2019. Looking to get back to what made Chicago so successful in previous years, the Cubs elected to bring in former Texas Rangers hitting coach Anthony Iopoce for the same position and hired Tommy Hottovy as the pitching coach.
The Iopoce move made a lot of sense as he worked with Mallie during the 2015 season with the Cubs and is certainly familiar with what their tendencies are at the plate. His big message has been opposite field hitting and a better two-strike approach which was working early in the season but has not been yielding the same results as of late.
Hottovy was a bit of a head scratcher as he had no coaching experience before this year. He was one of those behind the scenes guys that looked at the analytics in depth on a personal one on one basis with each pitcher which the Cubs were hoping that close bond would move forward to a coaching role. Even with a plethora of changes and injuries to the staff, Hottovy has not been what the Cubs have hoped as the team is still walking too many hitters as a whole. Granted, he has no control over that, but he needs to figure out what to do to bring the best out of his players.
I am not trying to be cynical about any of these coaches because they all have great numbers as coaches otherwise, they wouldn't be in this league, to begin with. My only concern is going back to Thomas' point about the team having a disconnect in the clubhouse. Maybe the constant changing of personal is causing this disconnect as every year it seems like an entirely new staff is in the mix.
Players don't always like change, and sometimes it takes them a while to adjust to a new system. After having familiarity with a system for three years, they have now had two new systems in two seasons. Judging by what I see on the field, it seems as if the team has not bought into either one of these systems the past two seasons and have tried to do things on their own instead of listening to the coaches. I could be completely off base on that observation, but teams do like familiarity with systems and continuity with coaches.
You like to know who you will be working with one season to the next and exactly what to expect on the field when spring training starts. The more coaches you bring in during a managerial tenure, the less likely a team will buy into a system and put trust in those coaches as they don't have the confidence that those same coaches will be around the next season.
This season does seem different from last year as the team is at least familiar with both new coaches considering how they have been in the organization during Maddon's tenure. Now it is time for the Cubs to trust these men and buy into the system as it seemed to be working early. Do I expect things to get better in the second half, yes but it won't be a runaway in this division?
My biggest fear is that if the Cubs miss the playoffs or even make the postseason and come short of the NLCS that not only will Maddon be gone but the entire staff will be recycled yet again. That would mean another new staff next season, bringing the total to four staffs in four years. Just ask Jason Heyward how difficult it is for a team to buy into an ever-changing system when every hitting coach he has had with the Cubs has told him something different to do at the plate. It appears he finally has what he needs to make things work but do the Cubs have what they need to succeed once again, or will more change be required next season?
Stay tuned for an exciting summer in Chicago.