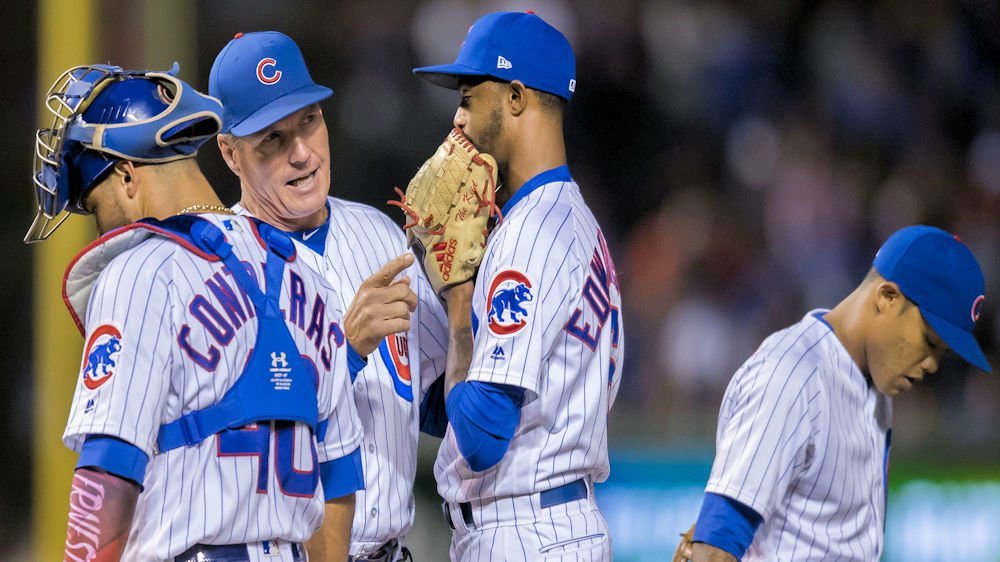 | | |
| --- | --- |
| Commentary: The writing on the wall | |
---
| | | |
| --- | --- | --- |
| Tuesday, September 11, 2018, 2:22 PM | | |
The naysayers scoff at every article I write. They question my loyalty to the Cubs in one breath, then claim I know nothing about baseball in the next. You don't have to be a Len Kasper or a David Kaplan to read the writing on the wall though, and right now the wall says that the Cubs look to be in serious trouble.
Dropping a home game against the Brewers last night, as the result of a wild pitch of all things, seemed like a cold slap in the face. The Cubs lead is now down to just one game over Milwaukee, and the Cards are now within 3.5 games. As much as I don't want to see, say or even think it, I think it's time to brace yourselves for the fact that the Cubs may not be strong enough to overcome this latest round of losses.
The offense continues to be (quite literally) hit and miss. Weak contact and ugly strikeouts have been the theme, and the stranded baserunners continue to pile up. Those who have been making contact seem to continue to do it well, while those who are struggling continue to languish. The slumping portion of the offense is outweighing the productive part, making it almost impossible for Joe Maddon to string together a decent batting order.
To say that the bullpen has been rough as of late seems to be something of an understatement. Carl Edwards, Jr., the once strong set-up man, has become unreliable, and Justin Wilson appears to go back and forth between being effective and getting himself clobbered. Steve Cishek has had his fair share of woes lately, and about the only good thing I can see coming out of Jaime' Garcia's acquisition, is that Tyler Chatwood suddenly looks like a viable pitcher again.
Just about the time that the Cubs finally had the starting rotation looking and pitching better, Jon Lester tweaked his lower back last night. Although feeling better as of this morning, this is not a loss that the Cubs can afford to take. With Chatwood's exit from the rotation and the perpetually absent Yu Darvish, the Cubs' finally seemed to have pieced it together by adding Cole Hamels and Mike Montgomery. At this point, losing Lester for even a start or two would be nothing less than catastrophic for a team who suddenly seems to be clinging to life.
Before last night's game, the objective was to distance themselves from Milwaukee; today that focus has shifted to trying to retain first place.
Whether you blame the players or fault the management and coaching, it's painfully apparent that something isn't right in Wrigleyville. The Cubs teams of 2015 and 2016 were Cinderella stories; nobody expected that sort of progress, but they just kept winning. With the 2018 team, we've all grown to expect those sorts of results, but they can't seem to pull it together.
With just 19 days left in the regular season, one can only wonder what the post-season holds for Chicago. Three months ago I couldn't see the Cubs beating Boston in a World Series, and now I'm having trouble seeing them beating Milwaukee for a pennant.