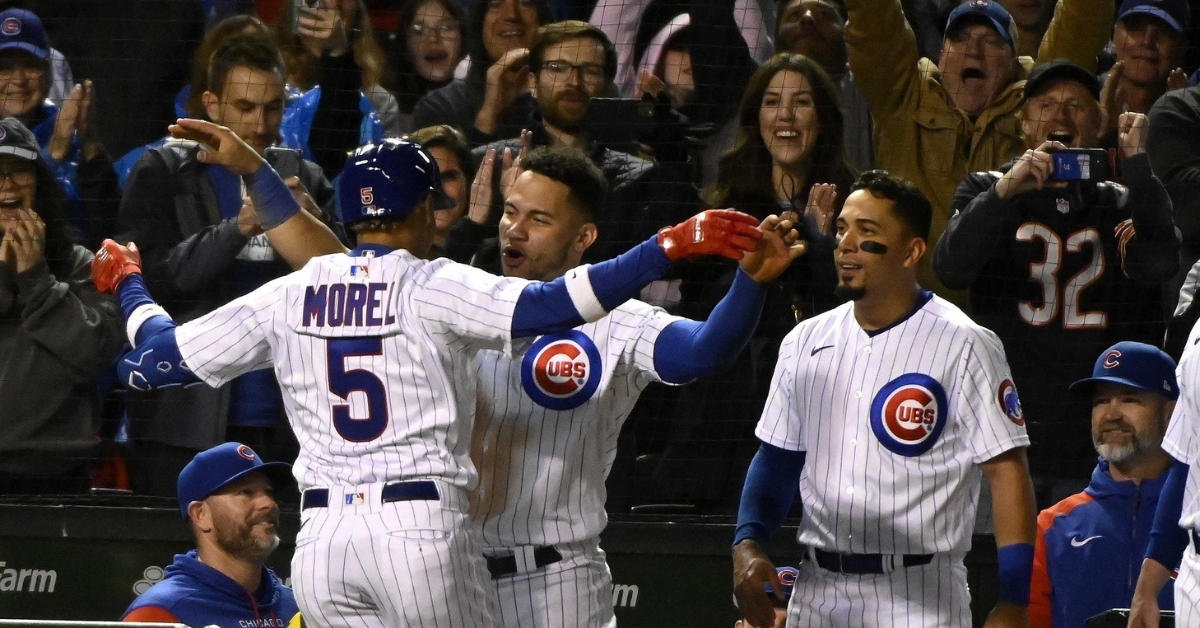 | | |
| --- | --- |
| Commentary: 2022 Cubs is a flashback to 2014 | |
---
It is no secret that the Cubs are in the midst of the franchise's second organization-altering rebuild in less than a dozen years.
However, to provide a glimmer of hope for rightfully frustrated Cubs fans — it appears this rebuild is moving much quicker than before.
Theo Epstein and Jed Hoyer were brought in initially in 2011, and they began to rebuild the Cubs team. Through trades, they tore down the remnants of the Chicago Cubs, and slowly built them toward championship pedigree. 2012, 2013, and most of the 2014 season were bleak for fans, as the Cubs were one of the worst teams in baseball.
It wasn't until August of 2014 that the Cubs finally began to show flashes of a team that could compete. Anthony Rizzo was beginning to approach superstar status, and the Cubs saw young players like Jorge Soler and Javier Baez make impacts that were certainly promising for the future. Not to mention, 2014 was also when both Kyle Hendricks and Jake Arrieta emerged as anchors for a potential playoff rotation.
The Cubs certainly had holes on their roster, but with Soler and Baez just called up and Kris Bryant, Addison Russell, and Kyle Schwarber waiting in the wings, it looked like the future was bright.
Then in the offseason, the Cubs signed ace Jon Lester, catcher David Ross and center fielder Dexter Fowler — as well as called up their highly ranked prospects early in 2015 — and it was the perfect storm.
The Cubs made the playoffs in five of the next six seasons and of course won the famed World Series in 2016, in epic fashion.
This time around, the Cubs had a much more drastic teardown — trading 15 major league players (Victor Caratni, Yu Darvish, Javier Baez, Craig Kimbrel, Ryan Tepera, Joc Pederson, Andrew Chafin, Trevor Williams, Anthony Rizzo, Kris Bryant, Jake Marisnick David Robertson, Mychal Givens, Scott Effross, Chris Martin from before the 2021 season until now — but are also showing promise much sooner.
Like the 2014 Cubs, who went 16-14 in August, the Cubs had a strong month after the trade deadline here in 2022, fining 15-15 after a 7-5 victory over the Blue Jays in Toronto.
What is encouraging the Cubs have shown flashes of a team that might not be that far away from competing.
Similar to that 2014 team, the Cubs are seeing an incredible season from a veteran player in Willson Contreras (like Starlin Castro had). An All-Star caliber breakout from an unproven piece: Ian Happ (like Anthony Rizzo had). Better-than-hoped-for emergences of offensive prospects: Nico Hoerner and Christopher Morel (like Javier Baez and Jorge Soler had) and finally, two young pitchers who appear to be workhorses for a future rotation: Justin Steele and Keegan Thompson (like Kyle Hendricks and Jake Arrieta).
Not to mention the Cubs have a slew of prospects waiting in the wings: Brennan Davis, Pete Crow Armstrong, Matt Mervis, Kevin Alcantara, Alexander Canario, Christian Hernandez, Ed Howard, Miguel Amaya and more.
All that and some money in the bank to spend this offseason and a nice class of free agents? Maybe we've seen this before.

Tags: Cubs Baseball
,
Anthony Rizzo
,
Jorge Soler
,
Kyle Hendricks
,
Jake Arrieta
,
Kris Bryant
,
Addison Russell
,
Kyle Schwarber
,
Jon Lester
,
David Ross
,
Dexter Fowler
,
Yu Darvish
,
Craig Kimbrel
,
Ryan Tepera
,
Joc Pederson
,
Andrew Chafin
,
Trevor Williams
,
Jake Marisnick
,
David Robertson
,
Mychal Givens
,
Scott Effross
,
Chris Martin
,
Willson Contreras
,
Ian Happ
,
Nico Hoerner
,
Christopher Morel
,
Justin Steele
,
Keegan Thompson
,
Kevin Alcantara
,
Alexander Canario
,
Miguel Amaya
,
Theo Epstein