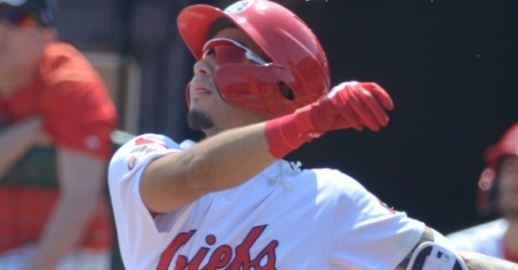 | | |
| --- | --- |
| Cubs add to minor league depth with four signings | |
---
The Cubs may not be involved in the major league free agent market right now, but they certainly have been aggressive in the minor leagues as they continue to add depth across the board. What they have done more this season than in the past is scour the Independent Ball market to find talent where they already added a few signings in the past few weeks.
That list continues to grow as the Cubs may have found something in Independent ball this season as they will now be adding four more players from the independent ranks and adding them to their minor league system. Shortstop Edwin Figuera, Catcher Harrison Wenson, righty Justin Schafer and Lefty Dalton Stambaugh are the newest additions and all come with a ton of upside.
Figuera is the one to watch as he will join an already stacked shortstop pool filled with Ed Howard, Christian Hernandez, Yeison Santana, and Kevin Made. The 23-year-old had a fantastic start for the York Revolution, putting together a 355/500/516 slash line over his first 12 games. That shouldn't come as a surprise to those familiar with him, as he was formally part of the St. Louis Cardinals system.
He even saw action in High-A during the 2019 season, so there was a lot the Cardinals liked about him. The answer to why he is playing in the independent league isn't clear, but he could have been one of those casualties during the 2020 minor league affiliation cutdown. His performance didn't go unnoticed, and now the Cubs are adding him to their system to see what he can do.
Another position that the Cubs have plenty of depth is catcher, which starts with Miguel Amaya. With Amaya down with an injury and guys like Ethan Hearn and Ronnier Quintero still unproven, adding Wenson isn't a bad idea. This is not an Independent Ball singing but a minor league free agent signing, but Wenson comes with high remarks.
At 26 years old, Wenson was scouted a lot as a youngster, getting drafted three separate times before finding a home in the Angeles organization. After working his way up through the system, his bat never reached the level Los Angeles thought it would, and they released him earlier this season. Wenson has played sparingly in AAA, but it appears his best days were down in High-A. Consider this an organizational fill-in piece with hopes of turning his career around.
The player with the most intrigue on this entire list is that of 28-year-old Schafer. A bit older than most of the Indy Ball signings the Cubs have made so far, Schafer is considered a prospect, but still has way more experience than most. He spent time in the major leagues from 2018-20 as a member of the Toronto Blue Jays, so he does have some big-league experience under his belt.
Schafer has been pitching in the American Association this season, where he made five starts. Although his ERA wasn't pretty, he proved to be a big-time strikeout pitcher punching out 26 in just 19 1/3 innings of work. His best season as a pro came in 2019 when he pitched in 34 games totaling just under 40 innings for the Blue Jays that season.
Schafer went 2-1 that season with a respectable 3.86 ERA, 25BB and 39K. Striking out hitters has never been an issue, but the command has. Should the Cubs bring him into AAA and get a look at him, maybe they can untap some of that potential Given his previous experience, he could be an excellent September addition to a bullpen that could use some arms by then.
The 24-year-old Stambaugh is far less experienced as the Orioles drafted him in 2019. The 30th round pick then pitched 10 games in 2019, including one start in rookie ball where he looked good on the hill. Not only did he post an impressive 1.69 ERA in 21 1/3 innings, but he added two saves to go with seven walks and 18 punchouts.
There was a lot to like about him back then, so to see him pitching in the Frontier League in 2020 was a bit strange. This could be another case of a player getting affected by the cutting of minor league teams, but unlike Schafer, Stambaugh was pitching very well in Indy ball this season. Stambaugh is more of a true prospect type of a pitcher, and who knows what can happen once the Cubs get him in their pitching lab.
These are typically signings that major league teams do when they want to add depth, but there are times that they do pan out. Rich Hill is the prime example of this. The once former Chicago Cubs starter dealt with arm issues earlier in his career that forced him out of the game. Unwilling to give up, Hill pitched in independent ball for years where he was looking better than before.
The Boston Red Sox took notice, and the rest is history. Since then, Hill has turned himself into a solid starter when healthy. Maybe one of these recent signings can have a similar reward for the Cubs.