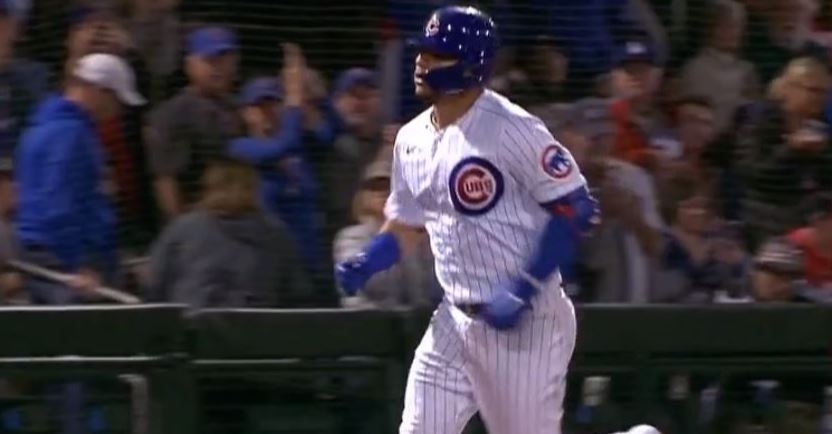 | | |
| --- | --- |
| Cubs blow out A's in Spring Opener | |
---
The Cubs are back, and they looked good tonight. Well, here we are (finally), Opening Day of spring training for the Cubbies. The day started off on a pair of sour notes, first with Morrow falling again to injury (chest strain), then David Ross missing his first game as the Cubs' skipper due to the flu.
Before leaving for home to rest, Rossy scratched out his starting lineup, featuring an unusual twist, Jason Heyward batting cleanup. The opening batting order consisted of Kris Bryant (3B), Anthony Rizzo (1B), Javier Baez (SS), Jason Heyward (RF), Willson Contreras (C), Jason Kipnis (2B), Steven Souza Jr. (LF), David Bote (DH) and Albert Almora Jr.(CF). Alec Mills would get the start.
Anthem time in Mesa. pic.twitter.com/KEgt1Im7hW

— Jordan Bastian (@MLBastian) February 23, 2020
David Ross' prescription called for a pitcher per inning while utilizing a mix-n-match offense consisting of 26-man roster players and spring training hopefuls. They say spring training doesn't count for much, but it was refreshing to see the Cubs working as a team, rather than playing as nine individuals.
For the most part, the Cubs' pitching was impressive, but their offense is what stole the show. Patience at the plate, some aggression on the basepaths, and hitting more for contact than home runs proved to be successful for Ross (in absentia), Andy Green, and their team.
There wasn't a ton for the highlight reel, but the scoring and domination speak for themselves. In a way, a limited highlight reel is good, as it shows everybody just worked on saving the at-bat for the next guy.
The first five innings of pitching (Alec Mills, Jharel Cotton, Duane Underwood Jr., Rex Brothers, and James Norwood) would go smooth for the Cubs, as the group combined for five shutout innings.
T2: Punctuating the defense was a nice play by Kipnis in the second on a groundball headed up the middle.
B2: Willson Contreras led off the bottom of the second with an absolutebomb to left center, giving the Cubs a 1-0 lead.
Willson Contreras absolutely tattooed that ball to the moon ?pic.twitter.com/fqrSBRwQ6Z

— Dillard Barnhart (@BarnHasSpoken) February 23, 2020
Kipnis made good contact on a flyout to center, followed by Souza, who grounded out. Bote hit a solid single up the middle, then Almora planted one into the gap between right and center. Bryant singled to the left, scoring both Bote and Almora to put the Cubs up 3-0. Will Venable was aggressive with Almora, who was flying on the play, outracing a throw from left to home.
Back in the swing of things. pic.twitter.com/btM6Cw0Sn4

— Chicago Cubs (@Cubs) February 23, 2020
T-3: Willson Contreras fired a laser to retire a would-be base stealer in the top of the third.
Willson Contreras is a defensive wizard ? pic.twitter.com/tEnqGWYqh4

— Dillard Barnhart (@BarnHasSpoken) February 23, 2020
B-3: Cubs making substitutions after the starters get a final at-bat. Asuaje pinch runs for Heyward gets caught stealing on a wild pitch, which should have easily allowed him the base. Nothing else materializes. Cubs still lead 3-0.
B-4: Bote leads off the inning with his second knock of the night, followed by Almora's walk and Giambrone's single to load 'em with nobody out. Caleb joseph walked, scoring Bote. Zack short would hit into a force play, scoring Almora, Noel Cuevas flied out to the right, followed by PJ Higgins, who grounded into a force out to end the frame. Cubs up 5-0.
B-5: The Cubs would cash in again in the sixth, taking advantage of a double by Asuaje, a walk issued to Garcia, and then a double by Ian Miller. Cubs up 6-0.
T-6: Tyler Olson would make his initial appearance in the sixth, and they got to him quick. A leadoff single was followed by a double. A groundout to second would give Oakland their first run. Another base hit would get the A's to within four runs. Cubs still lead 6-2 after six.
B-6: The Cubs would attack again in the sixth, starting with a walk by Short. Cuevas, Higgins, and Asuaje would hit consecutive singles, netting a run, followed by Garcia, who got hit with a pitch. With two gone, Giambrone walked (scoring Higgins), to put the Cubs up 9-2.
T-7: Jason Adam took the hill in the seventh and issued a leadoff walk but escaped with no further harm.
B-7: Cubs go down in order but continue to lead 9-2.T-8: CD Pelham took control of the eighth, with Short and Asuaje combining for a fantastic putout. Pelham holds 'em scoreless.
Flashing the leather. pic.twitter.com/lGXci9fNWT

— Marquee Sports Network (@WatchMarquee) February 23, 2020
B-8: The Cubs would pounce again in the eighth, beginning with Garcia's walk, then Miguel Amaya's single to the left. With two away, Giambrone's three-run blast to left field left no doubt about who'd win this one.
T-9: Dakota Mekkes would get his chance to close it out, and he did it in fashion; 1-2-3 to end it.
Final Score: Cubs 12 A's 2;
A's totals: 2 runs, 5 hits, one error.
Cubs totals: 12 runs, 13 hits, 36 at-bats (Team avg. .361), one error, 6 for 17 (.353) with runners in scoring position.
I haven't said this in six months... Fly the W flag and sing the song...
Cubs win!

Final: #Cubs 12, A's 2. pic.twitter.com/4L4fgeUiMF

— Chicago Cubs (@Cubs) February 23, 2020
Baseball season's underway! pic.twitter.com/CKpC6Yto6S

— Chicago Cubs (@Cubs) February 23, 2020
Next game: Sunday, 2:05 PM. Cubs vs. Dodgers from Camelback Ranch

Tags: Cubs Baseball
,
David Ross
,
Jason Heyward
,
Kris Bryant
,
Anthony Rizzo
,
,
Willson Contreras
,
David Bote
,
Albert Almora
,
,
Jharel Cotton
,
Duane Underwood
,
Rex Brothers
,
James Norwood
,
Noel Cuevas
,
Ian Miller
,
Tyler Olson
,
Jason Adam
,
Miguel Amaya
,
Dakota Mekkes
,
Will Venable