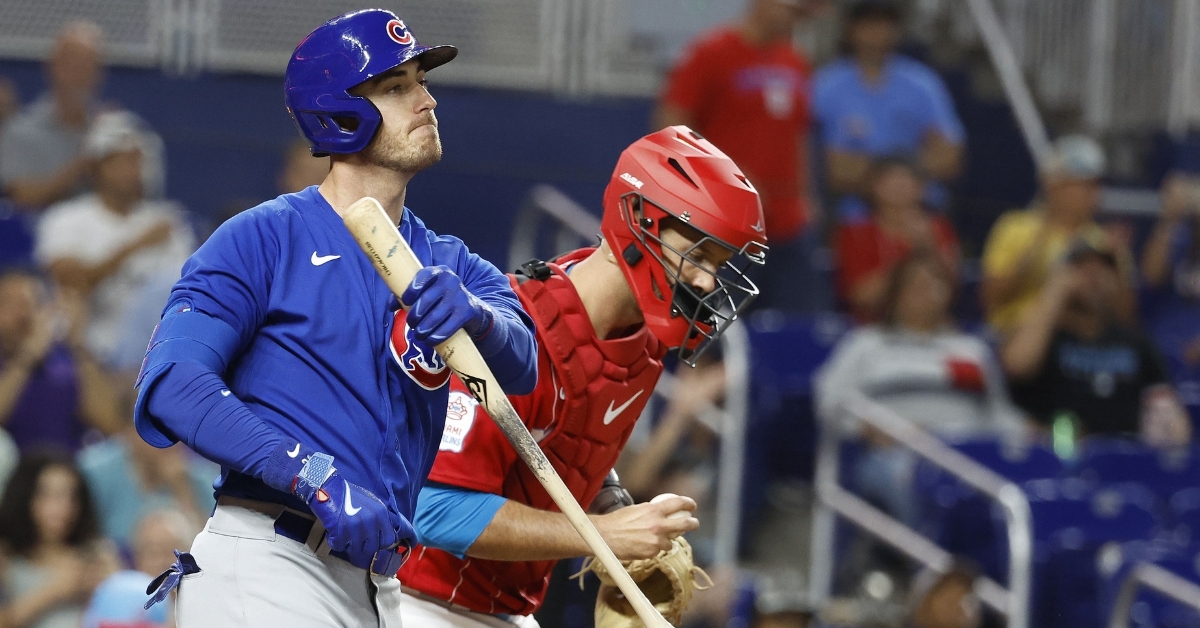 | | |
| --- | --- |
| Cubs could find themselves in baseball purgatory come trade deadline | |
---
As has been the case for the Cubs over the course of the last two seasons, the trade deadline has loomed as an important milestone for the Cubs and its roster construction to get past.
The Cubs spent this winter bolstering their roster. One-year contracts to veterans like Cody Bellinger, Michael Fulmer, Brad Boxberger, and Eric Hosmer; Multiyear contracts to players like Dansby Swanson, Drew Smiley, Jameson Taillon, Trey Mancini, and Tucker Barnhart; extensions to players on the rise like Ian Happ and Nico Hoerner plus the already lingering contracts from 2022 to Marcus Stroman, Yan Gomes, and Sieya Suzuki. While the Cubs have been rebuilding, this offseason seemed like a perfect push toward contention and a focused effort on improvement — and the Cubs' hot 11-6 start seemed to hint at just that.
However, since then, it has been troubling for the Cubs — who have played like one of the worst teams in baseball now for about a month plus. The past two trade deadlines have seen the Cubs depart with almost twenty players. Kris Bryant, Anthony Rizzo, Javier Baez, Trevor Williams, Andrew Chafin, Joc Pederson, Ryan Tepera, Jake Marisnick, Craig Kimbrel, Scott Effross, David Robertson, Mychal Givens, and Chris Martin are all names who have found new teams at the trade deadline.
Plus, deciding not to sign players like Jon Lester, Kyle Schwarber, and Willson Contreras after the season or trading Yu Darvish and Victor Caratini in the offseason have added to the roster turnover of the most recent rebuild. Most of those players have been under any of these three categories: players who are due to be free agents, valuable bullpen talent, and salary dump trades.
The way the Cubs have played certainly plays a part in that, as does the ownership's willingness to not focus on winning and rather exploit resources and profit — and of course, decisions from top to bottom that influence the roster daily, monthly, and yearly.
But the fact of the matter is, the way the Cubs are currently constructed — in a way that is supposed to produce winning baseball now and in the future — the Cubs do not have a whole lot to offer come trading season.
After their hot start, the Cubs have fallen toward the bottom of not only the NL Central but the entire National League. Typically, that would lead the Cubs to begin thinking about selling at the trade deadline. However, most of the Cubs roster are players who are pre-arbitration and players who are under contract for a long time — two categories that do not fit the mold of the type of trades that are usually made at the trade deadline: players due to be free agents, veterans in the bullpen and salary dump trades.
As we have seen in years past, the trade deadline can obviously surprise people. Would a contending team look for a catcher trade for Yan Gomes?
Could a contending team afford to offer opportunities to let Michael Fulmer or Brad Boxbeger work out their struggles down the stretch? Could a contending team find value in players like Patrick Wisdom or Mike Tauchman, or Drew Smyly?
All of those questions yield the answer yes. However, none of those moves are big ticket moves that would return anything crazy to the Cubs' farm system or roster anyway.
But the fact of the matter is players like Sieya Suzuki, Ian Happ, Nico Hoerner, Dansby Swanson, and Jameson Taillon are under contract for a long time.
Players like Justin Steele, Adbert Alzolay, Christopher Morel, and Matt Mervis are pre-arbitration players the Cubs seem to want to build around.
And some of their more experienced players or impending free agents like Trey Mancini, Patrick Wisdom, Nick Madrigal, Michael Fulmer, Brad Boxberger, and Tucker Barnhart have struggled so mightily that it would be a surprise for any contending team to be interested in them.
That really only leaves Marcus Stroman and Cody Bellinger.
Stroman can opt out after this season, and the way he has been pitching points to him wanting more money. And Bellinger was signed to a one-year prove-it deal, and he has been proving it thus far when healthy. However, Stroman has made it clear he would prefer to be extended than traded — which means the Cubs would likely honor their veteran's wish and not trade him and get a deal done if they can.
Bellinger could fit into the long-term plans potentially, or be a highly coveted rental at the deadline — but his injuries complicate that, and it's hard to imagine the Cubs truly get a haul for an impending free agent with an injury history.
Stroman and Bellinger have the most value — and the rest of the potential options have not been playing well enough to warrant much value.
So we'll see — the Cubs are not currently playing like a playoff team, but they may be too far into this rebuild to conduct another sell-off. The Cubs could find themselves in baseball purgatory come the trade deadline.

Tags: Cubs Baseball
,
Cody Bellinger
,
Michael Fulmer
,
Dansby Swanson
,
Jameson Taillon
,
Trey Mancini
,
Tucker Barnhart
,
Ian Happ
,
Nico Hoerner
,
Marcus Stroman
,
Yan Gomes
,
Kris Bryant
,
Anthony Rizzo
,
Trevor Williams
,
Andrew Chafin
,
Joc Pederson
,
Ryan Tepera
,
Jake Marisnick
,
Craig Kimbrel
,
Scott Effross
,
David Robertson
,
Mychal Givens
,
Chris Martin
,
Jon Lester
,
Kyle Schwarber
,
Willson Contreras
,
Yu Darvish
,
Victor Caratini
,
Patrick Wisdom
,
Drew Smyly
,
Justin Steele
,
Adbert Alzolay
,
Christopher Morel
,
Matt Mervis
,
Nick Madrigal