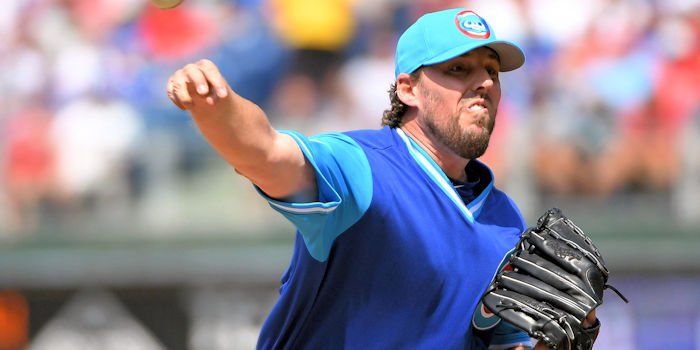 | | |
| --- | --- |
| Cubs go cold after hot start, lose series to lowly Phillies | |
---
| | | |
| --- | --- | --- |
| Sunday, August 27, 2017, 4:59 PM | | |
PHILADELPHIA – The Cubs lost their second of three games to close out Players' Weekend against the last place Phillies. The 6-3 collapse is the second time in four games the Cubs have blown a lead in the latter half of the game. John Lackey (10-10, 4.98 ERA) gave up five runs, four earned, in his five innings of work. Lackey had been pitching quite well since the All-Star break, but has faltered lately giving up 10 earned runs in his last 10 innings of work.
The Cubs did all of their scoring early, loading the bases off of starter Nick Pivetta. Anthony Rizzo roped a single to right scoring both Ben Zobrist and Kyle Schwarber. Tommy La Stella grounded into a fielder's choice that scored Kris Bryant. Javier Baez and Jason Heyward both walked afterwards to reload the bases with one out, but newly acquired catcher Rene Rivera struck out and Lackey grounded out.
There were a couple of scattered offensive chances in the game, but none were seized. The top of the fifth looked like the best chance, but Baez lined into a weird triple play. Rizzo walked to start the inning and La Stella singled to center field getting Rizzo to second. Baez lined to left field, but rookie Rhys Hoskins made a shoelace catch that looked like it may have bounced. Both Rizzo and La Stella were doubled up at second and first which ended the inning, despite Joe Maddon's challenge.
Triple play against the #Cubs. The catch was reviewed and upheld. Triple plays are rarely normal, but this seems like a weird one. pic.twitter.com/JmWNPoqVeY

— CSN Chicago (@CSNChicago) August 27, 2017
The bottom of the fifth featured a couple of tough breaks for the Cubs after Bryant's error on Cameron Rupp's grounder. Lackey allowed Pedro Florimon to score from third on a wild pitch and soon after gave up the tying single to Freddy Galvis. Nick Williams put the Phillies ahead with a two-run homer to cap the inning.
Hoskins has continued to rake in his first few games, jacking his 11th home run in 18 games against reliever Koji Uehara in the eighth inning. Hoskins is the fastest player ever to hit ten home runs in a career at 17 games.
The Boys in Blue will travel back home for a three-game set against the Pirates before hosting the Braves for four and then traveling to Pittsburgh for four more. Mike Montgomery (4-6, 3.43 ERA) has been excellent as a replacement starter for the injured Jon Lester. He will face Trevor Williams (5-6, 4.40 ERA) at 7:05 PM CDT.

Tags: Cubs Baseball
,
John Lackey
,
Anthony Rizzo
,
Ben Zobrist
,
Kyle Schwarber
,
Tommy La Stella
,
,
,
Jason Heyward
,
Koji Uehara
,
Mike Montgomery
,
,
Joe Maddon