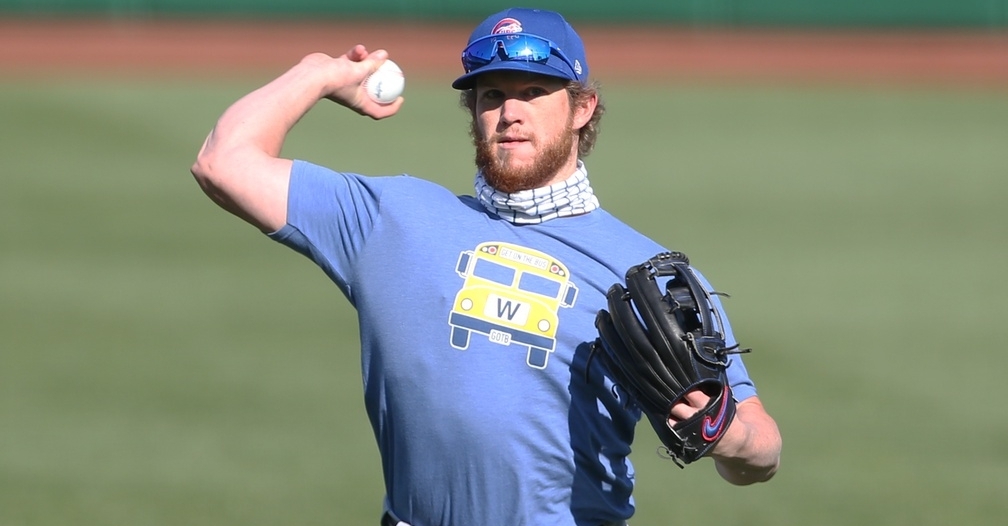 | | |
| --- | --- |
| Cubs have a plethora of bullpen options | |
---
We have arrived at the final weekend of 2021, where baseball won't be played. At least until COVID tells us it won't be played. With Spring training games scheduled to start on Monday, it is time for teams to put the finishing touches on their training side of things, as real fun will begin soon.
For the Cubs, this is spring all about competition and proving yourself, as they certainly have a lot to prove. They also must adopt a rare underdog role which could help ignite the fire in these guys once again. With a 26-man roster once again set for opening day, most teams will be going with a balance of 13 hitters and 13 pitchers. That means the Cubs will have five starters and eight relievers.
Those eight relievers are the most important question right now as the Cubs have 33 arms in camp right now; who will be available for opening day? Yes, you heard that right 33 arms are competing for bullpen spots, and unless injuries happen, a large portion of those eight spots are accounted for. How many arms is too many?
Having depth and competition is always a good thing, but at what point do you have too much. The Cubs are toeing the fine line right now when it comes to having too many arms. Not only are there very few open spots at this point, but how are you going to find enough work for all these arms. The only way to make the team is to get reps, and 33 pitchers are going to struggle to find work across a shorter spring training season.
Guys like Craig Kimbrel, Andrew Chafin, Rowan Wick, Dan Winkler, and Brandon Workman appear to be five-locks if healthy. Wick right now is not healthy and will be delayed pitching in camp. That could open another spot on the opening day roster that previously wasn't up for grabs. Guys like Alec Mills and Duane Underwood must make this roster in some form as they are out of options. Should the Cubs elect not to place them on the opening day roster, they would be subject to release, and the team would be at risk of losing them in waivers.
That right there takes up two more roster spots which now makes six or seven bullpen spots accounted for. That leaves 25 plus arms competing for one spot, and there are plenty of names to watch for. Jason Adam and Kyle Ryan are two guys that saw major league action last season and have success in the past. Adam is coming off a much better season than Ryan, but Ryan is a left which the Cubs don't have much of.
The problem with Ryan is that he is on the COVID list now, and no one knows how long it will take for him to get back to speed. Former top prospect Dillon Maples will get an extended look this spring as it is now or never for him. For years, the Cubs have dreamed about the possibility of having him as a lockdown reliever. The stuff has always been there, but with no command, Maples has had trouble sticking. If he doesn't make the team out of spring, he will be heading to the waiver wire as he is out of options.
James Norwood is another guy who could get an extended look this spring. Like Maples, Norwood has seen big league time but hasn't gotten over the command hump consistently. Last year, the command got much better, but an early-season injury ended his season. With a 99 MPH and a wipeout split change in his arsenal, it is hard to pass up on him should the command be ironed out.
While those seem to be the primary candidates battling for the opening positions, several players are projected to start in the minor leagues but are worth noting. Obviously, with strong spring showings of their own, they could make decisions difficult, but they also want to prove they can contribute this season.
No team is going through a season injury-free so having reliable AAA options that can come up and produce is critical. Veterans Shelby Miller, Rex Brothers, Adam Morgan, and Joe Biagini are all pitchers who have had major league success but are signed to minor league deals. They are not at risk of being sent to the waivers, and it gives the Cubs flexibility to watch not only in spring but in the minors to start the season.
You then have all the guys on the 40-man roster who have yet to make the Major League roster but have minor league options available. This makes sending them to the minors easier because they have the options and would benefit from more seasoning. Starters Brailyn Marquez, Tyson Miller, Kohl Franklin, and Keegan Thompson are on that list, and Cory Abbott.
Relievers like Manuel Rodriguez, Justin Steele, Juan Gamez, Brendon Little, Michael Rucker, and Trevor McGill are just some of the other minor league option level players that the Cubs have brought to camp. Typically, the reliever side of things is set in stone before spring ends. However, this could be the one spot on the roster to watch all camp as everyone on this list has a case to make the opening day 26-man roster.

Upgrade Your Account
Unlock premium boards and exclusive features (e.g. ad-free) by upgrading your account today.
Upgrade Now

Tags: Cubs Baseball
,
Craig Kimbrel
,
Andrew Chafin
,
Rowan Wick
,
Brandon Workman
,
Alec Mills
,
Duane Underwood
,
Jason Adam
,
Kyle Ryan
,
Dillon Maples
,
James Norwood
,
Rex Brothers
,
Brailyn Marquez
,
Tyson Miller
,
Kohl Franklin
,
Keegan Thompson
,
Cory Abbott
,
Manuel Rodriguez
,
Justin Steele
,
Juan Gamez
,
Brendon Little
,
Michael Rucker