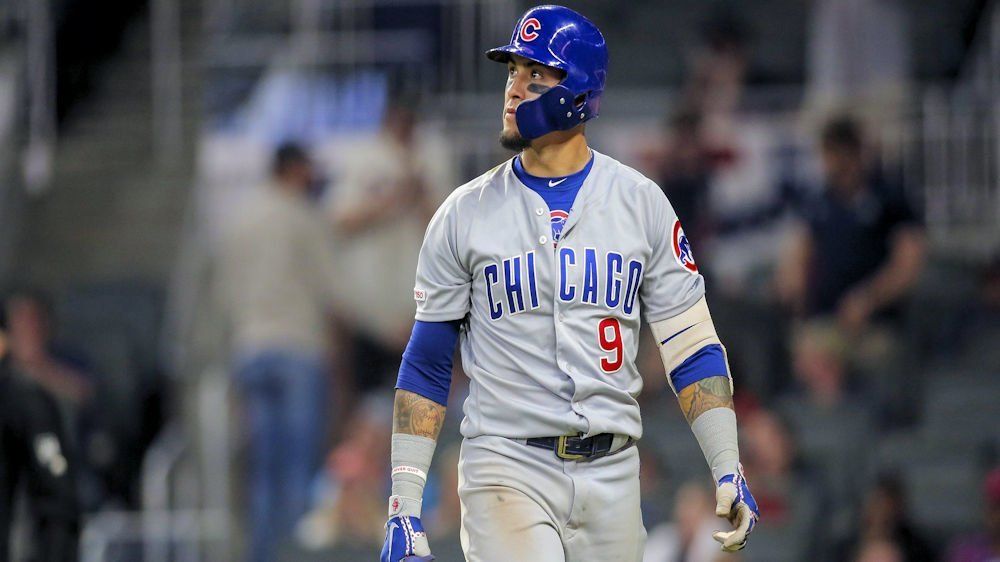 | | |
| --- | --- |
| Cubs lose again (this is BULL…pen), Bote's extension, Darvish's flaw, and MLB news | |
---
| | | |
| --- | --- | --- |
| Thursday, April 4, 2019, 8:57 AM | | |
Next Game: Today, 6:20 PM. Cubs @ Braves. Yu Darvish (0-0, 10.13 ERA) vs LHP Max Fried (0-0, 0.00 ERA).
Cubs' Home Opener: 4 Days. April 8 vs. Pirates: Game time: 1:20 PM Central. (ABC-7, MLB.TV)
Wednesday's Game Recap: Trying to recover from a three-game losing streak, the Cubs played another one against Atlanta last night. Jon Lester would square off against the lefty Julio Teheran. A great start by Lester and decent offensive effort by the offense was chucked to the weeds, as the bullpen lost another one, allowing the Braves to convert what was a 4-2 deficit into a 6-4 win.

Cubs News and Notes:
Jon Lester: Lester was the first Cubs pitcher with a hit & two walks *and at least one RBI* in a game since Jack Curtis on August 19, 1961.
Joe Maddon: Maddon says he's having "absolute fun" despite the (now) 1-4 start. FUN? Is this Little League? Joe, your job is on the line (whether fans like it or not) and the best you can come up with after a .200 winning percentage during the first week of the season is FUN? I'll say it now: If the Cubs aren't .500 by the end of May, I think Theo makes Maddon the next example of "production over talent." I'll conceit that Joe's not pitching, batting or committing errors, but they're not firing all the players.
The bottom line is this: The manager will usually be the first domino to fall when a club is underperforming.
Davis Bote: The Cubs have signed David Bote to a 5-year extension, the deal also includes a pair of club options. The breakdown is as follows: 2020: $950k; 2021: $1M; 2022: $2.5M; 2023: $4M; 2024: $5.5M, and the club options are worth $7M and $7.6M. Bote is currently making $560,000.00 for the 2019 season.
Bote said, "It just provides even more incentives to continue to work. The end goal is still to win the World Series."
Cubs-Brewers probables: LHP Jose Quintana vs. RHP Brandon Woodruff; LHP Cole Hamels vs. RHP Corbin Burnes; RHP Kyle Hendricks vs. vs. RHP Zach Davies
Theo Epstein: "The average fan of every major league team is worried about the bullpen. We've had one of the best bullpens in baseball the last four years, and there's probably been a grand total of three days that people haven't been worried about the bullpen. That's just the way it works."
Jason Heyward: J-Hey seems to be plagued by the double-play monster. He has now grounded into five DPs in as many games. Heyward also committed a rare fielding error in the first inning last night. (That made the Cubs' seventh error in less than nine innings, over the previous two days).
Willson Contreras: Contreras is swinging the bat better and better this season. Last night he helped the Cubs take the lead with his 452-foot smash.
452'! #EverybodyIn pic.twitter.com/GPzBDSI9JN

— Chicago Cubs (@Cubs) April 4, 2019
Bullpen Alert: The Cubs bullpen has now issued 33 walks in 5 games.
Steve Cishek 15 pitches. 3 strikes. Walks the bases loaded. pic.twitter.com/HswrUxrVXU

— CubsHQ (@ChicagoCubsHQ) April 4, 2019
The Cubs have played 5 games and have an 8-man bullpen.

5 of those 8 guys have an ERA 16.20 or higher.

6 of those pitchers have a WHIP 2.00 or higher.

The only guy with a 0.00 ERA and 0.00 WHIP is...Brandon Kintzler.

— Tony Andracki (@TonyAndracki23) April 4, 2019
Jesse Rogers: Espn's Jesse Rogers gave this update on Yu Darvish and Brandon Morrow:
"Darvish said he and Tommy Hottovy discovered little mechanical flaw so hoping tomorrow command is better. Also, word out of Az is Brandon Morrow progressing as expected. One more bullpen session then he'll face live hitters. Eventually will go on rehab assignment."
Cub Birthdays: Birthday wishes (yesterday) to ex-Cubs Bobby Hill (41), Koji Uehara (44), and Alex Grammás (93).
NL CENTRAL SCHEDULE (March 31 – April 6, 2019)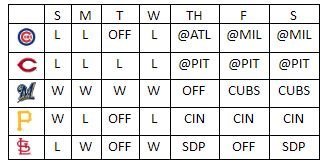 TUESDAY'S SCOREBOARD
MLB News:
Braves: Hall of Fame ex-manager Bobby Cox has been hospitalized after he suffered a stroke.
Mets: Talk about a night. Jacob deGrom not only struck out 14, but he also hit a homer in the Mets' 6-4 win over Miami.
Yankees: NY has reinstated LHP CC Sabathia from the suspended list and has placed him on 10-day IL; They've also recalled RHP Jonathan Loaisiga from Triple-A Scranton/Wilkes-Barre.

Tags: Cubs Baseball
,
Yu Darvish
,
,
David Bote
,
Jose Quintana
,
Cole Hamels
,
Kyle Hendricks
,
Jason Heyward
,
Willson Contreras
,
Brandon Morrow
,
Koji Uehara
,
Joe Maddon
,
Theo Epstein
,
Tommy Hottovy