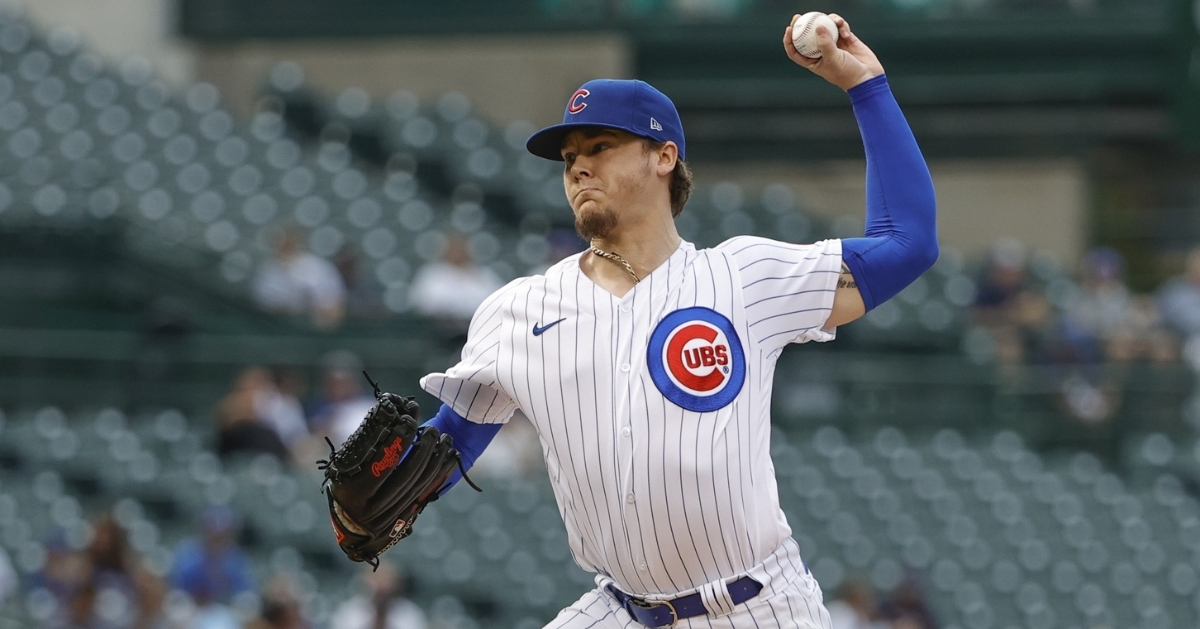 | | |
| --- | --- |
| Cubs lose slugfest in extras | |
---
CHICAGO – After topping the Colorado Rockies (58-69) in game one of a doubleheader at Wrigley Field, the Chicago Cubs (56-73) were looking to sweep the twin bill as well as the series itself. For the Cubs to do that, they would have to top one of the best Rockies pitchers as German Marquez took the ball against Justin Steele.
Steele was consistent for the third time in as many starts, but once again was bitten by the long ball with Brendan Rodgers touching him up for a two-run shot in the first to give the Rockies an early 2-0 lead. Fortunately for the Cubs, Marquez was not as his best as the righty labored through three innings, including a long fifth inning that saw him allow five runs.
Unlike in previous games where the top of the order set the tone, it was the bottom of the lineup getting things going offensively, with Robinson Chirinos picking up an RBI infield hit to start the scoring ahead of the Sergio Alcantara single to tie things up. The Rafael Ortega and Frank Schwindel duo followed that up, with Ortega grabbing an RBI single ahead of the Schwindel double to push the Cubs in front 4-2. Ortega then used his legs as his steal of home had the Cubs comfortably in front 5-2.
The fourth inning continues to be Steele's undoing, and once again, that was the case here. Unlike his previous starts, where he was giving up homers, Steele was forced to throw more pitches than he would have liked as the Rockies did a great job staying alive while also getting on base. That forced David Ross with the tough decision to call on his pen and chose Trevor Megill as his first victim. Victim is the keyword as Megill grooved a heater right down broadway, and Connor Joe knew what to do with that hammering it center field for the Grand Slam and giving the Rockies the 6-5 lead.
With Michael Rucker and Rex Brothers now on in relief, the Rockies continued to build on their lead, with Rio Ruiz connecting for a pinch-hit RBI double in the sixth before Rodgers added another RBI hit to extend the lead to 8-5. That score would hold up until the seventh where the Cubs came to bat hoping to extend the game.
After surrendering a walk-off homer to Ortega on Monday, Daniel Bard was hoping for better results this time around as the inning started with a Matt Duffy pinch-hit single. With one out, Schwindel chopped one down the third baseline for an infield single bringing the tying run up to bat. That man was Ian Happ, and his hot streak continued lofting the Bard pitch into the left-center field bleachers to tie the game up 8-8 and force extra innings.
With Adrian Sampson now working the extra frame, the righty was able to pick up a pair of strikeouts before surrendering the go-ahead single in the top of the eighth. In the bottom of the eighth, the Cubs were able to keep the pressure on with Chirinos getting hit by a pitch followed by a costly Trevor Story error allowing Wisdom to score and tying things back up 9-9. Neither team managed to score in the ninth, but it was the Rockies getting the last laugh.
Jake Jewell was added as the team's 27th man for the doubleheader and was immediately thrown into action. Not only did he allow a game-winning Ryan McMahon two-run homer, but the Rockies pushed across four runs off Jewell to take a commanding 13-9 lead. Chirinos was able to get one of those runs back in the bottom of the 10th with an RBI groundout, but it wasn't enough as the Rockies were able to avoid the sweep with a 13-10 victory.
Sampson comes up huge
Doubleheaders are always tough to manage as teams have to be careful with their pitching staff. To make matters harder, the Cubs saw game two go into extra innings, so their bullpen was going to be getting more work than they bargained for. Even with an off-day Thursday, Ross knew he had to be careful who to use and when.
He chose to go with Sampson in the eighth, which proved to be a great decision. Not only could Sampson give the Cubs multiple innings, but he was quite impressive, striking out three in his two innings of work. This now makes three great outings for Sampson, going back to his first start and now two relief appearances.
The Cubs saw all his progress in Iowa, where he emerged as the team's most trusted starter. Now on the MLB roster, look for him to serve as the swingman that Alec Mills occupied earlier this season.
.@ad_sampson ??

2.0 IP / 4 K / 1 H pic.twitter.com/7opripZtJ8

— Marquee Sports Network (@WatchMarquee) August 26, 2021
Megill having a rough patch
What a difference a month makes in terms of the Cubs pen. Ross has spent the last month piecing together pieces for the late innings after having a three-headed monster in Andrew Chafin, Ryan Tepera, and Craig Kimbrel to lock down games. While Manny Rodriguez, Rowan Wick, and Codi Heuer are emerging as his new three, the Cubs still have plenty of holes to fill to get to the level they once were.
Megill was one of the guys the Cubs were counting on to fill those holes, whose time in Chicago hasn't gone as planned. When you look at his stature and stuff on the mound, Megill has all the making of a late-inning reliever, but has yet to put it together. In fact, he owns the worst home run rate on the team, which is not what you want.
Put into another stressful situation on Wednesday, Megill did what he does best, and that is allowing home runs. Instead, this home wasn't an ordinary homer, but rather a grand slam that saw the Rockies take a 6-5 lead. Thank God the Rockies pen is that much worse and gave the Cubs a chance to win again, but Megill can't be trusted in high leverage situations, and Ross should realize that by now.
*Cubs trying to complete sweep and have a three game win streak*

Rex Brothers and Trevor Megill: pic.twitter.com/QLvEhRsINL

— Corey Freedman (@CFCubsRelated) August 26, 2021
The corner outfielders
One of the most significant question marks surrounding this team will circle the Cubs outfield. Outside of Jason Heyward, the Cubs may be looking to add two starting outfielders as Joc Pederson, and Jake Marisnick were dealt in July while Happ continues to struggle.
Although struggling in his own right, Ortega has played great this season and has done enough to earn a shot at the starting CF job in 2022 unless Brennen Davis is ready to go. Heyward and Happ, on the other hand, have done next to nothing this season despite showing signs of improvement over the past few weeks.
Happ especially is starting to heat up, and he is looking like the player from the second half of 2019 into 2020.
Ian Happ has a 1.164 OPS in his past 13 games. Biggest change in August has been slug vs. offspeed (.800 SLG this month vs. .367 overall in '21).

He said the key has been timing vs. fastballs, and "finding a way to get some of that offspeed stuff in the air." pic.twitter.com/4RV84wkHjT

— Jordan Bastian (@MLBastian) August 26, 2021
That is the player this team expected to have, but once they haven't seen most of the year. I don't know how long the Cubs can keep counting on Happ, given his inconsistencies at the plate, but maybe his recent stretch can save the day.
3-run blast for Ian Happ!

(via @Cubs)pic.twitter.com/T3uRI8sij2

— Stadium (@Stadium) August 26, 2021
On the other hand, Heyward is the biggest question mark, and it all surrounds that contract of his. If there was a way for the Cubs to unload him, you can bet they would try. Heyward not only has a no-trade clause, but he has brought next to nothing offensively in six years in Chicago which teams shy away from.
Yes, he does bring gold glove defense with him, but even that side of his game has trended down in recent years, making him a 23-million-dollar paperweight. With the arrival of Michael Hermosillo and most likely Greg Deichmann and others in September, Heyward may be subject to a role player in the final month of the season, which isn't good for someone with that much money left on his deal.
The Cubs need to figure out a way to get deal him, even if it means eating that contract and taking the losses. With the news that Nicholas Castellanos will most likely opt out of his deal with Cincinnati, the Cubs may look to reunite Castellanos with the Cubs, given his desire to play here. If that is the case, he goes to right field, which spells the end of Heyward.

Tags: Cubs Baseball
,
Justin Steele
,
Rafael Ortega
,
David Ross
,
Trevor Megill
,
Michael Rucker
,
Rex Brothers
,
Ian Happ
,
Jake Jewell
,
Alec Mills
,
Andrew Chafin
,
Ryan Tepera
,
Craig Kimbrel
,
Rowan Wick
,
Jason Heyward
,
Joc Pederson
,
Jake Marisnick
,
Brennen Davis
,
Michael Hermosillo