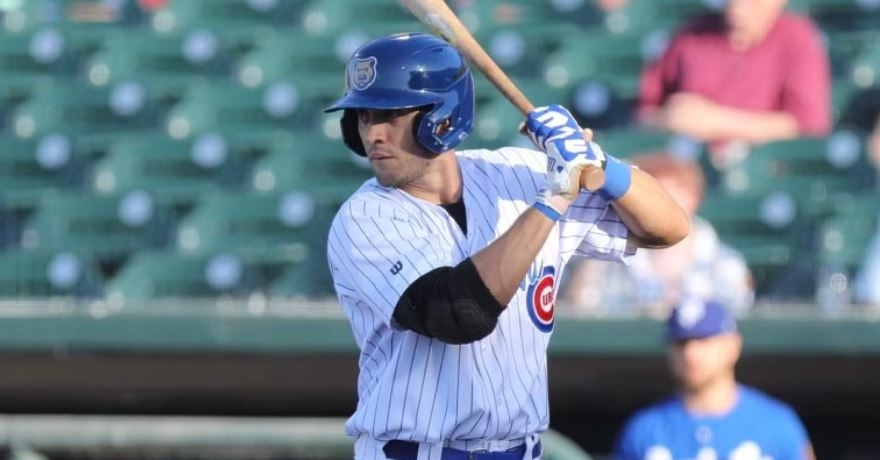 | | |
| --- | --- |
| Cubs Minor League News: Hill impressive, Canario raking, Alcantara homers, more | |
---
Over the course of the last 10 days, there have been a lot of changes within the Cubs minor league system. From injuries to promotions and demotions, you are seeing much different-looking rosters than earlier this season.
Even with significant scale changes, the expectations remain the same as the Cubs system has done a great job this year. Going 2-2 on Tuesday did necessarily support that, but they did showcase some of their new talent at different levels.
SAINT PAUL SAINTS 13 - IOWA CUBS 3
Things have gone downhill in a hurry for Iowa, and that started with Memphis last week. Now two games under .500, Iowa is the only club in the Cubs organization without a winning record as they have seen the most roster shuffling going on.
Matt Dermody made another start and was not crisp in his three innings as he handed things over to Sean Newcomb. Even less crisp, pitching was not the strong point for Iowa on the evening as they got lit up for 13 runs, with all of those coming in three innings.
On a positive note, Darius Hill wasted no time hitting his first career AAA homer, putting Iowa in front 1-0 in the first.
Hitting's easy! Darius Hill clubs a home run on the first pitch he sees at Triple-A. pic.twitter.com/b3XSEjpgyy

— Iowa Cubs (@IowaCubs) May 31, 2022
Jared Young doubled that lead with an RBI groundout, but it was all Saint Paul after that. A David Banuelos homer followed a Roy Morales RBI single, and just like that, the Saints led 3-2.
If not for the John Hicks homer in the bottom of the third, Saint Paul would have ended the game with 13 unanswered runs, but they still finished with 10 unanswered. Seven of those came in the fourth inning as the three-run shot by Jose Godoy, and three-run Spencer Steer double did most of the damage. In the ninth, doubles by Jake Cave and Michael Helman brought home three more runs as the Saints destroyed Iowa 13-3.
Final from Principal Park. pic.twitter.com/5p5fJc3d3G

— Iowa Cubs (@IowaCubs) June 1, 2022
TENNESSEE SMOKIES 4 - BIRMINGHAM BARONS 2
The best part of having your cross-town rival Minor League team in the same division is the number of times they will face. Facing off yet again this season, the Smokies took the series opener and doubled up Birmingham 4-2.
Pitching was the story all night as Javier Assad and Sean Burke gave their teams six great innings. While Burke was slightly better, allowing no runs, Assad allowed two, both coming in one inning. That inning was the second inning as Craig Dedelow connected for his 12th homer of the season to make things 2-0.
That score looked like it would hold at the time as it was still a 2-0 game heading into the seventh. That all changed when Levi Jordan connected for his sixth homer, and just like that, we were back to even.
LEVI JORDAN WITH A 2 RUN BOMB TO TIE THE GAME IN THE BOTTOM OF THE 7TH!!! pic.twitter.com/aeYq6o0U3u

— Tennessee Smokies (@smokiesbaseball) June 1, 2022
One inning later saw the Smokies offense continue their attack as the Alexander Canario homer proved to be the difference.
The lead? We'll take it. pic.twitter.com/QMRv2FKzAN

— Tennessee Smokies (@smokiesbaseball) June 1, 2022
Bryce Windham added an RBI single in the eight to double the lead before Danis Correa finished things off for his first win. Jordan was part of a multi-hit trio as Bryce Ball, and Matt Mervis joined him.
Levi Jordan and Alexander Canario both homer as the Smokies complete a come-from-behind win! #Cubs #SmokiesBaseball #FlyTheW #ItsDifferentHere pic.twitter.com/r32XIQCEHH

— Tennessee Smokies (@smokiesbaseball) June 1, 2022
DAYTON DRAGONS 4 - SOUTH BEND CUBS 2
If fans thought the last two series were challenging for the Cubs, you haven't seen anything yet. Facing off against the Eastern leading Dayton Dragons, the Cubs have a great chance to make a statement as their first-half playoff push continues.
Even with Jordan Wicks battling through four innings of three-run ball, the Dragons arms were better as they held South Bend to just two runs in the win. Not the greatest start for Wicks; he did strike out six in his four innings, but allowed an Allen Cerda homer and Matheu Nelson single in the second to put Dayton on top 2-0.
Dayton responded after the Cubs pulled within one on the Jake Slaughter homer as Elly De La Cruz connected for the game-winning RBI single and had Dayton up 3-1. Still playing catchup, Owen Caissie brought the Cubs within 3-2 in the sixth, but the late Austin Hendrick single off Walker Powell capped off the scoring in the 4-2 Dayton win. Slaughter led the way with two hits.
Back at it at 7:05 tomorrow. pic.twitter.com/VQqMa5EBS7

— South Bend Cubs (@SBCubs) June 1, 2022
MYRTLE BEACH PELICANS 7 - DELMARVA SHOREBIRDS 5
Even after the news broke that Pete Crow-Armstrong was headed to High-A, the Pelicans still had a game to play and put an end to their two-game skid. Luis Devers continued to improve from one start to the next, allowing just three hits in five scoreless innings to earn the win. Had it not been for a shaky bullpen performance that made things interesting late, this was a lopsided game, to say the least.
WELCOME BACK TO THE BEACH.

Kevin Alcantara goes WAY DEEP.

Sheesh. pic.twitter.com/01fpEdhHcr

— Myrtle Beach Pelicans (@Pelicanbaseball) June 1, 2022
With the score tied after one inning, the Pelicans offense wanted to make a statement and did so by pushing across three runs. RBI groundouts by Miguel Fabrizio and BJ Murray Jr saw the Pelicans take a 2-0 lead before the Ezequiel Pagan single made things 3-0. That score held until the sixth inning when Chase Watkins not only surrendered a Nolberth Romero single, but uncorked a wild pitch to make things 3-2.
Back in that winners column.#MBPelicans pic.twitter.com/yTsrQJAtwq

— Myrtle Beach Pelicans (@Pelicanbaseball) June 1, 2022
That was all the closer Delmarva would get as Kevin Alcantara opened what ended up being four unanswered runs with a solo homer to make things 4-2 in the sixth. One inning later saw Alcantara add a sacrifice fly while a Wild pitch and the Murray Jr single had the Pelicans in front 7-2. The Shorebirds didn't go away quietly and pushed across three runs in the ninth, but the Pelicans managed to hold on for the win.