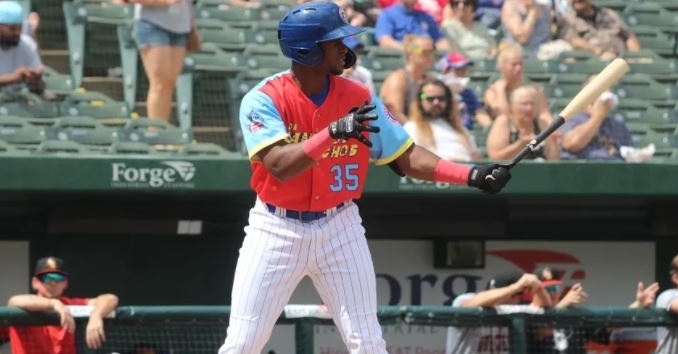 | | |
| --- | --- |
| Cubs Minor League News: Canario smacks grand slam, Ball and Morel homer, Velazquez impress | |
---
| | | |
| --- | --- | --- |
| Thursday, August 26, 2021, 11:19 AM | | |
The Cubs continue to be about the work in the minor league system as several strong performances were once again on display. That led to the team finishing with a 2-2 record on the evening Wednesday night, with one game getting postponed until Thursday.
Record aside, you have to look at the results from all these games where the offense was the primary focus. That is going to be talked about a lot this offseason as the team not only needs to replace the offensive firepower they lost, but hopefully, they can replace that more consistently than having an all-or-nothing type of team.
OMAHA STORM CHASERS 10 – IOWA CUBS 3
The Cubs are finding out firsthand why Omaha is considered one of the best AAA teams in the league. Not only do they feature the most potent lineup, but their pitching isn't half bad either. All that leads to lopsided scores similar to what was in store on Wednesday.
Making his first of what hopefully isn't too many rehab starts was Adbert Alzolay. He was only scheduled to throw two innings, but Alzolay struggled as he allowed four runs on three hits to go with three strikeouts in his outing. The same issue that has plagued him in the majors showed up in the first inning with Bobby Witt connecting for a two-run shot and the early 2-0 lead. That homer was followed by a Rudy Martin two-run single in the second as Alzolay left with the Cubs trailing 4-0.
Speaking of rehab outings, Jonathan Holder continues his season-long rehab stint as he made his AAA debut Wednesday only to allow a Ryan McBroom solo homer in the fifth to put Omaha in front 5-0. With Joe Biagini scheduled to take the mound in the fourth, things went from bad to worse as Omaha pushed across four more runs to take a 9-0 lead.
Witt was in the middle of all that yet again, picking up an RBI double to push the lead to 6-0 before Nick Pratto connected for Omaha's third homer of the game, extending the lead to 9-0. McBroom added an RBI single in the sixth to build a 10-0 as Biagini was charged with five earned runs in one of his worst outings of the season.
Down by 10 in the eighth, the Cubs managed to get some positive vibes going as the offense finally went to work. Greg Deichmann played a huge role as his RBI triple ended the shutout bid with the Cubs trailing 10-2. Deichmann would later come home to score on the Alfonso Rivas groundout, but it wasn't enough to top the Storm Chasers 10-3.
The Cubs collected just four hits on the night coming from four different players as Deichmann, Rivas, Trent Giambrone, and Trayce Thompson had hits. Nick Martini and Abiatal Avelino suffered hitless games, as did Taylor Gushue, who worked a walk in the loss.
Final from Principal Park. pic.twitter.com/97DWSpmGku

— Iowa Cubs (@IowaCubs) August 26, 2021
CHATTANOOGA LOOKOUTS 13 – TENNESSEE SMOKIES 7
The Lookouts offense continued to put on a show on Wednesday, scoring early and often to top the Smokies. Looking to keep a strong run of starts going was Javier Assad, who was given the ball. His run of great outings ended as the righty allowed seven runs (six earned) in just three innings while surrendering 10 hits in the process.
Two of those runs came in the first inning as a dropped third strike led to a throwing error for the game's first run before Brian Rey collected an RBI single to push the lead to 2-0. One inning later saw Lorenzo Cedrola add an RBI single ahead of the Wilson Garcia double as the Lookouts doubled their lead 4-0.
Looking to get back into the game, Christopher Morel cut the Lookouts lead in half as he connected for his team-high 15th homer in the top of the third, making it a 4-2 game.
Christopher Morel HR number 15 (really 16). Also requires a little imagination. pic.twitter.com/W8gtotZTn7

— Brad (@ballskwok) August 26, 2021
Much like their first two innings, duces were wild for Chattanooga, with Matt Lloyd answering that two-run shot with a two-run shot of his own, extending the lead to 6-2. Cedrela picked up an RBI single later in the inning, putting Tennessee in the 7-2 hole.
The Smokies continued to keep things close in the fifth, with Nelson Velazquez adding a bases-loaded walk followed by the Caleb Knight sacrifice fly to pull within 7-4. As they did with every Tennessee rally, Chattanooga had answers scoring six unanswered runs to take a commanding 13-4 lead. Leonardo Rivas grabbed two of those RBIs with a bases-loaded walk and an RBI single while Drew Mount and Garcia added homers.
Like Iowa did in their game, the Smokies were able to end the game positively, pushing across three runs in the ninth to fall 13-7. Carlos Sepulveda picked up his third homer in that inning while Knight and Grayson Byrd added an RBI groundout and Double to close out the scoring in the loss.
Nelson Velazquez went 2-3 with 2 BBs and this double off the wall tonight. pic.twitter.com/HHnRPQNuOY

— Brad (@ballskwok) August 26, 2021
To go with their homers, Morel and Sepulveda were one of four players to record multiple hits joining Velazquez and Byrd. Delvin Zinn added the final hit while Brennen Davis suffered a rough three strikeout night.
SOUTH BEND CUBS 14 – PEORIA CHIEFS 2
In the continuation from their suspended contest on Tuesday, the Cubs continued to build off that lead and cruised to a 14-2 win. We won't recap the entire game given that it was talked about yesterday, so we will pick things up in the seventh, where the Cubs were leading 8-2.
Luis Vazquez added an RBI ground out with a pair of runners on base, as did Yonathan Perlaza as the Cubs built their lead to 10-2. The offense continued to roll in the ninth, pushing across four more runs. All four of those runs came off the bat of Alexander Canario as he connected for his second homer of the game, this time a grand slam in the 14-2 Cubs win.
?High-A South Bend?
OF Alexander Canario hits a grand slam (6) to left field ????pic.twitter.com/QFFLZTDvOh

— Cubs Prospects MiLB (@MilbCubs) August 26, 2021
Canario may have had just two hits, but both were homers as he led the way with six RBIs. He joined Bryce Ball, Jake Slaughter, and Tyler Durna as the players with multi-hit games. Newly promoted Pablo Aliendo and Yohendrick Pinango added hits from the bottom of the lineup.
?High-A South Bend?
1B Bryce Ball homers (4) on a fly ball to center field ??@bryceball_05 pic.twitter.com/wfax3NfKxJ

— Cubs Prospects MiLB (@MilbCubs) August 26, 2021
SOUTH BEND CUBS vs. PEORIA CHIEFS (Game 2 Postponed makeup set for Thursday)
MYRTLE BEACH PELICANS 8 – COLUMBIA FIREFLIES 3
Sparked by a four-run first inning that proved to be the difference, the Pelicans picked up another win against Columbia to climb back to .500 on the season. Tyler Schlaffer continues to get better with each start giving the Pelicans four innings of two-run ball. He gave way to a trio of relievers, including 2021 sixth-round pick Riley Martin who struck out four in two innings of work while his ERA sits at 1.93.
As good as Schlaffer was, the early stages of the game were not too kind, with Darryl Collins picking up an RBI single in the first to give the Fireflies their lone lead 1-0. That lead didn't last long, with the Pelicans busting out for four runs in the bottom of the first. The first of those runs came via the long ball, with another recently promoted stud in Owen Caissie going deep for the first time with Myrtle Beach. A Jacob Wetzel single later in the inning gave the Pelicans the lead for good, but the Ed Howard RBI single proved to be the winning hit with the Pelicans up 4-1.
Hoping to keep things close for the time being, Columbia got to Schlaffer again in the third when Burle Dixon picked up an RBI single to pull within 4-2. Ironically, that score would remain the same until late in the game when the Pelicans offense started to feast off the Columbia pen. The first of the big hits came from Wetzel as he added an RBI triple to go with his single and extended the lead to 6-2 in the seventh.
Wetzel drills a 2-run triple! pic.twitter.com/IHakAz0Cge

— Brad (@ballskwok) August 26, 2021
One inning later saw Kevin Made pick up another RBI double as the Pelicans were rolling 8-2.
Have a night, Kevin Made! pic.twitter.com/sEmqVHBy0Q

— Brad (@ballskwok) August 26, 2021
Columbia added the game's final run off Martin in the ninth as he uncorked a wild pitch, allowing for the third Fireflies run to score. That would be all they would get with Myrtle Beach winning again 8-3.
We've won 10 straight games against the Fireflies. Pretty good. #MBPelicans pic.twitter.com/bojOqXoOAt

— Myrtle Beach Pelicans (@Pelicanbaseball) August 26, 2021
Wetzel, Made, Howard, and Casey Opitz all had multi-hit efforts in the win, with Wetzel leading the way with three RBIs. After tearing it up in the ACL, Caissie busted out for his first Low-A hit while Jordan Nwogu and Christian Franklin went hitless. Franklin did draw two walks, however, but is still searching for his first Low-A hit.

Tags: Cubs Baseball
,
Adbert Alzolay
,
Jonathan Holder
,
Alfonso Rivas
,
Trent Giambrone
,
Abiatal Avelino
,
Taylor Gushue
,
Javier Assad
,
Christopher Morel
,
Nelson Velazquez
,
Caleb Knight
,
Carlos Sepulveda
,
Grayson Byrd
,
Delvin Zinn
,
Brennen Davis
,
Luis Vazquez
,
Yonathan Perlaza
,
Tyler Durna