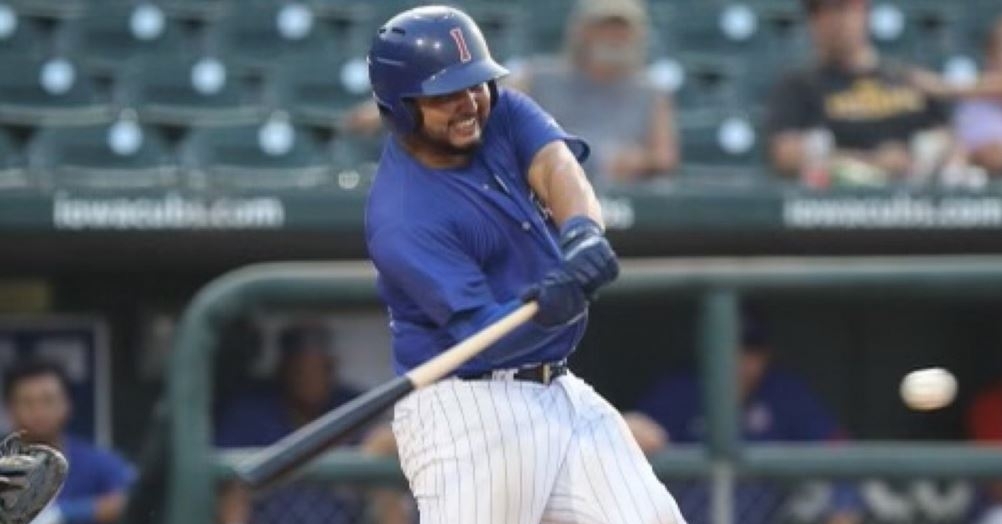 | | |
| --- | --- |
| Cubs Minor League News: Castillo and Miller with two hits each in I-Cubs loss, Coran with | |
---
| | | |
| --- | --- | --- |
| Sunday, September 26, 2021, 9:03 AM | | |
We are getting down to the nitty-gritty in Minor League baseball as their seasons are almost complete for the year. With DSL down to their final week of games following the weekly Cubs vs. Cubs battle, Iowa is closing out the road portion of their schedule on Sunday before coming home for the last five games.
Results aside, it was great to have minor league baseball back again this season and even better to have it last this long, especially when you consider the delayed start they endured. Maybe this is a sign of things to come as I would love for Minor League baseball to play more games even though that will never happen.
SAINT PAUL SAINTS 4 – IOWA CUBS 3
Despite battling back from a large early deficit, the Cubs comeback attempt fell short against the Saints dropping their third straight game 4-3. The loss ensures a series win for the Saints as the Cubs will look to end their road portion of the schedule on a positive note.
Luis Lugo was promoted to AAA in late August/early September and has seen some mixed results along the way. Saturday was the bad end of those results as the left-hander lasted just 2 1/3 innings allowing four runs (three earned) in the loss. He gave way to Blake Whitney, Jackson McClelland, and Aneuris Rosario, who combined to toss 5 2/3 scoreless innings, allowing just two hits to keep things close.
From an offensive side of things, the Cubs found themselves trailing early as Lugo ran into plenty of first-inning trouble. Not only did he load the bases on a single and a pair of walks with one out, but Lugo walked in the game's first run with Gilberto Celestino pushing home the game's first run with an RBI walk. Jimmy Kerrigan followed that up with an RBI single to double the lead at 2-0 before a bases-loaded hit by pitch to Ben Rortvedt had the Saints in front 3-0.
Lugo was able to pitch out of trouble, but the damage was done in a big way at that point. Looking to get back in the game in some regard, the Saints did the Cubs a favor as a wild pitch by Drew Strotman brought home Iowa's first run in the second and had the Cubs within 3-1. Saint Paul kept the pressure on in the second using a Tomas Telis RBI groundout to extend the lead to 4-1 as that was the final run of the game for them.
Trailing by three in the middle innings, Iowa began to chip away at that lead and continued to leave it all on the field. In the fourth, Andrew Romine picked up an RBI groundout to close within 4-2 before Abiatal Avelino pulled the Cubs within 4-3 in the fifth with an RBI single.
Your @GreatClips Clip of the Game is this diving play from Cubs No. 20 ranked prospect, Christopher Morel! pic.twitter.com/QlVe63uGV7

— Iowa Cubs (@IowaCubs) September 26, 2021
Unfortunately, that would be as close as the Cubs would get as that was the games final run in a 4-3 Cubs loss.
Iowa did manage to outhit the Saints 8-7, with Ian Miller, Johneshwy Fargas, and Erick Castillo coming away with two hits. Christopher Morel joined Avelino for the other two hits while Brennen Davis suffered an 0-4 day, but is still hitting .333 in AAA.
The late rally fell just short tonight. pic.twitter.com/k4PRMe2Npk

— Iowa Cubs (@IowaCubs) September 26, 2021
DSL CUBS RED 8 – DSL CUBS BLUE 5 (10 innings)
With one week left in their seasons, the DSL Red Cubs have a shot at finishing at or above .500 as they move to 26.-27 on the season following an 8-5 win. Most of their damage came late in the game as Sean Rodriguez was on top of his game for Blue. Rodriguez allowed just one run on four hits in six innings while lowering his season ERA to 2.20. That run came in the first inning when Moises Ballesteros connected for an RBI single, but outside of that, Rodriguez was strong.
That 1-0 score held until the fourth inning when Blue began to seize control. With the bases loaded and no outs, Dilan Granadillo tied things up 1-1 as he used a bases-loaded walk to get a run home. The very next batter was Carlos Ramos, who delivered a sacrifice fly to make things 2-1, but that was all for Blue as they wasted a golden opportunity.
Two innings later, and Blue was at it again as Granadillo came through with an RBI triple before coming home on the Ramos single to extend their lead to 4-1 at that point. In the seventh, the DSL Red offense began to come to life using an Anderson Suriel double to pull within 4-2 before the Andrews Cruz single tied things up 4-4.
Blue didn't let that get to them as they continued to keep the pressure on, with Leonel Espinoza going deep for his seventh homer in the seventh to go back in front 5-4. One inning later, it was time for Fredy Montenegro to come through as his RBI single pulled Red even again as the two sides played to a 5-5 tie with extra innings coming next.
In the extra frame, it was all DSL Red as they took a 6-5 lead three batters in with Elias Fabian picking up a sacrifice fly, but a double play on that play had Red on the verge of being held right there. Fortunately, they had a little bit left in the tank as a Montenegro walk was followed by the Raino Coran homer giving Red an 8-5 lead. That would be all they would need as Blue went down in order in their half of the 10th.
Pedro Ramirez was one of three players recording three hits for Red joining Fabian and Suriel. Ramirez continues to lead the organization in average, bringing his season average to .356. Cruz and Coran led the way on offense with a pair of RBIs.
For Blue, things haven't looked the same as No. 3 prospect Cristian Hernandez has come from the DSL to the Instructional league for additional work. Still, they are getting contributions throughout their lineup, with Granadillo leading the way with two RBIs in the loss. Wilmer Bolivar, Espinoza, Wally Soto, Lizardo Ruiz, and Frank Hernandez all had hits in the game.