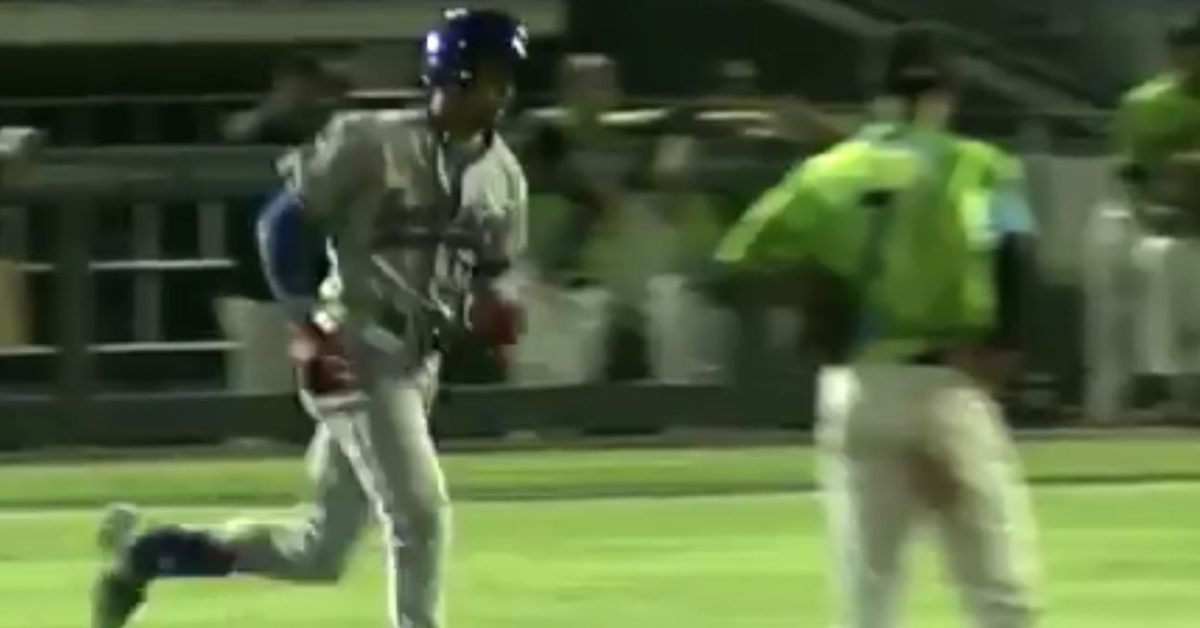 | | |
| --- | --- |
| Cubs Minor League News: I-Cubs postponed, Morel homers, Nwogu raking, Hertz with gem, more | |
---
| | | |
| --- | --- | --- |
| Sunday, September 5, 2021, 9:56 AM | | |
Saturday was much quieter on the diamond as five of the seven minor league teams were in action. With both DSL teams playing each other as they always do on Saturday, that meant that only three games counted towards an overall record across the system.
In total, the Cubs played exceptionally well, posting a 2-1 record and looking rather good in the process. Hopefully, this is a sign of things to come for the remainder of the weekend, and can head into next week on a high note.
IOWA CUBS vs. INDIANAPOLIS INDIANS (Postponed Inclement Weather, Double Header on Sunday)
Bad news: no baseball today. ??
Good news: double baseball tomorrow. ????

— Indianapolis Indians (@indyindians) September 4, 2021
ROCKET CITY TRASH PANDAS 5 – TENNESSEE SMOKIES 4
The Smokies are coming close to playing winning baseball, but once again, the Trash Pandas got in their way knocking them off 5-4. Dakota Chalmers got the start, and for the first time in a while, struggled to get anything done. In just 3 1/3 inning, Chalmers allowed five runs on just four hits, but struggled with his command walking four batters.
Samuel Reyes allowed just one hit in 1 2/3 innings of relief, with Burl Carraway making his AA debut and throwing a scoreless 1 2/3 innings himself. Flame throwing Dauris Valdez made his first appearance in a long time and delivered a scoreless outing out of the pen. Not only did the Trash Pandas score early, but often as all five of their runs came in the first three innings.
In the first inning, David MacKinnon connected for his 30th double of the season, putting the Trash Pandas on top for good 2-0. One inning later saw Torii Hunter go yard for the seventh time this season extending the lead to 3-0 before MacKinnon capped off the scoring or Rocket City in the third with his 13th homer of the season to make things 5-0. That homer proved to be the difference as MacKinnon was credited with the game-winning hit.
It took four innings, but the Smokies were finally able to crack the scoreboard using a Grayson Byrd sacrifice fly to make things 5-1. Tennessee continued their comeback effort in the fifth when the hottest hitter on the team came through in a big way. That man is Christopher Morel, who has been crushing the ball lately as he connected for his 16th homer of the season to make things 5-4.
?AA Tennessee?
INF Christopher Morel homers (16) on a fly ball to left field ??
Susnara scores.@Christo66021711
pic.twitter.com/iTt9stZ9G4

— Cubs Prospects MiLB (@MilbCubs) September 5, 2021
Unfortunately, that would be all the offense for the Smokies the rest of the way, as they managed to put just two baserunners on base in the final four innings before falling 5-4. Despite struggling in recent games, Brennen Davis led the team with two hits. Morel picked up a hit with his three RBIs, joining Nelson Velazquez, Byrd, Tim Susnara, Delvin Zinn, and Caleb Knight.
SOUTH BEND CUBS 6 – LAKE COUNTY CAPTAINS 3
The Cubs continued his back-and-forth battle with the Captains this week, doubling them up on Saturday 6-3. It took long enough, but DavidJohn Herz made his season debut with High-A South Bend and did everything the Cubs could have asked of him. Not only did he get through five innings, but he allowed just one unearned run on three hits. He walked two and struck out eight as his great season continues.
?High-A South Bend?#Cubs #13 Prospect
LHP DJ Herz

This was his first time on the pitching mound since being assigned to South Bend.

5 IP, 3 H, 1 R, 2 BB, 8 K's ??

The four-seamer recorded 99 mph?? @DavidjohnHerz pic.twitter.com/mRnFeMQzvW

— Cubs Prospects MiLB (@MilbCubs) September 5, 2021
The lone run off Herz came in the first inning when Jhonkensy Noel grounded out to give the Captains a 1-0 lead. That run came off an error, so it wasn't earned, and Herz only got stronger as the game went on. Not only did the Cubs use a wild pitch to tie things up in the third, but followed that up with a passed ball and a balk in the fourth to grab a 3-1 lead. Luis Vazquez added an RBI single in the fourth to cap off a three-run frame putting South Bend in front 4-1.
Not ready to give in quite yet, Lake Captain was happy to see Herz out of the game and immediately used that to their advantage, with Micha Pries going deep for the fifth time to pull within 4-2. That score held until the bottom of the eighth when Bryce Windham picked up an RBI groundout ahead of a second Vazquez single to make things 6-2. Lake County picked up a ninth-inning run on a wild pitch, but still fell 6-3.
Vazquez was one of four players with two hits, picking up two RBIs from the leadoff spot. He was joined by Tyler Durna, Jake Slaughter, and Yonathan Perlaza with multi-hit games, while Windham collected the final hit in the win.
DJ Herz twirls a gem in his debut and the Cubs win for the second night a row.#Cubs #CubTogether pic.twitter.com/t6FSZLACec

— South Bend Cubs (@SBCubs) September 5, 2021
MYRTLE BEACH PELICANS 2 – LYNCHBURG HILLCATS 1
After dropping two straight to Lynchburg, the Pelicans got back to their winning ways, taking game five 2-1. Even with 12 hits offensively, runs were hard to come by, but thankfully the pitching held their end of the deal. Daniel Palencia continues to pitch well, giving the Pelicans five innings of one-run ball with six strikeouts. 14th round pick Frankie Scalzo Jr delivered two innings of scoreless relief before Luis Rodriguez earned the win late.
Myrtle Beach was the first to strike using a Jordan Nwogu single in the bottom of the third to take a 1-0 lead. Just one half of an inning later, Palencia gave up his lone run as Gabriel Rodriguez connected for his second homer of the season to tie things up 1-1. Despite several hits the rest of the way, runs were tough to come by for the Pelicans.
That was until the bottom of the eighth when Nwogu came through again with his 10th homer of the season, as his solo shot was the difference in the 2-1 win.
Nwogu had a night to remember at the plate, going a perfect 4-4 with both RBIs to lead the way.
Nwogu capped off a big night at the plate with this go-ahead blast.

Crack of the Bat Play of the Game presented by @VinesPlumbingSC pic.twitter.com/IFF6cP68OC

— Myrtle Beach Pelicans (@Pelicanbaseball) September 5, 2021
Owen Caissie and Jonathan Sierra picked up multi-hit games, with Ed Howard, Casey Opitz, Josue Huma, and Christian Franklin adding hits.
Caissie shoots it the other way. pic.twitter.com/mt3IwTbkAb

— Brad (@ballskwok) September 4, 2021
Saturday night dubs. #MBPelicans pic.twitter.com/y8Nv769BD4

— Myrtle Beach Pelicans (@Pelicanbaseball) September 5, 2021
ACL CUBS vs ACL ATHLETICS (Cancelled)
DSL CUBS RED 11 – DSL CUBS BLUE 6
While most of the DSL Cubs games have been close, this was not one of them as Red was a team on a mission to close out their week. After both Marino Santy and Enmanuel De La Cruz kept the game scoreless through four, DSL Red came to life in the fifth, which started an onslaught of runs. De La Cruz earned the win because of it and lowered his ERA to 1.71.
Pedro Ramirez not only put DSL Red on the board first with his RBI double in the fifth, but put them in front for good as he later scored on a wild pitch to make things 2-0. One inning later saw Ramirez at it again with a second RBI hit as he joined Andrews Cruz and his first homer to give DSL Red a 5-0 lead through six innings.
Hoping to make things interesting, it was time for DSL Blue to get their offense going in the seventh, and that is precisely what they did. Using four RBI singles, DSL Blue pulled within 5-4 as Frank Hernandez, Daniel Ferreira, Carlos Ramos, and Early Tatis all had RBI hits in that inning. Unfortunately for DSL Blue, Red had a big inning of their own up their sleeve using a five-run seventh to push the lead to 10-5.
A bases-loaded hit by pitch to Jose Herrera started things off before Luis Maza singled home a pair to make things 8-4. Add a bases loaded hit by pitch
to Samuel Duarte and another Ramirez RBI and DSL Red led 10-4.
Across the final two innings, each team scored runs, but DSL Red emerged victorious, picking up an 11-6 win. For DSL Blue, Joanfran Rojas led the offense with three hits as he was one of several players with multiple hits. Carlos Ramos, Frank Hernandez, and Leonel Espinoza added multi-hit games, with Tatis leading the way with two RBIs.
Blue had similar success throughout the lineup, with Cruz going a perfect 3-3 from the ninth spot with a team-best three-RBIs. Ramirez joined him with three RBIs while adding two hits and is now hitting .397 for the season. Maza, Anderson Suriel, Moises Ballesteros, Wilmer Bolivar tallied the remaining hits.

Tags: Cubs Baseball
,
Samuel Reyes
,
Grayson Byrd
,
Christopher Morel
,
Brennen Davis
,
Nelson Velazquez
,
Delvin Zinn
,
Caleb Knight
,
Luis Vazquez
,
Tyler Durna
,
Yonathan Perlaza
,
Jonathan Sierra
,
Josue Huma