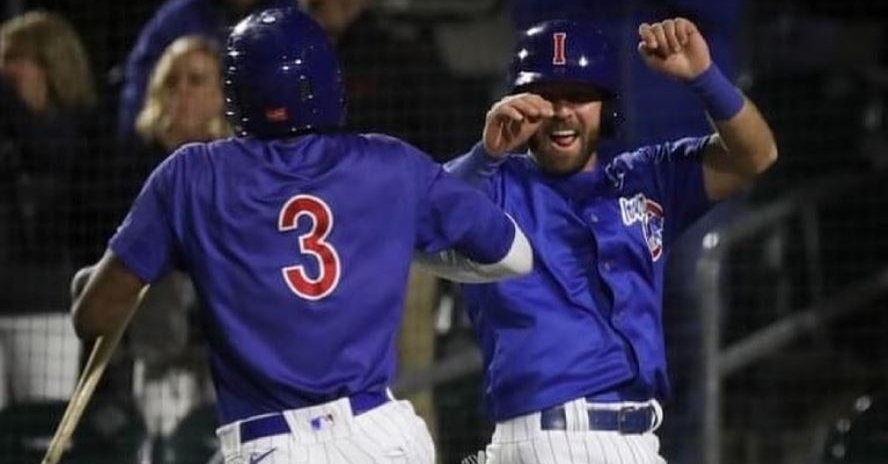 | | |
| --- | --- |
| Cubs Minor League News: I-Cubs score 15 runs in win, Aliendo impressive, SB with comeback | |
---
| | | |
| --- | --- | --- |
| Wednesday, July 21, 2021, 2:25 PM | | |
Tuesday is one of the busier days on the farm for the Cubs, as all seven teams were in action. With a chance to start a new week of games in a positive manner, the Cubs system came to play as they posted an impressive 5-2 mark to start their week.
IOWA CUBS 15 – COLUMBUS CLIPPERS 7
Giving up seven runs is never a good thing, but watching the Offense put up 15 was a pleasant sight to see. After a tremendous first few innings from Mike Hauschild, the righty started to fall apart in the third inning and ended up allowing six runs in just 3 2/3 innings of work.
Following a Nolan James homer that gave the Clippers a quick 1-0 lead, the Iowa offense exploded across the third and fourth innings, where they pushed across eight runs, including five in the third. Andrew Romine got things started with a two-run single before the Matt Duffy sacrifice fly made it 3-1 Iowa. Frank Schwindel then got into a pitch and cranked his first homer of the season to give the Cubs a 5-1 lead.
After James picked up an RBI in the bottom of the third, Nick Martini drove one over the center-field fence to push the Cubs lead to 8-2 in the fourth. Led by a trio of homers by Jordan Luplow, Andres Gimenez, and Connor Marabell, the Clippers were able to make things interesting chasing Hauschild and only trailing 8-6 at this point.
That is when the Cubs turned to Michael Rucker and the rest of the pen as they were dominant from the fifth inning on. A Michael Hermosillo in the fifth had the Cubs up 9-6 before Trenton Brooks answered with a homer of his own to make things 9-7. That would be as close as Columbus would get as the Cubs pushed across six runs the final two innings two take the series opener 15-7.
Schwindel made his Iowa debut and did it the best way possible, collecting a pair of hits to go with four RBIs.
In his first game in an Iowa Cubs uniform, Frank Schwindel is your @EMCInsurance Player of the Game. He went 2-for-5 with a run scored, a home run and drove in four, including this two-RBI single that capped off our five-run eighth inning! pic.twitter.com/3v1TeBSzGy

— Iowa Cubs (@IowaCubs) July 21, 2021
Martini added two hits of his own with three RBIs while Romine, Alfonso Rivas, Hermosillo, and Ian Miller all had multi-hit efforts. Duffy picked up another hit on his rehab assignment while David Bote is still searching for his first hit.
Tonight was fun! pic.twitter.com/HwShXvdK3T

— Iowa Cubs (@IowaCubs) July 21, 2021
ROCKET CITY TRASH PANDAS 10 – TENNESSEE SMOKIES 5
Rocket City used plenty of early offense to bury the Smokies before doubling them up 10-5. Javier Assad had a night to forget on the mound as he allowed eight runs in just three innings of work.
Even though the score wasn't in their favor, Tennessee got off to a good start, with Chase Strumpf and Levi Jordan picking up RBI singles in the second to give Tennessee a 2-0 lead.
That lead quickly evaporated in the bottom of the second when Izzy Wilson got the scoring for Rocket City started with a single before the Mitch Nay double made it 3-2. One inning later saw Rocket City break out for five runs, including homers by Brandon Davis and Dalton Pompey, as they took an 8-2 lead after three.
Tennessee did their best to hang tough with Carlos Sepulveda picking up an RBI fielders' choice in the fourth ahead of the Tyler Payne RBI groundout making things 8-4. Orlando Martinez grabbed one of those runs back with a fourth-inning homer, and the Smokies were unable to recover, falling 10-5.
The Smokies muscled out seven hits, with Nelson Maldonado responsible for two of those. Darius Hill, Christopher Morel, and Strumpf were just a few players to record hits, with Brennen Davis going hitless in the loss.
Smokies pitcher, Luis Lugo, was named Double-A South Pitcher of the Week for a July 12-18! That week he pitched 6IP with 7K earning a win. #SmokiesBaseball #GoSmokies pic.twitter.com/MtosOjJOkA

— Tennessee Smokies (@smokiesbaseball) July 20, 2021
SOUTH BEND CUBS 3 – WISCONSIN TIMBER RATTLERS 2
Very quietly, the Cubs are starting to creep back towards .500 as they downed Wisconsin 3-2. In what has the feel of a Cubs/Brewers Wrigley North feel, as it should considering how these are the farmhands of those teams was a great matchup, and that should be the case all week.
Joe Nahas was able to recover after a shaky first inning to deliver a five-inning start where he allowed just two runs on five hits while striking out five. His ERA now sits at 4.43 and continues to drop. Both runs allowed by Nahas came in the bottom of the first as a pair of solo shots from Hayden Cantrelle, and Korry Howell had South Bend facing a 2-0 deficit.
That would be all the offense Wisconsin would get as Rowan Wick, Blakey Whitney and Graham Lawson gave the Cubs four shutout innings of relief, allowing just two hits to go with six strikeouts. Playing catchup after that first inning, Ryan Reynolds put the Cubs on the board with an RBI groundout in the fourth before a bases-loaded walk to Harrison Wenson tied things up in the sixth.
With the score tied 2-2 in the seventh, the suddenly red-hot D.J. Artis came through with a clutch RBI single providing the winning RBI in the Cubs 3-2 win.
Both @Cubs and #SBCubs have come from behind wins last night.
That's it.
That's the tweet. #CubTogether pic.twitter.com/uGflicoRrM

— South Bend Cubs (@SBCubs) July 21, 2021
Artis delivered one of just six hits as Nelson Velazquez, and Delvin Zinn combined for four of those hits. Zinn also added a pair of stolen bases to go with his two hits as he now sits at 40 steals in 43 attempts this season. Yonathan Perlaza added the last hit with Bryce Ball going 0-2 with two walks.
Cubs bullpen shuts out Wisconsin as Cubs come back to beat Wisconin!#SBCubs | #CubTogether pic.twitter.com/iM8MinXrtn

— South Bend Cubs (@SBCubs) July 21, 2021
MYRTLE BEACH PELICANS 3 – CHARLESTON RIVERDOGS 2
Faced off against one of the best teams in Low-A, the Pelicans are playing their best baseball of the season, which translated to a 3-2 win. Manuel Espinoza delivered four strong innings on the mound before turning it over to the bullpen of Carlos Ocampo and Jose Almonte as they combined to allow one run on one hit across the final five innings with eight punchouts.
Espinoza was strong across his entire start, but a second-inning double by Abiezel Ramirez had the Pelicans down 1-0 early. That score would hold up until long after Espinoza departed as Myrtle Beach needed six innings to breakthrough using a Pablo Aliendo double and Jordan Nwogu double play to take a 2-1 lead.
Trying to hold on to their slim lead, Ocampo served up a solo homer to Diego Infante in the eighth, bringing things 2-2. Fortunately for Myrtle Beach, Aliendo had the long ball on his mind cranking his fifth homer of the season in the bottom of the eighth to lift the Pelicans to a 3-2 win. Not only was Aliendo credited with both RBIs, but he was responsible for three of the team's five hits. Fabian Pertuz and Ed Howard picked up the other two hits, with Kevin Made and Yohendrick Pinango going hitless.
ACL GIANTS ORANGE 2 – ACL CUBS 1
In a rare quiet day for the Cubs offense, the Giants were able to keep their bats in check, knocking them off 2-1. 2019 fourth-round pick Chris Clarke made his season debut, going three shutout innings with three hits and three punchouts. He handed the ball off to Luis Devers, who lowered his ERA to 1.93 following five innings of one-run ball.
With neither offense getting anything going through five innings, Yeison Santana took it upon himself to put the Cubs on the board first using an RBI single to give them a 1-0 lead. One inning later saw the Giants tie things up on the Omar Medina groundout before heading to the bottom of the ninth still tied 1-1. That is when George Bell came through the most, delivering a walk-off RBI double in the Giants 2-1 win.
It was nice to see Santana pickup multiple hits in the win, as was the case for Reggie Preciado as he continues to hit. The Cubs also saw Owen Caissie, Malcom Quintero, and Scott McKeon pick up hits in the loss. Ismael Mena and Shendrik Apostel went hitless and combined for one walk and four strikeouts.
DSL CUBS BLUE 5 – DSL RED SOX BLUE 4 (10 innings)
Wins have not been easy for the DSL Cubs this season, but a walk-off win is always nice to have heading into an off day. After a shaky first six innings, the Cubs bullpen, especially Gleiber Morales, was impressive and did what they needed to give the Cubs a chance.
A first-inning double play put the Red Sox on the board before the Armando Sierra single doubled their lead to 2-0. The Cubs were able to cut that deficit in half after Frank Hernandez reached base on an error. Following a second inning Lizardo Ruiz single that tied the game, the Cubs took the lead in the fourth when Leonel Espinoza connected for his first homer of the season to make things 4-2.
The Red Sox wasted no time tying things up, using a Juan Chacon double and the Giancarlos Santana groundout to tie things up 4-4 in the fifth. Fast forward to the bottom of the 10th with the game still tied, and it was Hernandez's turn to play hero as his single gave the Cubs a walk-off 5-4 win. That was the lone hit for Hernandez in the game, but he made it count as he brought in two runners in the game. The Cubs received multi-hit efforts from Ezequiel Alvarez, Cristian Hernandez, Espinoza, and Ruiz.
DSL CUBS RED 4 – DSL CARDINALS RED 2
For the first time this season, both DSL Cubs teams won their games, with Red moving above .500 with the 4-2 win. Enmanuel De La Cruz started a strong six innings for the Cubs as he combined with Anthony Martinez to strike out 10 Cardinal hitters in six innings of one-run work.
The Cubs wasted little time grabbing the lead using an error in the second to take a 1-0 lead before doubling their lead off a wild pitch in the fourth. After the Cardinals gifted the Cubs a pair of early runs, the Cubs turned to help them out as a wild pitch from Martinez in the sixth put the Cardinals on the board, but the Cubs still led 2-1.
Seventh inning singles by Anderson Suriel and Pedro Ramirez proved to be huge as it not only gave the Cubs some insurance, but proved to be the difference as Jeremy Ramos tripled home a run in the bottom of the seventh. Had those hits not come, you are looking at a 2-2 game and instead saw the Cubs win 4-2. Moises Ballesteros and Ramirez continue to hit, picking up two hits apiece as Ballesteros is hitting .389 for the season while Ramirez is hitting an absurd .417. Cristian More and Fredy Montenegro also added hits in the win.

Tags: Cubs Baseball
,
Michael Rucker
,
Michael Hermosillo
,
Alfonso Rivas
,
Ian Miller
,
David Bote
,
Javier Assad
,
Chase Strumpf
,
Levi Jordan
,
Carlos Sepulveda
,
Nelson Maldonado
,
Darius Hill
,
Christopher Morel
,
Brennen Davis
,
Rowan Wick
,
Ryan Reynolds
,
Nelson Velazquez
,
Delvin Zinn
,
Yonathan Perlaza