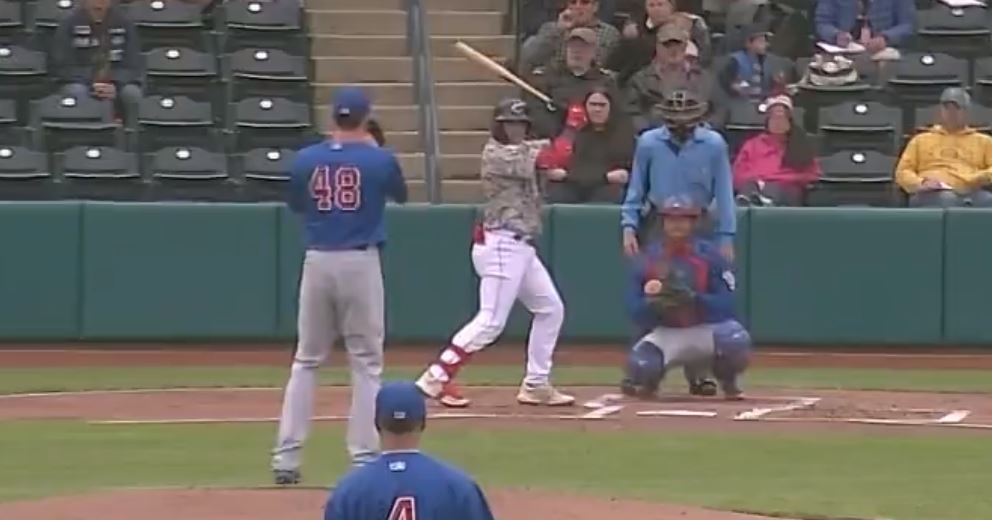 | | |
| --- | --- |
| Cubs Minor League News: Kyle Hendricks' rehab start, Caissie and McGeary homer, more | |
---
Wednesday was an overall frustrating night on the diamond for the Cubs system for many reasons. Not only did the big club drop another close game, but the Cubs system saw two games with blown leads while another was a blowout defeat. That led to a 1-3 overall showing which is not what you want to see.
COLUMBUS CLIPPERS 10 - IOWA CUBS 2
Mother Nature is the only thing that can cool the Iowa offense off. After having Tuesday's game rained out, the Cubs returned to the field Wednesday and looked flat as they got pounded by the Clippers. The Columbus pitching staff does deserve some credit for that, despite walking nine hitters in the game.
Making his second of what could be three of four rehab starts was Kyle Hendricks, and the results were not good. The Professor pitched into the third but didn't finish it as he was tagged with four earned runs in 2 2/3 as his ERA rose to 20.77 in two starts.
Kyle Hendricks ends a scoreless first inning against Columbus with this strikeout. pic.twitter.com/SN8oWlMucp

— Iowa Cubs (@IowaCubs) May 3, 2023
You also had Rowan Wick and Riley Thompson endure rough nights as they allowed six combined runs in two innings.
Things couldn't have started any better for Iowa, with Jake Slaughter putting them up 1-0 with an RBi single in the first. That was about as much excitement as they would have as Chris Roller took over in the second. Not only did he belt a go-ahead Grand Slam in the second, but he added a two-run shot in the fourth to provide all the offense Columbus would need.
Roller also added a fifth-inning sacrifice fly as part of his seven RBI day, with Bo Naylor adding a homer to give Columbus a 10-1 lead in the fifth. Miles Mastrobuoni capped off the scoring with an RBI groundout in the seventh, but that was it in what was otherwise a rough game. Iowa was held to three hits, with Slaughter, David Bote, and Christopher Morel grabbing those hits.
Final from Huntington Park. pic.twitter.com/UwyNGFa05U

— Iowa Cubs (@IowaCubs) May 4, 2023
TENNESSEE SMOKIES 7 - ROCKET CITY TRASH PANDAS 6
Don't look now, but the Tennessee Smokies have caught fire and are among the system's hottest teams. Looking to pick up their fifth win in the last seven games, the Smokies fell behind early, rallied to take the lead, and then had to hold the Trash Pandas off for the win.
Walker Powell has slowly started to come into his own in his past few outings and continued that with a strong four-inning start on Wednesday. The right-hander was charged with three runs, two earned while striking out four as his ERA stands at 3.12 for the season. Following the outing from Powell, you had a pair of scoreless frames from Chris Kachmar and Blake Whitney before Hunter Bigge nearly gave it away late. Kachmar was impressive as he struck out five in his outing.
Talk about a guy who deserved a promotion. After picking up two RBIs in his AA game on Tuesday, Haydn McGeary continued to impress and used his first AA homer to put Tennessee in front 1-0 in the second.
Haydn McGeary's first HR at Double-A! pic.twitter.com/rG43qK2HbB

— Aldo Soto (@AldoSoto21) May 3, 2023
Not to be outdone, Orlando Martinez responded with a homer of his own in the bottom of the third as Rocket City held a 2-1 lead.
That lead didn't last long as one swing from Owen Caissie in the fourth brought things back to even 2-2.
Owen Caissie hits his 5th HR of the year pic.twitter.com/plBlP1XrHs

— Aldo Soto (@AldoSoto21) May 3, 2023
Trailing 3-2 in the fifth, the Tennessee offense erupted and used a massive four-run frame to seize control. A wild pitch aided the first of those runs, but the Nelson Maldonado single put Tennessee in front for good 5-3.
BJ Murray Jr followed that up with another RBI hit to extend the lead to 6-3 before adding a second RBI hit later in the game to give the Smokies a 7-3 lead. Looking to close things out in the ninth, Rocket City wouldn't go away quietly as Kyren Paris took Bigge deep to make things 7-6. That was as close as things would get as Bigge bounced back to finish things off. Maldonado and Murray Jr led Tennessee with two hits and two RBIs.
Owen Caissie and Haydn McGeary both homer as the Smokies take out the trash! #BestYearEver #NextStartsHere #cubs pic.twitter.com/FQv8zxGhKQ

— Tennessee Smokies (@smokiesbaseball) May 3, 2023
CEDAR RAPIDS KERNELS 9 - SOUTH BEND CUBS 5
What was a tale of two games; the South Bend Cubs had to play from behind before rallying in the seventh to tie things up. Unfortunately for them, things imploded for Didier Vargas in the ninth as six runs came across to score in a 9-5 defeat.
That ninth inning took away another strong start from Brandon Birdsell, who continues to impress on the mound. Across his five innings, Birdsell was dialed in as he struck out five and scattered three hits. He also didn't allow a run, as his ERA fell to 0.44. Take him out of the mix, and the pitching struggled, especially Frank Scalzo Jr and Vargas, who allowed nine earned runs in their outings.
While Birdsell continued to do his thing on the mound, you have to give credit where credit is due, and Alejandro Hidalgo deserves a ton of credit. Across his 5 1/3 inning start, Hidalgo managed to keep the Cubs off the board while also striking out nine. He is also sporting a 1.29 ERA for the season, so it shouldn't be surprising to see a low-scoring game early on.
With both teams deadlocked 0-0 and heading into the sixth, the Kernels broke through first off Scalzo Jr. Kala'i Rosario put an end to the shutout bid with a homer, while Jose Salas added a second homer to make things 2-0. That lead grew to 3-0 in the seventh, with Charles Mack picking up an RBI double.
Searching for answers, it was now or never for the Cubs offense as they needed a shot in the arm. That came from Ethan Hearn and Liam Spence, who reached base to start the inning before the Jacob Wetzel single to left put South Bend on the board. With a pair of runners in scoring position, the suddenly scorching-hot Scott McKeon continued his torrid stretch and ripped an RBI triple to right to tie things up 3-3.
That score remained until the ninth inning, when fans had extra innings on their mind for a second straight day. Instead, Cedar Rapids had other ideas as they made Vargas pay for his inability to make quality pitches and pushed across six runs. Three came home on the Kyler Fedko double as the Cubs trailed 9-3.
Down to their final three outs and needing close to a miracle to come back, South Bend continued to battle with Kevin Alcantara picking up a sacrifice fly. Throw in a Fabian Pertuz single to make things 9-5, and you had the Cubs starting to make noise before falling by that score. McKeon led the offense with three hits and two RBIs, with Pertuz and Wetzel adding two hits.
Incredible crowd today. Back to a normal 7:05 PM start tomorrow. pic.twitter.com/nC6KWvFyEG

— South Bend Cubs (@SBCubs) May 3, 2023
COLUMBIA FIREFLIES 10 - MYRTLE BEACH PELICANS 8
Coming off a 12-0 loss on Tuesday, the Pelicans were looking to even the series with Columbia on Wednesday. Instead, they suffered one of their worst defeats of the season as their once huge lead evaporated in the blink of an eye. Trailing 8-3, the Fireflies rallied late, scoring seven times in the final two innings to walk off the Pelicans 10-8.
The end result wasted another strong start from Cade Horton, who continues to dominate. Although he is human and allowed his first two runs of the season, Horton got through four innings of two-run seven strikeout ball as his ERA sits at 1.26. He has been better than advertised this season, but the same can't be said about the bullpen in this one.
Myrtle Beach got off to an extremely fast start with a first-inning balk leading to the game's first run. That was followed up by a Miguel Pabon RBI single to extend the lead to 3-0. Pabon would steal home later in the inning as the Pelicans raced out to a 4-0 lead in the first. Things only got worse for Columbia, with Pabon and Rafael Morel connecting for RBI doubles in the third to stretch the Pelicans lead to 6-0.
Given how well Horton has pitched this season, you had to think six runs would be enough. Even after allowing an Erick Pena homer in the fourth for his first earned runs allowed of the season, the Pelicans still had a comfortable lead in hand, with Felix Stevens making things 7-2 with an RBI single in the fifth.
Still holding onto that five-run lead, things quickly unraveled in the eighth as the Fireflies started to rally. Granted, a balk led to one run, but Columbia also had RBI singles from Dionmy Salon, David Hollie, and Jean Ramirez to pull the Fireflies to within 8-7. The very next inning, you had a wild pitch from Yovanny Cabrerra tie things up before Pena connected for his second homer of the night using a two-run shot to walk off Myrtle Beach.
Pabon was one of five Pelicans to tally multiple hits and led the way with three RBIs. Reivaj Garcia, Andy Garriola, Morel, and Stevens were the other players with multiple hits. Cristian Hernandez was the lone Pelican without a hit.
Final. pic.twitter.com/zsocWVTRps

— Myrtle Beach Pelicans (@Pelicanbaseball) May 4, 2023

Upgrade Your Account
Unlock premium boards and exclusive features (e.g. ad-free) by upgrading your account today.
Upgrade Now

Tags: Cubs Baseball
,
Kyle Hendricks
,
Rowan Wick
,
David Bote
,
Christopher Morel
,
Walker Powell
,
Chris Kachmar
,
Hunter Bigge
,
Owen Caissie
,
Nelson Maldonado
,
Didier Vargas
,
Frank Scalzo
,
Ethan Hearn
,
Jacob Wetzel
,
Scott McKeon
,
Kevin Alcantara
,
Fabian Pertuz
,
Felix Stevens