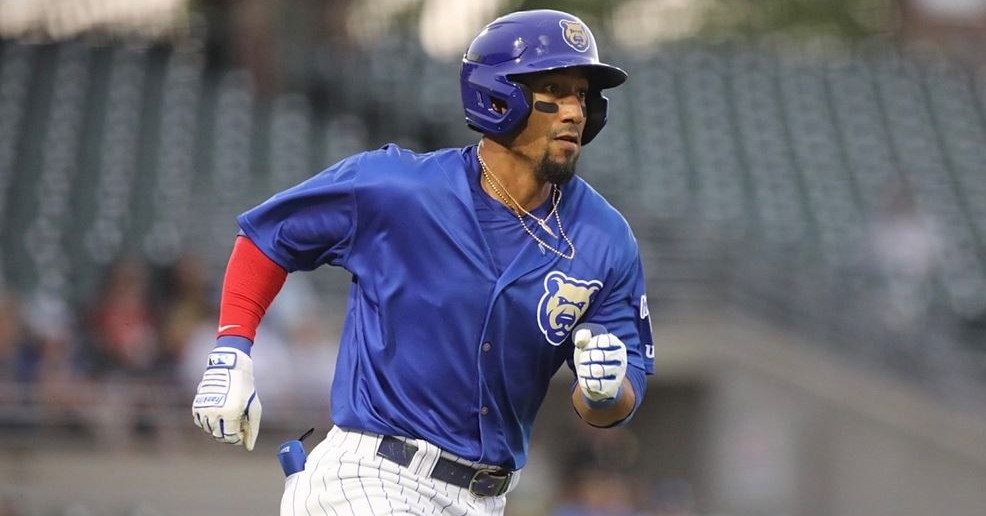 | | |
| --- | --- |
| Cubs Minor League News: Robel Garcia stays hot, Pagan and Alcantara homer, more | |
---
Coming off one of their best, if not their best overall week in organizational history, the Cubs minor league teams were back in action Tuesday, looking to stay hot. With plenty of promotions throughout the system, these teams are starting to look different, but the results have been the same.
That shows how much depth is in the organization and the state of the Cubs system as a whole. Unlike last week when the Cubs virtually couldn't lose, wins were not easy to come by on Tuesday as the organization posted a 1-3 mark. Myrtle Beach logged the lone victory, but it was a very rough showing for everyone apart from them.
COLUMBUS CLIPPERS 9 - IOWA CUBS 3
After taking care of Omaha in their last series, the Cubs remained home to welcome one of the best teams in Minor League baseball. The Clippers were about to show the Cubs why they have the record they do, scoring all nine runs after the fourth inning to cruise to a 9-3 win.
Since being elevated to the starting rotation, Matt Dermody has shown some promise despite not lasting all that long in games. He was again giving the Cubs 4 2/3 innings with six punchouts, but after allowing three runs and seeing the bullpen allow six was on the hook for the loss. Cayne Ueckert took it the hardest as he was touched up for four earned runs in one inning.
With both teams scoreless through three, Bryan Lavastida put the Clippers on top with a fourth-inning solo shot before Bobby Bradley added a double to double the lead. A Tyler Freeman RBI single followed that in the fifth as Columbus was off and running 3-0.
It took five innings for the Cubs to cash in, with Carlos Sepulveda coming through with his first AAA RBI, using a single to make things 3-1. A Robel Garcia double in the sixth brought Iowa within 3-2 as the Cubs were starting to gain momentum. Down 4-2 in the eighth, Columbus put the game away, scoring four times off three bases-loaded walks to take a commanding 8-2 lead.
In the ninth, they added another run before Trent Giambrone capped off the scoring with a ninth-inning RBI double as Iowa fell 9-3. Garcia continues his torrid stretch, leading the way with three hits to raise his average to .311. Nelson Velazquez added two hits, with four other players finishing with one. Clint Frazier began a rehab assignment on Tuesday and went 0-4.
Final from Principal Park. pic.twitter.com/Wg2auQiNSo

— Iowa Cubs (@IowaCubs) May 18, 2022
CHATTANOOGA LOOKOUTS 9 - TENNESSEE SMOKIES 8
Fresh off a seven-game sweep of Montgomery and riding an eight-game winning streak, the Smokies remained home to take on in-state rival Chattanooga. In a back and forth game dominated by offense, the Lookouts pushed across three eighth-inning runs that proved to be the difference in the 9-8 win.
Peyton Remy was coming off his best start of the season and completely flipped the script with his worst start. In just 2/3 of an inning, Remy not only allowed three hits, but allowed four earned runs as he didn't have it. He gave way to four relievers who allowed five runs in just over eight innings despite Blake Whitney giving them two scoreless frames.
Remy was not only struggling with his command in the first, but when he did find the zone, he was hit hard. That led to RBI doubles by Francisco Urbaez and Chuckie Robinson as the Lookouts raced out to a 4-0 lead. They would add to that in the second after the Matt McClain inside the park homer, but the Smokies did a great job bouncing back.
Down five in the second, the Smokies strung together a series of RBI hits, including singles by Yonathan Perlaza and Bryce Windham, with Levi Jordan adding an RBI double. There was a double play mixed in with all that as the Smokies were within 5-4. An Isaiah Gillham double in the top of the fourth extended that lead to 6-4 before the Smokies took their first lead of the day.
Sparked by a second RBI double off the bat of Jordan, the Smokies remained close and pulled within 6-5. That set the stage for Windham, who homered for the first time this season to put the Smokies on top 7-6. Luiz Vazquez added to that lead with a sixth-inning RBI single, and things were looking good for winning No. 9 in a row.
My guy, Bryce Windham, just destroyed a baseball. The Smokies were down 5 to 0 and now lead 7 to 6 pic.twitter.com/H3nnT1o01R

— Todd ?????? (@CubsCentral08) May 18, 2022
That was until the eighth inning, when things began to go south. With Mike Siani pulling the Lookouts within one following an RBI groundout, Gillham picked up his second RBI hit of the day and tied things up 8-8. Add in a wild pitch, and the Lookouts were back in front 9-8 with very little time left. The game would end with that score, as Tennessee could not get anything going over the final two innings. Bryce Ball, Jordan, and Windham led the way with two hits, Jordan driving in two runs and Windham with three.
Bryce Windham goes 2-3 with a homer and 3 RBI, but the Smokies fall to Chattanooga in Game 1. Back at it tomorrow boys and girls. pic.twitter.com/TlfjHeW8t7

— Tennessee Smokies (@smokiesbaseball) May 18, 2022
WISCONSIN TIMBER RATTLERS 3 - SOUTH BEND CUBS 1
In a highly anticipated matchup against two of the better teams in the league, the Timber Rattlers managed to take game one with pitching being the story. For the Cubs, Manuel Espinoza got the start and, across four innings, allowed just one run. Bailey Horn relieved him and tossed three scoreless frames with three punchouts before the Rattlers struck for a pair off Jeremiah Estrada late.
Wisconsin was led on the mound by lefty Antoine Kelly who got through six innings and allowed just one run, and struck out five. Following his departure, Kent Hasler and Cam Robinson kept the Cubs scoreless through 3 2/3 innings, with Robinson earning his eighth save.
Espinoza was strong all start long, even if the Rattlers put one run across in the first off the Tristan Peters sacrifice fly. Little did anyone know, that would be the only run for the next five-plus innings with Owen Caissie tying things up in the seventh with an RBI single.
In the eighth inning, the Rattlers took the lead for good as Joe Gray Jr got ahold of an Estrada pitch and took it over the fence for his fifth homer of the season to give Wisconsin a 3-1 win. The Cubs had six hits from six different players as the offense was at a premium.
Can't win 'em all.

Back at it bright and early. pic.twitter.com/izmXlEdb9Y

— South Bend Cubs (@SBCubs) May 18, 2022
MYRTLE BEACH PELICANS 15 - COLUMBIA FIREFLIES 5
If the Pelicans want to continue their winning ways, they will have to get familiar away from home. Tuesday marked the beginning of a two-week 12-game road trip, and the Pelicans couldn't have asked for a better result.
Led by an offense that scored eight runs in the first four innings and seven in one inning, the Pelicans earned the lone win in the system on Tuesday, rolling 15-5. Although not at his best, Richard Gallardo picked up the win as his ERA sits at 2.67.
Although only two were earned, Gallardo got through six innings again, surrendering four runs on three hits. He walked one and struck out seven and continues to show why he is the ace of this staff. There are not many times when Gallardo gives up a homer, let alone trails early, as both those were in effect following the River Town two-run shot in the first.
Kevin Alcantara answered with a solo shot in the second, but the fourth inning is when the Pelicans put their feet on the gas.
Kevin Alcantara HAMMERS one to right and the Pelicans are on the board! Fourth home run of the season for Alcantara.

Fireflies 2, Pelicans 1 in the bottom of the second. pic.twitter.com/Fz9UqCkQHM

— Myrtle Beach Pelicans (@Pelicanbaseball) May 17, 2022
With BJ Murray getting things started with a go-ahead RBI double, the Pelicans extended the lead to 5-2 after the Jacob Wetzel triple. Add in RBI singles from Reggie Preciado and James Triantos, along with an error, and seven runs came across to score as the Pelicans suddenly led 8-2.
Reggie Preciado it is now three-for-four on the night including this single from the right hand side of the batter's box. pic.twitter.com/jgBLdoLjkY

— Todd ?????? (@CubsCentral08) May 18, 2022
The next inning saw Columbus start to rally again, using the Daniel Vazquez single and Edgar Martinez triple to pull within 8-4. It felt like Columbus was on the verge of getting hot, but they only managed to score once more while Myrtle Beach was about to heat up again.
Ezequiel Pagan connected for his third homer in the sixth, followed by an Alcantra double to make things 10-4.
Ezequiel Pagan with his third home run in his last five games!

A solo shot gives the Pelicans a 9-4 lead in the top of the sixth. pic.twitter.com/8UFRWsdHYV

— Myrtle Beach Pelicans (@Pelicanbaseball) May 18, 2022
Pagan added a late-game RBI single, as did Pete Crow-Armstrong, with Juan Mora grabbing an RBI double to lift the Pelicans to the 15 - 5 win. With 15 hits, there was plenty to go around as the suddenly confident Preciado led the way with three. Pagan, Murray Jr, Mora, Triantos, and Alcantara added two hits, with Pagan leading the way with his three RBIs.
Pelicans doing Pelicans things tonight.

Early game tomorrow at 12:05.#MBPelicans pic.twitter.com/sbcQcmSZrs

— Myrtle Beach Pelicans (@Pelicanbaseball) May 18, 2022

Upgrade Your Account
Unlock premium boards and exclusive features (e.g. ad-free) by upgrading your account today.
Upgrade Now

Tags: Cubs Baseball
,
Carlos Sepulveda
,
Robel Garcia
,
Trent Giambrone
,
Nelson Velazquez
,
Clint Frazier
,
Peyton Remy
,
Yonathan Perlaza
,
Levi Jordan
,
Jeremiah Estrada
,
Richard Gallardo