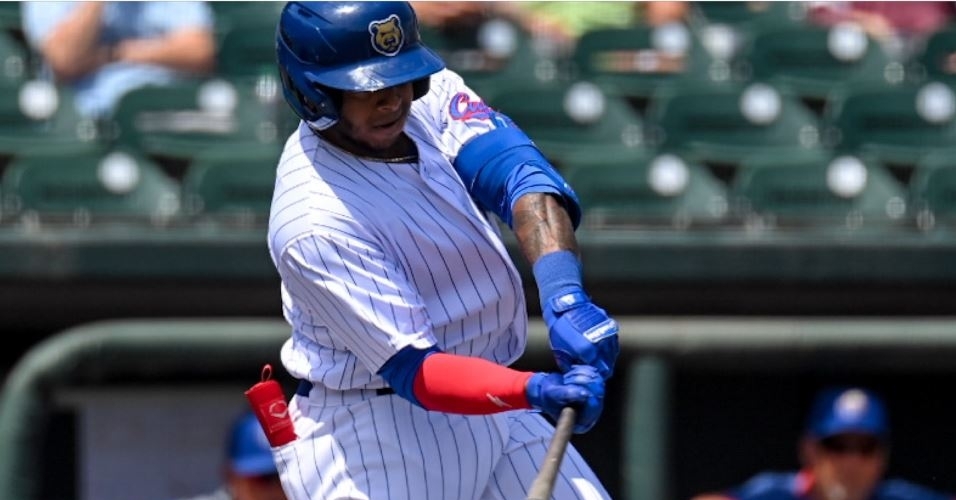 | | |
| --- | --- |
| Cubs Minor League News: Velazquez homers, Madrigal rehab, Nwogu raking, Pels finally lose | |
---
| | | |
| --- | --- | --- |
| Sunday, May 29, 2022, 9:36 AM | | |
It was nice to see the Chicago Cubs get back on the winning side of things, especially against their cross-town rivals. However, wins were not as frequent in the minor leagues as the Pelicans saw their 12-game winning streak end as part of a 0-4 night.
Those nights haven't happened a ton to the Cubs and their system this season, but when they do, you have to take them with a grain of salt and move on. Losses or not, there were still plenty of solid showings to get behind.
MEMPHIS REDBIRDS 10 - IOWA CUBS 5
One team that has had the Cubs number this season is Memphis, as they claimed the series victory by doubling up Iowa on Saturday. You had to feel for Brandon Leibrandt, who gave the Cubs four strong innings before handing it over to the pen. While Michael Rucker was solid in his rehab outing, the rest of the pen was not, as they allowed eight runs to give the Redbirds another win.
Loss aside, it was nice to see the Cubs offense get off to a hot start, especially early on. Not only did Nelson Velazquez open the scoring with a second-inning RBI double, but Jared Young followed that up with a single to make things 2-0. Also on a rehab assignment is Nick Madrigal, who drove in the third runner of the inning to make things 3-0.
The Redbirds managed to get two of those runs back on RBIs by Luken Baker and Ben DeLuzio, as that was the only scoring until the seventh inning. In that seventh inning, Velazquez ended a long homerless drought by hitting his third with AAA, while Madrigal picked up another RBI groundout to extend the lead to 5-2.
Little did Iowa know that those would be the last runs for them, but that should be enough when you look at how good their bullpen has been. That was far from the truth, with Alec Burleson driving in two with an RBI single before the Paul DeJong grounder tied things up.
That set the stage for Cory Spangenberg in the seventh as his fourth homer put the Redbirds in front for good 6-5 before they added four more late to pull away. The loss moves the Cubs back to .500 as Velazquez led the way with three hits and his RBI.
BOOM! Nelson Velazquez gives us a two-run lead with this solo blast! pic.twitter.com/TlDqiJBvT8

— Iowa Cubs (@IowaCubs) May 29, 2022
Young added two hits, with Madrigal picking up a pair of RBIs.
Final from AutoZone Park. pic.twitter.com/V4Fr1XbVIZ

— Iowa Cubs (@IowaCubs) May 29, 2022
ROCKET CITY TRASH PANDAS 8- TENNESSEE SMOKIES 1
The Smokies might be hoping for rain to wash out their doubleheader on Sunday as they have not played well this week. Anchored by a five-run first, the Trash Pandas built a huge lead and coasted to a victory.
Max Bain was on the mound opposing Ky Bush, and things didn't go well. Across his 3 1/3 innings, Bain was lit up for six runs on six hits. He also walked six and struck out six, as six was his favorite number. On the other hand, Bush was much better, giving Rocket City six strong innings of one-run ball in the win.
Most of the Rocket City damage came in the first inning when five runs came around to score. Zach Humphries opened the scoring as his RBI single proved to be the winning hit with the Trash Pandas up 2-0. Preston Palmiero put an exclamation point on the massive first by belting a three-run shot to make things 5-0. The ROcket City lead grew to 6-0 in the second, with Orlando Martinez taking Bain deep as the Smokies were in a massive hole.
Although Levi Jordan was able to end the shutout bid with an RBI groundout in the third, it was all the offense the Smokies could generate as Kevin Maitan added a two-run homer in the seventh to cap off the scoring. Darius Hill led the way collecting two of the team's five hits.
Doubleheader tomorrow starting at 1:05pm to close out the series with Rocket City. pic.twitter.com/iYWvXi7pb7

— Tennessee Smokies (@smokiesbaseball) May 29, 2022
GREAT LAKES LOONS 13 - SOUTH BEND CUBS 10
In the most exciting game of the night, Great Lakes and South Bend treated the fans to 23 runs, but saw the Loons come out on top. Pitching was not the strong suit on either side, with Kohl Franklin continuing to struggle before Joe Nahas and the bullpen came in. Outside of Eduarniel Nunez, the Cubs pen gave up nine runs.
The Loons couldn't have asked for a much better start as they managed to strike for four runs in the first. A Jose Ramos got things started with an RBI single as that hit mixed with an error made things 3-0. A Ryan January double brought Ramos home as the Loons were up big early.
Fortunately for the Cubs, it was the Jordan Nwogu show early, using a first-inning homer and third inning double to push across three runs to make things 4-3.
Nwogu …Yard! pic.twitter.com/uQYVDjKTbt

— Todd ?????? (@CubsCentral08) May 28, 2022
A Fabian Pertuz single in the fourth put South Bend in front 5-4 before the return of Jonathan Sierra, and his bases-loaded RBI double saw the Cubs rip off eight unanswered runs and lead 8-4 in the fifth.
In 2019, Jonathan Sierra topped a lot of baseballs in the infield at Low-A. He repeated the level last year Myrtle Beach and improved as year went on hitting .298 and .286 in July + August. it's good to see him get under baseballs now pic.twitter.com/PiWzhUke9g

— Todd ?????? (@CubsCentral08) May 29, 2022
Down, but not out, the Loons started to mount a comeback in the sixth using the Imanol Vargas homer and a bases-loaded walk to pull within 8-6. Two innings later saw the Loons capitalize on the strength of four RBI hits as seven runs came home to score with the lead now in Great Lakes favor, 13-8.
Not about to give up just yet, Yohendrick Pinango brought home a pair in the eighth with an RBI single before putting more pressure on in the ninth. Walks to Caleb Knight and Scott McKeon started that ninth inning before the next two hitters went down.
Another walk to Cole Roederer had the bases loaded, and the Cubs were one hit away from potentially tying this game.
I am 100% here for Cole Roederer hitting CBs into the gap off of LHPs. pic.twitter.com/zDNOQv7rfw

— Itsacon (@thats_so_cub) May 29, 2022
However, that hit never came as Nwogu struck out to end the game and left the bases loaded. Sierra had a great day, collecting three hits and driving in three to lead the way. Nwogu and Pertuz added four hits and a combined five RBIs.
AUGUSTA GREENJACKETS 5 - MYRTLE BEACH PELICANS 3/h2>
It took nearly two whole weeks, but the Pelicans saw their 12-game winning streak end on Saturday. Even with their ace Richard Gallardo on the mound, it wasn't the Pelicans night as he allowed four runs in 5 1/3 innings of work to take the loss.
JJ Niekro opposed him, who went 5 2/3 innings and allowed no runs to go with his seven strikeouts. Both pitchers were on top of their games early, with the Geraldo Quintero fourth inning homer as the lone run of the game through five.
Looking to even things up or perhaps more, BJ Murray Jr was able to get the Pelicans on the board, as his RBI single in the sixth brought things back to even 1-1. Although that was great to see, the momentum Myrtle Beach earned was quickly taken back with RBI singles from Quintero, and Adam Zebrowski, mixed with a sacrifice fly, had the Greenjackets up 4-1 after six.
Now trailing 5-1 in the eighth, the Pelicans had one last gasp to keep their winning streak rolling as the offense was in business. Kevin Made brought home the second Myrtle Beach run before Murray Jr drove him home with an RBI double to make things 5-3. That was the final chance of the night for the Pelicans as their franchise-long winning streak ended.

Tags: Cubs Baseball
,
Michael Rucker
,
Nelson Velazquez
,
Jared Young
,
Nick Madrigal
,
Levi Jordan
,
Darius Hill
,
Kohl Franklin
,
Eduarniel Nunez
,
Jonathan Sierra
,
Caleb Knight
,
Cole Roederer
,
Richard Gallardo