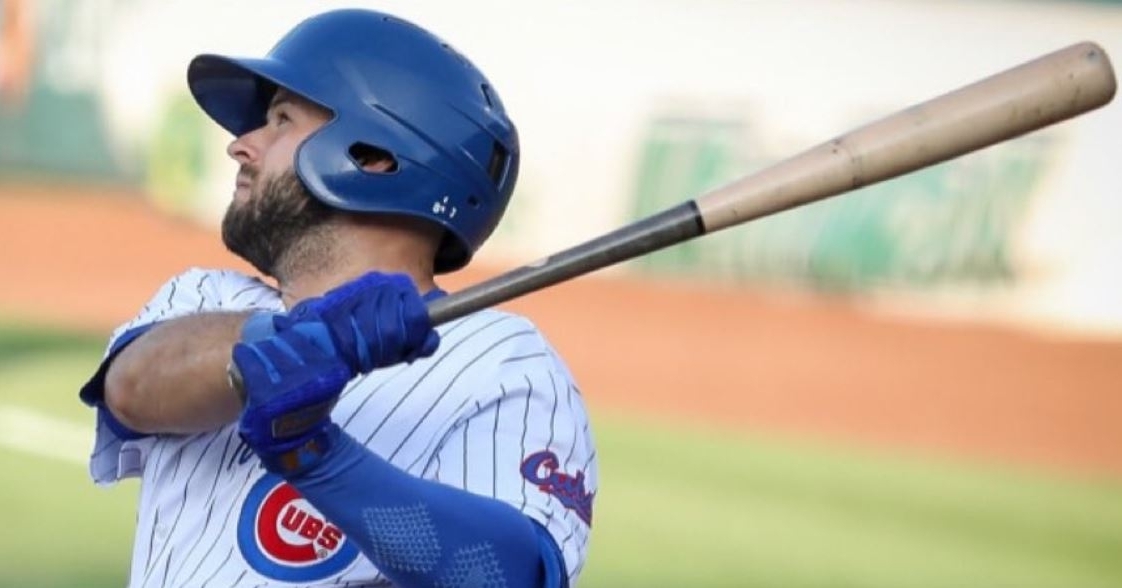 | | |
| --- | --- |
| Cubs Minor League News: Bote and Slaughter homer, Franklin impressive, Pels explode, more | |
---
Although it was a bit shorter week than usual, Sunday marked the close to another week of Minor League Baseball for the Cubs and their system. Although the results were not as good as they could have been, there were still performances worth noting.
IOWA CUBS 4 - COLUMBUS CLIPPERS 3
This was two games in one for the Iowa Cubs as they started slowly before finishing strong. That was primarily due to their three-run eighth that saw the Cubs come from behind and take the series. Hayden Wesneski was on the mound and made his first start since returning to Iowa for a second time this season. Granted, he only lasted three innings and allowed three runs; only two were earned, as he also struck out five.
Not only did he struggle, but Hunter Gaddis was impressive as he allowed just one run in five innings of work. Gaddis allowed the first run of the game off a David Bote solo shot in the second, but he was lights out after that. Following that homer, the Columbus offense started to get rolling in the bottom half of the second, with Bryan Lavastida taking Wesneski deep for a 2-1 lead.
Columbus would add an additional run in the bottom half of the third, but that was it for them offensively, as six different relievers combined to hold Columbus scoreless the rest of the way. Still trailing by two in the eighth, the Cubs played a long ball to take the lead, with Yonathan Perlaza pulling Iowa to within 3-2.
Yonathan Perlaza goes oppo for his 10th HR of the year. pic.twitter.com/pXbf5iPQPq

— Brad (@ballskwok) July 16, 2023
A few batters later, it was time for Jake Slaughter to leave the building as his two-run shot lifted the Cubs a 4-3 win.
Jake Slaughter is our @Therookiedsmia Player of the Game with this go-ahead two-run blast. pic.twitter.com/UP0N1Kj7QI

— Iowa Cubs (@IowaCubs) July 16, 2023
Matt Mervis led the Cubs with three hits, ending a brief skid at the plate.
Great comeback win for the series victory! pic.twitter.com/ZuXpm3HVnt

— Iowa Cubs (@IowaCubs) July 16, 2023
TENNESSEE SMOKIES 11 - MONTGOMERY BISCUITS 1
After falling to Montgomery on Saturday, the Smokies came out swinging and sent a message to the Biscuits on Sunday with a dominating performance. There haven't been a lot of times when Kohl Franklin was given run support, but with Tennessee giving him 11 runs of support in four innings, it did make life easier for him.
Franklin went on to pick up the win, giving the Smokies five innings and allowing two runs. Franklin also struck out a season-high nine and didn't walk a batter, as this was as good as he has been all season.
Kohl Franklin strikes out the side in the 5th. That's 9 Ks with 2 hits, no BBs, no runs on just 64 pitches. Might come back out again. pic.twitter.com/LJPmejLZdS

— Brad (@ballskwok) July 16, 2023
This game was over almost as quickly as it started, with Owen Caissie and Bradlee Beesley picking up RBI singles in the first to make things 2-0.
Caissie knocked him in. pic.twitter.com/hAmpZ7RZiF

— Brad (@ballskwok) July 16, 2023
Once the second inning rolled around, the Smokies put the game away, scoring five times to push the lead to 7-0. Cole Roederer started things off with another homer.
The Cole Roederer revival continues. HR and a BB already today. .867 OPS right now. pic.twitter.com/wJJOGNjk1d

— Brad (@ballskwok) July 16, 2023
Haydn McGeary added an RBI single. You also had two bases-loaded walks and an RBI force out, adding the other three runs as the Smokies were in complete command.
Tennessee kept the pressure on in the third as they benefitted from an error and a wild pitch to extend the lead to 9-0. The Smokies capped off their scoring in the top half of the fourth with Beesley delivering his first homer since returning from the IL as Tennessee led 11-0.
Bradlee Beesley is healthy again, and that means he's bashing baseballs again. pic.twitter.com/8SUTQaN8Fd

— Brad (@ballskwok) July 16, 2023
That would be more than enough for them as Montgomery added a late-game run to end the shutout, but they still fell 11-1.
Pete Crow-Armstrong and Beesley led the way with two hits, with Beesley also adding four RBIs in the win. Casey Opitz was the lone starter to not have a hit in the winning effort.
Kohl Franklin and the Smokies bullpen shine as the Smokies close out the series with an 11-1 victory! | @zips3mincarwash pic.twitter.com/CmRAUGUmcv

— Tennessee Smokies (@smokiesbaseball) July 17, 2023
QUAD CITIES RIVER BANDITS 5 - SOUTH BEND CUBS 4 (F/10)
Just when you thought the Cubs series-opening win would be enough to turn things around, they can go and drop a tough one like this as they fell to Quad Cities in extras 5-4. Connor Noland was back on the bump for South Bend, allowing three runs in four innings. Noland gave way to a bevy of relief options who held their own, including another scoreless frame from Brailyn Marquez.
Unlike the Cubs, who went through six pitchers, Quad Cities chose to go with two, including starter William Fleming. Across his six innings, Fleming allowed just two runs and struck out seven as South Bend struggled to square him up. Fleming was replaced by Cruz Noriega, who finished up the next four innings to pick up the win.
Noland was far from perfect, but most of his damage came early, including the two-run blast from Juan Carlos-Negret in the first that gave Quad Cities a 2-0 lead. Two innings later, it was Javier Vaz extending the lead as his RBI ground out made things 3-0. Once the fourth inning rolled around, the Cubs finally got on the board, with Kevin Made ripping an RBI double to make things 3-2.
Kevin Alcántara rips a double to extend his on base streak to 21 games. pic.twitter.com/rWvwDxgleC

— Brad (@ballskwok) July 16, 2023
That score held until the eighth inning, with Moises Ballesteros tying things up with a sacrifice fly and helping force extra innings. In the extra frame, the Cubs struck first, with James Triantos picking up an RBI fielder's choice to make things 4-3.
Triantos triples in style. pic.twitter.com/FKhvmjGhrq

— Brad (@ballskwok) July 16, 2023
However, the River Bandits got the last laugh as Cayden Wallace and Kale Emshoff picked up RBI singles to walk off the Cubs 5-4.
The South Bend offense was alive and well on Sunday as they came away with 14 hits in the loss. Yohendrick Pinango led the way with three hits, while Ezequiel Pagan, Triantos, Kevin Alcantara, and Made came away with multi-hit games in the loss.
Didn't get the sweep, but did snag a series win. pic.twitter.com/ktQQbZ8LuJ

— South Bend Cubs (@SBCubs) July 16, 2023
South Bend at Quad Cities
1/4
Dilan Granadillo and Michael Arias, Alcantara, Chase Watkins, Connor Noland pic.twitter.com/5I9IDfkiQO

— Todd ⚾️🐻🦌 (@CubsCentral08) July 16, 2023
South Bend at Quad Cities
2/4
Ballesteros X 2
Alcantara X 2 pic.twitter.com/7zwgUuMuwd

— Todd ⚾️🐻🦌 (@CubsCentral08) July 16, 2023
South Bend at Quad Cities
3/4

Scalzo, Made, Ballesteros, Tyler Santana pic.twitter.com/4QNUpi0Pi3

— Todd ⚾️🐻🦌 (@CubsCentral08) July 16, 2023
South Bend at Quad Cities
4/4

Brailyn Marquez
1 scoreless, topped out at 93, slider at 88
pitched two days ago so I was surprised to see him go again pic.twitter.com/7sCm6r7HBk

— Todd ⚾️🐻🦌 (@CubsCentral08) July 16, 2023
MYRTLE BEACH PELICANS 8 - CAROLINA MUDCATS 0
Sparked by a massive six-run inning and a strong pitching performance, the Pelicans made quick work of the Mudcats to claim the series. Pitching was the big story in this one, as the Pelicans held the Mudcats hitless through seven innings and allowed just one hit in the game.
Marino Santy started things off and struck out six in four innings. Scarlyn Lebron followed him up with a pair of hitless innings, with Starlyn Pichardo finishing things off. Pichardo did allow the lone hit, but it was still a great day for the Pelicans and their arms.
Any time you get the pitching the Pelicans had, you don't need a ton of offense, and the Pelicans did what they had to do in the second. Pedro Ramirez opened things with an RBI double to make things 1-0 with an RBI groundout pushing the lead to 2-0. Myrtle Beach only needed one more inning to push across all their runs, with the other six coming in a massive six-run frame.
That inning came in the fourth inning with a balk, wild pitch, and bases loaded hit by a pitch leading to three runs. The big blow of the game and inning came from Andy Garriola as his three-run blast capped off the scoring in what was a massive 8-0 Win for the Birds.
ANDY GARRIOLA GOES DEEP !!

Garriola's 8th homerun of the season puts the Birds up 8-0.#MBPelicans | #NextStartsHere pic.twitter.com/4CaDaum2IE

— Myrtle Beach Pelicans (@Pelicanbaseball) July 17, 2023
That's another series W!

Pelicans take two of three against the Mudcats, capped off by a one-hitter on Sunday night.#MBPelicans | #NextStartsHere pic.twitter.com/sGHeA1CaE5

— Myrtle Beach Pelicans (@Pelicanbaseball) July 17, 2023

Tags: Cubs Baseball
,
Hayden Wesneski
,
David Bote
,
Yonathan Perlaza
,
Matt Mervis
,
Kohl Franklin
,
Owen Caissie
,
Bradlee Beesley
,
Cole Roederer
,
Casey Opitz
,
Brailyn Marquez
,
Kevin Made
,
James Triantos
,
Yohendrick Pinango
,
Ezequiel Pagan
,
Kevin Alcantara