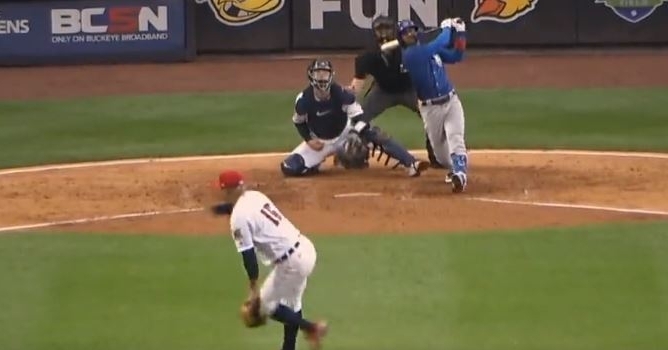 | | |
| --- | --- |
| Cubs Minor League News: Vazquez raking, Davis and Rivera homer, Moreno impressive, more | |
---
With the Rookie Season officially over, all the focus shifts back to the full-season squads, much like it did earlier in the year. When it comes to the Cubs, they have had an outstanding season all around, as there will be at least one team playing in the postseason and a possibility of having three for the second straight season.
Looking to start a new week off with a bang, the Cubs had moments of struggles and success as they went 2-2 to kick off the week. Both losses came from teams looking to make the playoffs while the A-Ball teams took care of business.
TOLEDO MUD HENS 11 - IOWA CUBS 6
If the Cubs want to make the playoffs, they have some work to do and haven't made it easy on themselves the past two weeks. Sure, the offense was good, scoring six times, but when you only have four hits, you are struggling to hit the ball. Mix that with a pitching performance that allowed 11 runs, and it was a long night.
Riley Thompson made his first start in a few weeks and lasted just 2 2/3, giving up three runs. He gave way to Samuel Reyes, Brendon Little, and Cam Sanders, who all surrendered multiple runs in their outings. Considering that Keider Montero wasn't perfect but still managed to get through five innings with only three runs allowed, Iowa was in a massive hole they could never recover from.
It was the Tyler Nevin show early in this one as he not only picked up an RBI double in the first to make things 1-0 but added an RBI single in the third to extend the lead to 3-0. Credit the Cubs and Luis Vazquez for at least trying to keep things close, as his two-run blast in the fifth brought them to within 3-2.
Our first hit of the game is this two-run homer from Luis Vázquez! pic.twitter.com/ZrbuVcjlAn

— Iowa Cubs (@IowaCubs) August 30, 2023
That was as close as they would get, with the Mud Hens busting the game open with a five-run fifth to extend their lead to 8-2.
Colt Keith opened the scoring with an RBI single, but the bases-loaded triple by Andre Lipcius busted the game open to make things 7-2 before adding another run late. The Cubs continued to use the long ball to keep themselves in it as Jake Slaughter didn't waste any time and connected for a three-run blast in the sixth to make things 8-5.
Jake Slaughter's team-leading 22nd home run of the year brings us within three! pic.twitter.com/L7hJx1Ycij

— Iowa Cubs (@IowaCubs) August 30, 2023
A Yonathan Perlaza double had them within 8-6 in the seventh as you started to get that sense of another comeback win brewing. This time, however, that was not in the cards as Toledo tacked on three runs late to secure an 11-6 win.
While the three mentioned above provided all the damage, Jared Young also had one of the four hits.
Final from Fifth Third Field. pic.twitter.com/mVYPQFWM8K

— Iowa Cubs (@IowaCubs) August 30, 2023
BILOXI SHUCKERS 9 - TENNESSEE SMOKIES 0 (F/6)
It has been a long time since the Smokies were shutout, but after spotting Biloxi six runs in the first to grab a massive lead, it was the Shuckers taking care of business. Joe Nahas had a night to forget as he managed to record just one out in his outing but was charged with six runs and, five coming as earned runs.
Considering the offense only managed to get four hits off of Tobias Myers, who also struck out seven in six innings, those six runs were more than enough as the Smokies fell to Biloxi 9-0 in six innings. Biloxi not only took an early lead but opened up a massive lead as they scored six times in the first to jump out to a 6-0 lead.
Wes Clarke used an RBI double to open things up before a groundout made things 2-0. A Freddy Zamora double extended the lead to 3-0 ahead of RBI singles by Carlos Rodriguez and Lamar Sparks to cap off the scoring in what was a massive first inning. With one big inning in the books, the Shuckers offense was at it again and pushed across their final three runs in the fourth.
This time, Jackson Chourio got things started as his RBI double extended the lead to 7-0. Clarke capped off the day for the Shuckers with his 22nd homer as Biloxi made quick work of the Smokies 9-0. Like Iowa, Tennessee only managed four hits, with Owen Caissie picking up two. Cole Roederer and Andy Weber had the other two in what was otherwise a long night.
The rain cut this one short, but we will see you tomorrow! | @zips3mincarwash pic.twitter.com/GvmdGCTqIn

— Tennessee Smokies (@smokiesbaseball) August 30, 2023
SOUTH BEND CUBS 8 - FORT WAYNE TIN CAPS 3
Despite being eliminated from the Playoffs this season after winning it all last year, the Cubs still have 12 games to go as they look to finish their season strong. At this stage of the season, it is all about pride, and the Cubs opened up their series with Fort Wayne with a nice win.
It took Tyler Santana a little while to settle into a starting role, but he is finally starting to put things together. Tuesday saw him deliver his best start of the season as he got through six innings and allowed just two runs on three hits while striking out six. He was backed by a pair of early homers as Brennen Davis and Josh Rivera connected for two-run shots in the first two innings to put the Cubs in front 4-0.
2023 3rd round draft pick Josh Rivera hits his first High-A home run (a 2 run @hoosierlottery HR) to give the #SBCubs a 4-0 lead! #Cubs
428ft / 104 mph off the bat pic.twitter.com/cF9l5fqha4

— South Bend Cubs (@SBCubs) August 29, 2023
Brennen Davis ( @BrennenDavis__ ) with a @hoosierlottery home run to give the #SBCubs an early 2-0 lead after a half inning! pic.twitter.com/uZRfaupoBi

— South Bend Cubs (@SBCubs) August 29, 2023
Had they not scored the rest of the way, that lead would have held up, but the history of the team this season shows they needed more runs. Leading 4-1 in the fifth, James Triantos picked up another RBI as his single made things 5-1. The Nerwillian Cedeno homer followed that in the sixth as Santana left his start with a 5-2 lead.
Fortunately for him, the South Bend offense had one more big inning in store as they scored three times in the eighth to stretch things out a bit. First was a two-run Yohendrick Pinango single, as he has quietly had a solid season for the Cubs. Rivera would add another RBI hit later in the frame as the Cubs went to the ninth leading by six.
Fort Wayne did manage to get another run in that ninth inning, but it wouldn't be enough as the Cubs won a rare series opener 8-3.
Rivera was one of three Cubs to record two hits while driving in a game-high three.
Moises Ballesteros and Davis also had two hits, with Ethan Hearn the lone player without a hit.
Tyler Santana spins a gem! The bats were rocking too 💣#FlyTheW pic.twitter.com/61E4Beci32

— South Bend Cubs (@SBCubs) August 30, 2023
MYRTLE BEACH PELICANS 3 - CHARLESTON RIVERDOGS 2
In what was as close to a playoff atmosphere as you can get, the two best teams for the past two seasons faced off with the Pelicans squeaking out a close win. Despite his struggles the past few seasons, Koen Moreno has suddenly emerged as one of the Pelicans most trusted starters and came through again.
The right-hander gave the Pelicans five innings, allowing one run and striking out six to improve to 7-2 with a 2.74 ERA. Santiago Suarez was nearly as good as he got through 4 2/3 with three runs allowed. However, only one run was earned, as his ERA is 1.84. All you can ask for as a pitcher is some early run support, but the Riverdogs struck first, with Brayden Taylor coming through with an RBI double in the first to make things 1-0.
Their lead didn't last long as the Pelicans responded in their next at-bats to tie things up and take the lead. Miguel Pabon started with an RBI double before trotting home on the Reivaj Garcia double. Three innings later, Brett Bateman came through with an RBI single as the Pelicans pushed their lead to 3-1.
JONATHON LONG MY GOODNESS.

His snag at first base saves a run and we hold a 3-2 lead!#MBPelicans | #NextStartsHere pic.twitter.com/2TXu63b2ID

— Myrtle Beach Pelicans (@Pelicanbaseball) August 30, 2023
That was the crucial hit of the game as it proved to be the game-winner as John Diaz tripled home a run in the sixth to make things 3-2 before the Birds held them off. Bateman, Pabon, and Pedro Ramirez had great nights at the dish, picking up two hits to lead the offense.
Pelicans grab game one!

We'll be back in action on Thursday night at 7:05 against the RiverDogs.#MBPelicans | #NextStartsHere pic.twitter.com/ABMvg06pHt

— Myrtle Beach Pelicans (@Pelicanbaseball) August 30, 2023

Tags: Cubs Baseball
,
Samuel Reyes
,
Brendon Little
,
Cam Sanders
,
Luis Vazquez
,
Yonathan Perlaza
,
Jared Young
,
Owen Caissie
,
Cole Roederer
,
Andy Weber
,
Tyler Santana
,
Brennen Davis
,
James Triantos
,
Yohendrick Pinango
,
Ethan Hearn
,
Koen Moreno