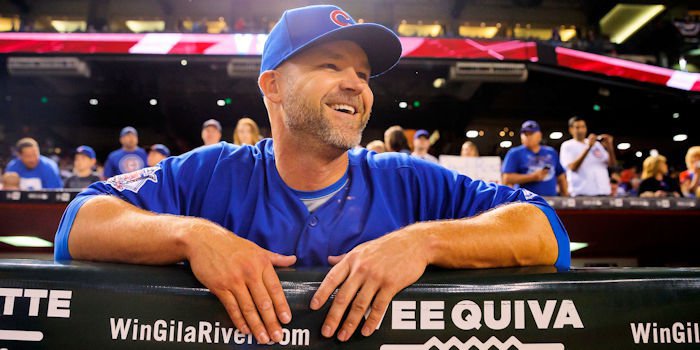 | | |
| --- | --- |
| Cubs News and Notes: Cubs' manager odds, Maddon's future, Cubs could trade KB, Hotstove | |
---
| | | |
| --- | --- | --- |
| Sunday, October 6, 2019, 7:32 PM | | |
MLB Postseason
NLDS
The NL sat idle yesterday but resumed action this afternoon. Atlanta and the Cards took their 1-1 series to Busch Stadium, beginning play at 3:10 PM this afternoon. Meanwhile, the Dodgers traveled to Washington to take on the Nationals, with that series also tied at one; that game time is 6:45 PM Central. As of this writing, the Cards trailed the Braves 1-0 in the eighth.
ALDS
The Yanks destroyed the Twins by a final of 8-2 on Saturday, giving New York a 2-0 lead in that series. The Astros also took a 2-0 series lead, with Gerrit Cole leading them to a 3-1 win over Tampa, yesterday. AL action will continue tomorrow from Tampa and the Twin Cities.
CUBS NEWS AND NOTES
Odds on Cubs' manager: Las Vegas will provide odds on just about everything, and now they've placed odds on who the next skipper for the Cubs will be. For you, David Ross fans, keep reading; for you, Joe Girardi fans, nothing to see here.
David Ross: +200; Joe Espada: +300; Mark DeRosa: +400; Mark Loretta: +600; Joe Girardi +700; Carlos Beltran: +750; Kevin Youkilis: +1000.
Maddon's first interview: I said it wouldn't take long for Joe Maddon to find a new home. I also said he'd be the Angels next manager. Go get 'em, Joe. The interview is now being said to take place tomorrow, as per Bruce Levine.
Joe Maddon will interview with the #Angels early this week and they are his No. 1 choice, sources tell The Athletic. Maddon spent 31 years in Angels' organization before joining the Rays as manager in 2006. First to report interview with LAA: @Buster_ESPN.

— Ken Rosenthal (@Ken_Rosenthal) October 6, 2019
Catching the Cubs: I see a lot of prognosticating which suggests the Cubs could trade either Willson Contreras or Victor Caratini this winter, but I'm not buying any of it. Yes, Contreras still needs to approve on framing, and Caratini isn't quite as accurate with his throws out of the crouch, but both are young, controllable, and capable of starting for any team. Should the Cubs trade either, who do they rely on for a quality backup catcher? Lucroy? Certainly experienced, but his age and offense are obstacles for the price he comes at. How about Taylor Davis? God love Taylor and his effort, but unfortunately, I see him as a professional minor leaguer who will never be the starting MLB level catcher for anyone. Some say Miguel Amaya may be ready by the All-Star break, but what would the Cubs do in the interim? I'd honestly be shocked (and severely disheartened) if either Vic or Willy go, but for now, I just don't see it.
Ownership conspiracy? The Major League Baseball Players' Association's head honcho (Tony Clark) is a bit perturbed "that several clubs rushed to announce that they plan to sit out the free-agent market before the first pitch of the postseason had even been thrown.
You saw it happen last year to Bryce Harper, Manny Machado, Craig Kimbrel, and Dallas Keuchel; teams weren't spending the money. Then again, the (original) combined asking price for that quartet was nearly three-quarters-of-billion-dollars. Is this the franchises' way of saying that they've had enough of this multibillion-dollar game?
Who's right and who's wrong here? Players deserve to be paid for their talent, but I'm not sure anyone, not even King Bryce, is worth $33M a year. The atmosphere is becoming (more) stressed, and the game itself is becoming tainted. Owners "own" to turn a profit, and just like any other business, when the cost of supply (players) goes up, so will the cost of the product (tickets). When the consumers (fans) get tired of paying the price for the product, they find another avenue.
A lockout/strike could be imminent when the current CBA is up (expiring after 2021), and for now, nobody seems to bend toward the middle. The Cubs can hardly sign a player this winter that won't put them over the luxury tax threshold again because the owners don't want to pay, 20-50% tax- and frankly, I can't blame them.
Mailbag Question: "Can the Cubs be competitive without KB and Javy?"
I couldn't even imagine the Cubs without both of them, but I think that they can compete without KB. Everyone is up in arms after Theo Epstein remarked that he hopes to see both [Bryant and Baez] in a Cubs' uniform next year," but I think that was a subtle way of saying that KB is likely to be gone. Yes, he did mention Javier Baez as well, but less than six weeks ago, it was reported that the Cubs were looking to extend Javy this winter.
Epstein is smart, and he wasn't about to single out Kris Bryant as a trade candidate, but the writing has been on the wall since the All-Star break when rumors began to swirl about the Cubs' willingness to listen to offers on KB. Bryant is a phenomenal ballplayer, but too many signs point to him being the one traded.
As far as competitiveness, the Cubs have depth and will be able to compensate for the absence of KB. There's no telling yet who they may acquire, but in a worst-case scenario, you move Javy to third, play Nico Hoerner at short and insert Ian Happ, Tony Kemp, or David Bote at second. Happ and Bote can also play third, and Hoerner could easily be converted as well.
Bryant's bat will be missed, but with his lingering knee and shoulder issues, his presence in the lineup is going to be spotty. The kid is only 27 years old, which is far too young to be needing cortisone shots in the knee. I could go on for hours, but the bottom line is the Cubs will survive without KB, Javy will stay put (for many years to come) and the Cubs, with the help of a new manager and some acquisitions, will be competing for first place in 2020.
Cubs' Birthdays: Celebrating yesterday, were ex-Cubs Jay Baller (59), George Riley (63), Gene Clines (73), and posthumously, Bill Johnson (59) and Lambert "Dutch" Meyer (104).
Baseball Quotes: "I felt that I'd rather be lucky than good. That's the aspect I kept bringing to baseball. The more superstitions I had, the better off I'd have of finding more luck." -Wade Boggs
Pop flies, in a sense, are just a diversion for a second baseman. Grounders are his stock trade. -Jackie Robinson pic.twitter.com/v5krzLkyPy

— Baseball Quotes (@BaseballQuotes1) September 24, 2019
MLB and the HOT STOVE
Hinch on Cole: Astros manager, AJ Hinch, says it not about Gerrit Cole's fastball or changeup. "His biggest strength is his mind."
Red Sox: As Boston tries to get back under the luxury tax threshold, MLB Trade Rumors says that they're looking to trade Mookie Betts. Sox CEO, Sam Kennedy, says that it's "a goal but not a mandate."
Angels: Los Angeles faces a decision of whether or not to protect 3B/1B Jose Rojas during the Rule 5 Draft this year. Rojas has been in the minors since 2016 and has performed well both offensively (.293/.350/.502) and defensively.
Cardinals: Reports now saying that Marcell Ozuna wants to remain in St. Louis, but the Cards may not share the same sentiment. The Cards reportedly feel that Ozuna's last two years as a Red Bird have been lackluster at best.

Tags: Cubs Baseball
,
David Ross
,
Willson Contreras
,
Victor Caratini
,
Taylor Davis
,
Miguel Amaya
,
,
,
,
David Bote
,
Joe Maddon
,
Theo Epstein
,
Mark Loretta