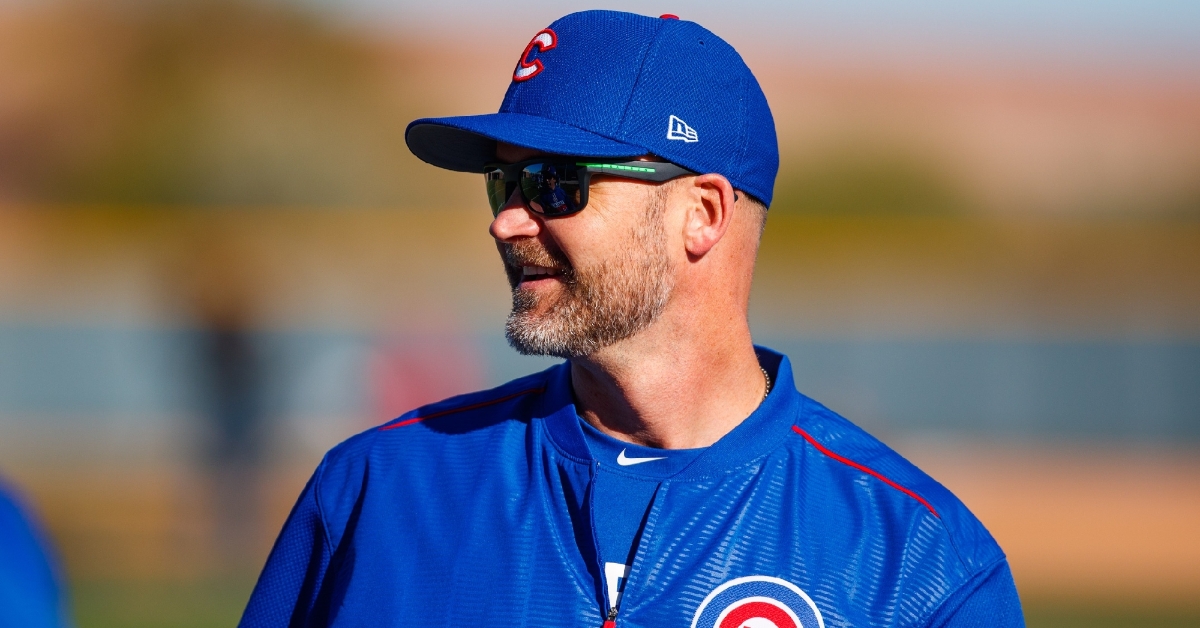 | | |
| --- | --- |
| Cubs News and Notes: Cubs roster talk, Joe Maddon's excuse, Hoyer pleased with Baez | |
---
CUBS NEWS AND NOTES
Next Game: Next Game: 4 days – Saturday, February 22, 2020: Athletics vs Cubs (Sloan Park).
Opening Day: 36 days - Thursday, March 26, 2020: Cubs vs. Brewers (Miller Park).
Cuts are coming: With somewhere around 62 men on the Cubs' spring training roster, you can rest assured that David Ross will have to start cutting guys pretty soon. I would guess that within the next couple of weeks, you'll see no less than 25-35 players cut as the team begins transitioning to what their 26 and 40-man rosters will look like.
The Cubs have almost 20 non-roster invitees in camp, each hoping to crack the roster. However, few have a real chance besides injury-plagued reliever Brandon Morrow, aspiring major leaguer Dakota Mekkes, and bounce back infield candidates Carlos Asuaje and Hernan Perez.
If Nico Hoerner wants to make the 26-man as the Cubs break camp, he'll need to compete against some veterans (Perez, Jason Kipnis). While Nico lacks defensive experience in the majors, his promising offense may give him an edge.
If I'm David Ross, I already have a sheet with 10-15 guys (perhaps more) who are on the hot seat. Even just a week deep into camp, Ross has already got to be seeing pitchers and catchers who have little chance of passing muster, and he'll have to start whittling away at them so that he can concentrate more on the players who'll advance.
Slow-mo Schwarbomb. pic.twitter.com/2JHE6xzh9x

— Jordan Bastian (@MLBastian) February 18, 2020
Lester on Ross: Jon Lester did a live interview while warming up yesterday. He discusses the 'fire and passion" that David Ross has brought the team. Also, note how much Big-Jon has trimmed down.
"It's a whole new chapter for all of us."

Year 1 under Rossy has officially begun. Check out the full feature on February 22nd! pic.twitter.com/2FcosbDXfi

— Marquee Sports Network (@WatchMarquee) February 18, 2020
After photo day, Cubs taking infield in home whites.

As Ross walked off field to head to different part of workout, he asked someone to turn the music up: "Let's get these guys rockin' and rollin'!" pic.twitter.com/R6bmh5inN4

— Jordan Bastian (@MLBastian) February 18, 2020
Meteorologist Ian Happ: And you thought Mike Trout was an aspiring weatherman. Here's Ian Happ with the latest forecast…
And now the weather with @ihapp_1: pic.twitter.com/NkMxEE6bKG

— Chicago Cubs (@Cubs) February 18, 2020
Maddon's excuse: When asked about Javier Baez's comments about not being prepared for games, Joe Maddon played dumb.
"I never recognized that from him. He's one of the best players in baseball. I don't know what that's all about, quite frankly." The more likely truth is that Maddon's failure to push these guys – to actually "manage" them the last two years, finally worked itself into a tail wagging the dog scenario.
Joe Maddon being questioned about work before games did say that at the end the Cubs front office wanted the players doing more work on the field . ( by the way Mike Trout only took outside batting practice 7 times in 2019)

— Bruce Levine (@MLBBruceLevine) February 18, 2020
Theo Epstein, himself, said that during the last couple of years, Maddon didn't seem to share the sense of urgency that Epstein and others in the Cubs' front office shared. That lack of urgency appears to have trickled right down to the pregame warmups. Under no circumstance should a manager let his team prepare individually in the clubhouse. Joe, I'm sorry, but this one's on you; had you paid a little more attention to your surroundings, you may have still been managing the Cubs.
Maddon also starts trying to break down the road woes based on the home and road splits, blaming night away games as the curse of death.
Maddon assessing crux of 2019 woes: pic.twitter.com/g1Yzv4STOP

— Mark Gonzales (@MDGonzales) February 19, 2020
Jed Hoyer commented on Javy yesterday, stating, "He's really motivated. He's looked great so far."
He also praised Baez on taking accountability for something that could have remained in-house. Accountability? That sounds like something David Ross has vowed. Amazing what a manager who manages can do, huh, Jed?
I think as time elapses, you'll see more and more Cubs start letting more and more details out of the bag, regarding just how Joe ran things during the 2018 and 2019 campaigns.
Now playing second: David Ross says the second base spot is still up for grabs. Yesterday saw Daniel Descalso, David Bote, Jason Kipnis, and Nico Hoerner working out at the position.
Who starts at 2B for the #Cubs on Opening Day?

David Ross says the position battle is 'up for grabs' at this point. pic.twitter.com/9x1oJDkOVj

— Cubs Talk (@NBCSCubs) February 18, 2020
Pay raise time: According to Mark Gonzalez of the tribune, Cubs' minor leaguers will see salary increases of at least 50% this season. Great news for guys who spent years, sometimes even a decade, trying to earn the big bucks.
Cubs Spring Training videos:
Cubs' Birthdays: Celebrating yesterday, were ex-Cubs Brian Bogusevic (36), Shawn Estes (47), Kevin Tapani (56), Julio "Jerry" Morales (71), and posthumously, Bob Miller (81), Cal Neeman (91), George "Zip" Zabel (129), and Walter Thornton (145).
Baseball Quotes: ""Baseball is an American icon. It is the Statue of Liberty, the bald eagle, 'In God We Trust,' Mount Rushmore, ice cream, apple pie, hot dogs, and rally monkeys. Baseball is America." - Victor Baltov, Jr. in "Baseball Is America"
"You put snot on the ball?" ????

pic.twitter.com/LEBybZ2JQB

— #TodayInSports®? (@TodayInSports3) February 17, 2020
Frank Robinson is the only player in @MLB history to win the MVP in both the AL and NL. #BlackHistoryMonth pic.twitter.com/OoHMIXcPa1

— MLB Stats (@MLBStats) February 17, 2020

Upgrade Your Account
Unlock premium boards and exclusive features (e.g. ad-free) by upgrading your account today.
Upgrade Now

Tags: Cubs Baseball
,
David Ross
,
Brandon Morrow
,
Dakota Mekkes
,
,
,
,
Daniel Descalso
,
David Bote
,
Joe Maddon
,
Theo Epstein