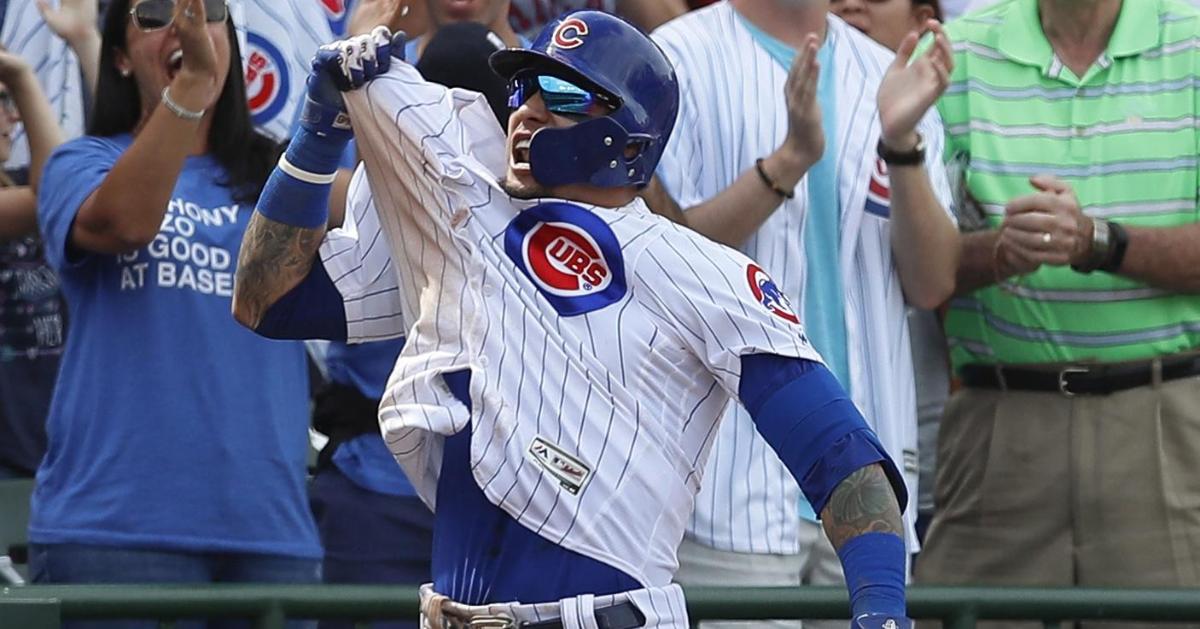 | | |
| --- | --- |
| Cubs News and Notes: El Mago makes the Show, Espada and Cubs, MLB Hot Stove, more | |
---
| | | |
| --- | --- | --- |
| Monday, October 21, 2019, 7:51 PM | | |
World Series Schedule & Results
Now that Houston has disposed of the Yankees, the stage is set for the 2020 World Series, with action beginning tomorrow night in Houston.
I enjoy watching the Astros – especially as they dismantled the Yankees, but how could I not root for the (Harper-less) Nationals who lost their biggest star over the winter and still made it to the dance, despite a terrible start to 2019? On the other hand, the Astros are doing what the Cubs should have done – making it repeatedly to either the Championship Series and/or World Series. AJ Hinch is still the boss in Houston, but with Joe Espada now the frontrunner for the manager's job in Chicago, I almost feel compelled to cheer them on.
Who wins the World Series?

— Dave Wischnowsky (@wischlist) October 21, 2019
The times and TV schedule for the World Series are as follows:
GAME-1: Tuesday, Oct. 22: WSH at HOU Game 1, 8 p.m., FOX
GAME-2: Wednesday, Oct. 23: WSH at HOU Game 2, 8 p.m., FOX
Thursday, Oct. 24: Travel day
GAME-3: Friday, Oct. 25: HOU at WSH Game 3, 8 p.m., FOX
GAME-4: Saturday, Oct. 26: HOU at WSH Game 4, 8 p.m., FOX
GAME-5: Sunday, Oct. 27: HOU at WSH Game 5 (if necessary), 8 p.m., FOX
Monday, Oct. 28 Travel day (if necessary)
GAME-6: Tuesday, Oct. 29: WSH at HOU Game 6 (if necessary), 8 p.m., FOX
GAME-7: Wednesday, Oct. 30: WSH at HOU Game 7 (if necessary), 8 p.m., FOX
CUBS NEWS AND NOTES
Espada gets second interview: Astros' bench coach, Eric Espada, was in Chicago for a second interview with Theo Epstein yesterday, prior to having to be back in Texas for the start of the World Series. David Ross had been considered the frontrunner for the position, but now that Espada has had a second interview, he has clearly become the favorite to land the spot vacated by Joe Maddon.
Condolences: MLB lost umpire, Eric Cooper, this weekend; he was only 52. As of Sunday afternoon, no official cause of death was revealed, however, Cooper underwent knee surgery last week and there is speculation that he may have developed a blood clot.
Such horrible news about Eric Cooper. Eric, was such a nice guy who I enjoyed talking with and always looked forward to seeing on our umpire crew list for the day. Sending my deepest condolences to his family, friends and his Major League Umpires colleagues. Sad day for the #MLB pic.twitter.com/aC8vlgnkVS

— Anthony Rizzo (@ARizzo44) October 21, 2019
On behalf of CubsHQ, I'd like to send my condolences to Eric's family and, friends, as well as to those in MLB who knew him.
Javy makes "The Show": Javier Baez has made it big – no, not the World Series ring, I mean he's made it the cover of the 2020 version of PS4's "MLB The Show". I'm not a gamer, but it's not hard to see why this would be a big deal to Javy, after all, MLB has plenty of choices available.
A dream of mine came true today. Could not be more excited to be on the cover of @mlbtheshow… and it's ????! https://t.co/zqg6sl1UG7 #mlbtheshow #PSPartner #ElMago pic.twitter.com/LEQ10ZwZDh

— Javier Báez (@javy23baez) October 21, 2019
Memorialized hug: Just about every Cubs' fan witnessed the touching moment between Willson Contreras and Joe Maddon on the day that Maddon's fate as the Cubs' manager was decided. A loving embrace between mentor and player, as the two hugged tightly in the dugout, caused more than a few tears among the fans. Willy reached out to artist Austin Ploch to memorialize the moment.
New painting! After their final game this year Willson reached out and asked me to paint this for him. Pretty clear how much Joe meant to these guys. pic.twitter.com/e2hps28edA

— Austin Ploch (@PlochArtwork) October 20, 2019
Pereda named the best: Move over Miguel Amaya, Cubs' catching prospect Jhonny Pereda has been named the top defensive catcher in all of minor League Baseball.
Behind the dish, from the @Cubs system...

It's Jhonny Pereda. pic.twitter.com/TNiRYfvrPF

— Minor League Baseball (@MiLB) October 14, 2019
Miguel Amaya had been the Cubs' top-ranked catching prospect, but as Pereda continues to improve, Amaya's reign may end. As I watched Amaya play during spring training this year, he seemed somewhat awkward behind the plate, in my opinion. I suppose Amaya could be used as trade bait this winter, but the Cubs cannot afford to strip the farm system again.
Cole Hamels: Hamels is about to enter unfamiliar ground, as he plunges into free agency for the first time at almost 36 years old. Hamels may not be re-signed by the Cubs, but he says that he's all about proving that 2019's stats don't represent what some perceive as a decline in talent.
Hamels: "I don't want to put that in the back of teams' heads of how finished. I think I'm capable of what I was able to do in the first half - that's who I am - and I can still get those good results for hopefully [the Cubs], if they consider that. "But also, for other teams to know that I'm not the type of player that's on the regression. This is what we're gonna expect. It's more so what I was able to do in the first half - the type of player that I am and the results that I can get out on the field."
Cubs' Birthdays: Celebrating yesterday, were ex-Cubs George Bell (60), Johnny Goryl (86), and posthumously, Bill Lee (110) and Jack Hayden (139).
Baseball Quotes: "Why should I stretch? Does a cheetah stretch before it chases its prey?" -Ken Griffey Jr
Ninety percent I'll spend on good times, women and Irish Whiskey. The other ten percent I'll probably waste. -Tug McGraw pic.twitter.com/RgKFQ77Nxh

— Baseball Quotes (@BaseballQuotes1) October 16, 2019
MLB and the HOT STOVE
Sabathia retires: With the Yankees now done for the 2019 season, CC Sabathia has officially announced his retirement. Thank you for 19 years of service, CC.
Thank you, Baseball. pic.twitter.com/o4lGeQi3uJ

— CC Sabathia (@CC_Sabathia) October 21, 2019
Phillies: According to Matt Breen of the Philadelphia Inquirer, the Phillies are expected to be conducting follow-up interviews with joe Girardi, Buck Showalter and Dusty Baker over the course of the next few days, as they try to secure their next skipper.
Former Yankees manager Joe Girardi is in Philadelphia today for a second meeting with Phillies management. He is the clear favorite for that job as the Phillies are all in to try to win in 2020.

— David Kaplan (@thekapman) October 21, 2019
Philly is obviously looking toward a more established and established manager to replace Gabe Kapler, whose team finished fourth this season.
Braves: Braves' first baseman, Freddie Freeman underwent arthroscopic right elbow surgery on Wednesday, in order to clean up "loose bodies and multiple bone spur formations."
The #Braves announce first baseman Freddie Freeman underwent arthroscopic right elbow surgery on Wednesday of this week. They removed three fragmented loose bodies and cleaned up multiple bone spur formations. He is expected to be ready for Spring Training.

— Kelsey Wingert (@KelsWingert) October 18, 2019
Pirates: As Pittsburgh continues to search for a replacement for Clint Hurdle, they are currently preparing to interview Cardinals' bench coach, Stubby Clapp. He'll be the third reported interview for the Pirates, who have already discussed the position with Athletics bench coach Ryan Christenson and Twins bench coach Derek Shelton.
MLB Trade Rumors has put together a Manager Tracker for those who want a complete rundown of who the various teams are looking at for management help.
Red Sox: The Red Sox have contacted former Reds' manager, Bryan Price, about taking over as their next pitching coach.