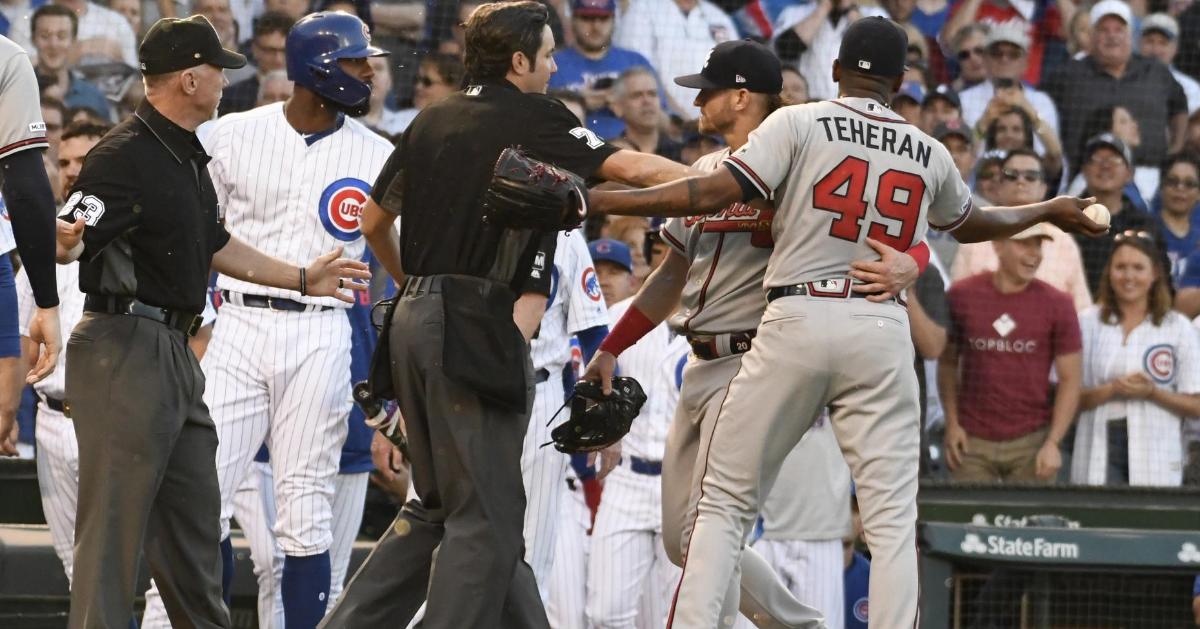 | | |
| --- | --- |
| Cubs News and Notes: Fly the W, benches clear, Willy's impressive game, standings, more | |
---
| | | |
| --- | --- | --- |
| Tuesday, June 25, 2019, 8:25 AM | | |
Next Game: Today, 7:05 PM CDT: Mets @ Cubs LHP Max Fried (8-3, 4.03 ERA) vs Adbert Alzolay (1-0, 2.25 ERA).
Thanks, CubsHQ: Today marks exactly one year since CubsHQ allowed me to submit an article as a "tryout" of sorts. I remember it well- a commentary about Yu Darvish and Tyler Chatwood, entitled "The Cubs' $164M Question." I've written a ton of articles since that day, and I've had a blast doing so. Thanks to both CubsHQ and our valued readers for putting up with me for so long. Here's to another year.
CUBS NEWS AND NOTES:
Monday's Game Recap:
The Cubs have split their last two series (White Sox and Mets), and I'm afraid this one will have the same results. The Braves have been tough, and they swept the Cubs in April, so I'm not sure that predicting a split could be considered anything but realistic. I hope I'm wrong. They certainly didn't have any issues handling business last night.
Lester was good; the offense (including Lester) was sensational.
It all started with Willson Contreras, who undoubtedly lit a fire under his teammate's derrieres. It all started in the second when Contreras came up to bat- he appeared to have a few words with Braves' catcher, Tyler Flowers, then proceeded to belt a homer to right.
The very start of the dustup last night was right here - Flowers steals a strike below the zone with a great frame job. Willson says something to the ump (normal catcher stuff!). Flowers inserts himself, and then laughs at Contreras. pic.twitter.com/mSYlQeCbih

— Bleacher Nation (@BleacherNation) June 25, 2019
On his way around first, he pointed at the Braves' dugout, screamed something, then started smacking himself on the chest as he headed for second. By the time he crossed the plate, he appeared to have said something to every infielder (and Julio Teheran), but he saved the best for last.
Flowers started jawing, and Contreras wasn't backing down. I'm no lip reader, but I'm pretty sure Contreras screamed: "Duck you!" (or something like that anyway…). Wasn't long, before both teams were converging on each other in front of the Cubs' dugout, with Jason Heyward holding Willy back, and Carlos Gonzalez trying to settle him down.
Tyler Flowers was NOT a fan pic.twitter.com/0GvATZFqcD

— Barstool Sports (@barstoolsports) June 25, 2019
Contreras rubbed some more salt in the wound with an RBI hit in the fourth, and by the time the fifth rolled around, the Cubs' offense was ablaze. I lost count of how many singles, but it was Damn near everybody in the batting order, as they tallied a five-spot to go up 7-0. Javier Baez appeared to want to get in on the taunting, as after stealing second, he appeared to be making some kissing gestures toward Teheran, but I'm quite sure he wasn't sending love, but instead suggesting Teheran kiss his backside. (Man, I love that guy!)
Six consecutive #Cubs have reached base to begin the 5th!#EverybodyIn pic.twitter.com/pETVCd8kpD

— Chicago Cubs (@Cubs) June 25, 2019
J-Hey tacked on an eighth run in the eighth, and somewhere along the line, the Braves managed to score a total of three- one of which coming off a solo-homer given up by Tony Barnette.
Final score: Cubs-8; Braves-3.

Cubs/Braves Probable Pitchers: Wednesday: LHP Dallas Keuchel (0-0, 0.00 ERA) vs Yu Darvish (2-3, 4.65 ERA). Thursday: Braves TBD vs RHP Tyler Chatwood (3-1, 3.69 ERA).
Jon Lester: Big Jon's been very lopsided this season- either he's dead-on (like last night), or he's been way off. In eight home starts this season, Lester has posted a 2.76 ERA, yet has an ERA of 5.82 in his six road starts. Since joining the Cubs in 2015, Lester has 52 starts with one or fewer runs allowed, place him 5th in that period, behind Greinke (56), Verlander (55), Scherzer (55) and deGrom (54).
Happ's little shop of horrors: Cubs fans are split 50/50: Either they want Ian Happ back in Chicago, or they can't see him traded fast enough. I think Happ is a talented guy, but so far as his MLB career is (or was) concerned, he amounted to a flash in the pan. CubsHQ's Dustin Riese breaks down Happ's most recent (under) performance in Iowa, and he brings you up to speed on everything going on in the Cubs' minor league system.
Down on the #Cubs Farm: Happ hitless, South Bend wins slugfest, Eugene with walk-off, more: https://t.co/nmc0N0wCn4 pic.twitter.com/1miT39RDNj

— CubsHQ (@ChicagoCubsHQ) June 24, 2019
The numbers aren't great but Ian Happ has shown plenty of his potential at times this season. #Cubs people I've spoken to just want to see more consistency. His solid stretches have usually followed with some really bad stretches.

— Tommy Birch (@TommyBirch) June 24, 2019
Russell's struggles: My friend, Tony Andracki from NBC Sports Chicago, comes up with the best stats. Tony points out that five pitchers have been more valuable offensively than Russell, Descalso and Almora this month - Hendricks, Hamels, Chatwood, Darvish and Lester all have a higher OPS than the three position players.
El Mago's message: As good as he is, Javier Baez still understands that playing at this level is something special…
We are blessed to play this game, so enjoy it! #100 ????????????????? #JB9 #ElMago pic.twitter.com/x4O062New0

— Javier Báez (@javy23baez) June 24, 2019
Off the deep end: Following Sunday's loss to the Cubs, Mets' manager, Mickey Callaway, and pitcher, Jason Vargas, lost their minds with the media. There were some gems dropped, including a 12 letter expletive… wait, how many letters in "Mother *&%$@"? Anyway, you get the point. Callaway cussed, and Vargas wanted to fight a reporter. #RealClassActs
Mets manager reportedly cusses out reporter while Mets starting pitcher tries to fight him: https://t.co/j4WeaLF3AM pic.twitter.com/v6OcPKKxh4

— CubsHQ (@ChicagoCubsHQ) June 23, 2019
Sportsmanship at its finest: Last night, Albert Pujols played his final game at Busch Stadium (as an Angel), and throughout the game, Yadier Molina showed what true sportsmanship is. Every time Pujols came to the plate, Molina stepped in front of the plate, so as not to rush Pujols or the crowd during their many ovations.
Albert Pujols coming up for his first plate appearance. Yadier Molina goes in front of the plate again, to wait for the ovation.

— Buster Olney (@Buster_ESPN) June 23, 2019
Baseball Quotes: "I dunno. I never smoked any Astroturf." -Tug McGraw, when asked about his preference for grass or Astroturf.
One More: "A good base stealer should make the whole infield jumpy. Whether you steal or not, you're changing the rhythm of the game. If the pitcher is concerned about you, he isn't concentrating enough on the batter." -Joe Morgan
Cub Birthdays: Celebrating yesterday, were ex-Cubs Doug Jones (62), Ken Reitz (68), and posthumously, Rollie Hemsley (112), Bill Hanlon (143), Jack Katoll (147), and Jake Stenzel (152).
NL CENTRAL SCHEDULE (June 23 – June 29, 2019)
(Wins are in green, losses in red)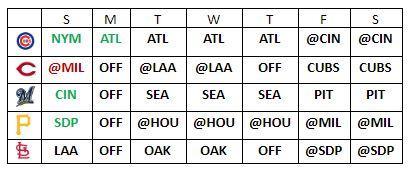 NL CENTRAL SCOREBOARD/STANDINGS