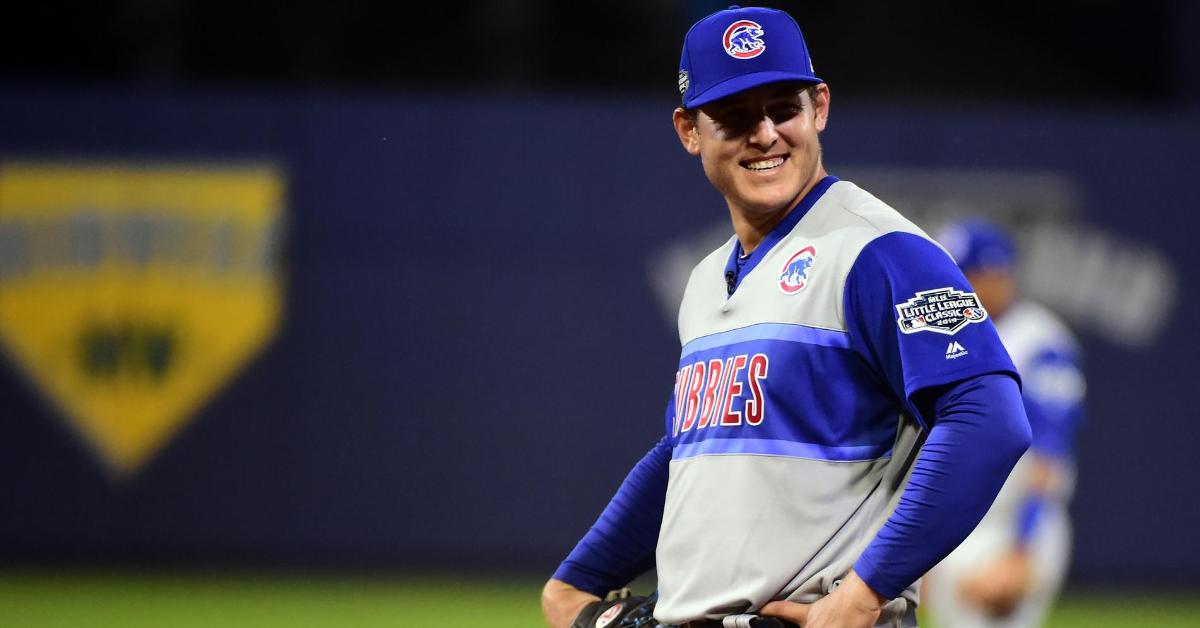 | | |
| --- | --- |
| Cubs News and Notes: Fly the W, Little League mania, Roster moves, Hoyer speaks out, more | |
---
| | | |
| --- | --- | --- |
| Monday, August 19, 2019, 8:28 AM | | |
Next Game: Tuesday: LHP Cole Hamels (6-4, 3.69 ERA) vs RHP Tyler Beede (3-7, 5.77). Game time 7:05 PM CDT; NBC Sports Chicago+.
Sunday night's Game Recap:
"Hey, Hey!" "Holy Cow!" and whatever other way you wish to celebrate, the Cubs managed to win on the road in Pittsburgh on Saturday. Next object: Win yesterday's Little League Class against the Pirates and capture their first road-series win (gasp) since mid-May.
Last night it was Jose Quintana on the mound for Chicago, while Clint Hurdle sent rookie-righty, Mitch Keller.
Nicholas Castellanos would get it going for the Cubs in the first, with a blast to the left off Keller. Cubs up 1-zip. That was easy.
Nicholas Castellanos gets our scoring started early. ?? pic.twitter.com/cLCHPUQNgU

— Play Ball (@PlayBall) August 18, 2019
The Cubs would add another run in the third, this time off the bat of Jason Heyward. Opposite-field, line-drive blast.
J-Hey's 18th home run of the season! ??#EverybodyIn pic.twitter.com/9uYxvP7YcR

— Chicago Cubs (@Cubs) August 19, 2019
In the fourth, Kyle Schwarber's double would make it 4-0, as Joe Maddon got aggressive and tried a hit and run with two away (there ya go, Joe). Then in the fifth, Anthony Rizzo would crush one of the center field scored board with two-on. Cubs lead 7-0.
No. Doubt. pic.twitter.com/7KbX2YNvjQ

— Cubs Talk (@NBCSCubs) August 19, 2019
Starling Marte would break up the shutout in the ninth, homering off of Craig Kimbrel. Don't panic, and it's Dirty Craig's first day back on the job. I do applaud Maddon for using him tonight. Get him some playing time (he had no rehab start), and you're not jeopardizing losing him for a day, as the Cubs are off tomorrow.
Anyway, that's two in a row for the North Siders who secured their first road series win since May 17-May 19; it's been a long time. Final score 7-1, Cubs.

CUBS NEWS AND NOTES
Cubs/Giants Probable Pitchers: Wednesday: RHP Yu Darvish (4-6, 4.21 ERA) vs RHP Dereck Rodriguez (5-6, 4.79 ERA). Game time 7:05 PM; NBC Sports Chicago. RHP Kyle Hendricks (8-9, 3.37 ERA) vs Jeff Samardzija (9-9, 3.54 ERA). Game time 1:20 PM CDT; WGN, MLB Network (out of market only).
Roster Moves: The Cubs announced today that closer, Craig Kimbrel has been activated from the IL; Duane Underwood Jr. has been optioned to Iowa.
The #Cubs today activated RHP Craig Kimbrel off of the 10-day IL and recalled OF Mark Zagunis from @IowaCubs. RHP Duane Underwood was optioned to Triple-A. pic.twitter.com/hLOqBXt5zi

— Chicago Cubs (@Cubs) August 18, 2019
Great Game: If there's one downside to writing about the Cubs, it has to be that I'm pretty much mandated to watch every inning of every game. Not that I mind (unless they're getting blown out), but sometimes, especially when I'm busy with other things, 162 games can be a grind.
Not last night, though. I'd never had the pleasure to be able to watch a Little League Classic before, and I can't tell you the last time that I enjoyed a game on TV that much. Player bios from childhood, an intimate atmosphere, little-league style jerseys, and the small grandstands. Then there was Rizz wearing a mic, teasing Nick Castellanos about his lack of appearing on Sunday Night Baseball (this all happening after the Greatest Leadoff Man ever went sledding down a hill on cardboard) and Steve Cishek and Chris Archer in the stands with kids.
As far as feeling like you're right there with the players is concerned, this game ranked right up there with the All-Star game in my book. Hell, I didn't even let A-Rod and Jessica Mendoza get to me last night.
??Notorious internet troll, @ARizzo44. pic.twitter.com/agAP3Zry2Q

— Chicago Cubs (@Cubs) August 19, 2019
Speedpass makes a pit stop. #LittleLeagueClassic pic.twitter.com/385JDwsuiL

— Chicago Cubs (@Cubs) August 19, 2019
Very seldom do you see players acknowledging fans once the game starts, yet last night Q was reaching through the net to sign autographs, and Javier Baez even slipped his bat through the netting, so that a few kids could touch it, all while giving fist-bumps, all while both players were waiting in the on-deck circle.
Javy's new friends. #LittleLeagueClassic pic.twitter.com/3ZsHl4L2Aj

— MLB GIFS (@MLBGIFs) August 19, 2019
Classy stuff, MLB- and certainly something that the kids won't soon forget.
26th Man: The rules for the Little League Classic allow a 26th man on each team. Is it just me, or should Albert Almora Jr. have gotten that slot?
While the Cubs haven't announced it, outfielder Mark Zagunis was among the players with the team in Williamsport today. Cubs and Pirates are permitted a 26th man (position player) for tonight's Little League Classic.

— Jordan Bastian (@MLBastian) August 18, 2019
Little League Classic: Make sure to visit CubsHQ for a ton of video from yesterday's Little League Classic. The Cubs' and Pirates' players mixed with the little leaguers for a day that included far more than a ballgame.
Kids being kids. ?? pic.twitter.com/AdGE1Gbd3b

— Chicago Cubs (@Cubs) August 18, 2019
Anthony Rizzo slides down the hill at the Little League World Series! pic.twitter.com/8atJwJZcyJ

— Baseball Quotes (@BaseballQuotes1) August 18, 2019
Arrived in historic and picturesque Williamsport. Cubs and Pirates land later this morning. pic.twitter.com/T6K8LcElLY

— Jordan Bastian (@MLBastian) August 18, 2019
Before heading to Bowman Field for the Little League Classic, Cubs players sat in the stands to take in one of the LLWS games. pic.twitter.com/JcdABH2vOU

— Jordan Bastian (@MLBastian) August 18, 2019
Jed speaks out: Jed Hoyer says the Cubs have no business in first place, yet they are. He makes it very clear that the cycle of winning at home, then losing on the road is going to wind up everyone being disappointed.
Some candid words from Hoyer: pic.twitter.com/rheRFL4116

— Mark Gonzales (@MDGonzales) August 16, 2019
Little League Alumni: Last night's Little League Classic had some of the alumni from Little League World Series' of years gone by. The Cubs' roster features Little League alum: Kris Bryant (Peccole LL in Las Vegas), Steve Cishek (Falmouth, Mass. LL), Jonathan Lucroy (Eustis, Fla. LL), Joe Maddon (Hazleton, Pa. LL), José Quintana (Arjona, Colombia LL) and Anthony Rizzo (Parkland, Fla. LL).
Need for Speed: Last year the Cubs scored speed demon, Terrance Gore, as they expanded their roster in September. After being released and winding up with the Royals, Gore has now found a home with the Yankees.
Billy Hamilton had also wound up with KC this year but was also recently designated for assignment and should clear waivers. Could the Cubs benefit from signing him? Hamilton was batting just .211 with the Royals, but, oh, that speed of his…
Does Billy Hamilton fit for the Chicago Cubs?They are 27th in stolen bases with 34 .Hamiltons ability to play center makes him a late inning choice for Joe Maddon in multiple areas . Leadoff for certain matchups are further option.

— Bruce Levine (@MLBBruceLevine) August 18, 2019
Q Da Man: I definitely think that the Cubs should be earmarking $10.5M for Jose Quintana after this season is over.
.@jose_quintana24's last nine starts:

54 2/3 IP
2.96 ERA
57 K
7 BB pic.twitter.com/wAnFtu8TpL

— Chicago Cubs (@Cubs) August 19, 2019
Today's Cubs History Lesson: Life before Wrigley Field.
West Side Park (#Cubs home before Wrigley) had a mental hospital just beyond LF. It's where the term "out of LF" (meaning crazy) came from. pic.twitter.com/ZkI5TiHEHF

— Dugout Legends (@DugoutLegends) August 18, 2019
I want one! I loved the pullover jerseys that the Cubs, or rather "Cubbies," wore last night, and I think I'm going to have to drop hints until my wife decides to order me one secretly. Not that I'd have to do a lot of hinting- she's the one that generally proofreads my articles (wink). (Oh, and dear? X-L please…)
A look at The Cubbies unis for tonight. pic.twitter.com/jfinfv6FOC

— Jordan Bastian (@MLBastian) August 18, 2019
Injury Updates: Theo Epstein updated the media yesterday, saying that Willson Contreras is "beyond discomfort" and focusing on his build-up now. Theo says that Ben Zobrist will repeat his weekend playing program next week, though which Cubs affiliate he'll be with has yet to be determined. Theo says the Cubs are encouraged with Zo's game.
Theo Epstein: Speaking about the ugly losses the Cubs suffered last week, Theo says, "It's baseball. It will torture you. If you're not prepared to live through weeks like that you shouldn't get into the game. They happen more often than you like. They all have their particular brand of cruelty mixed in."
Baseball Quotes: "If I keep taking my good swings, swing at the right pitches, good things will happen." -Aaron Judge
If you're not practicing, somebody else is, somewhere, and he'll be ready to take your job. -Brooks Robinson pic.twitter.com/0C3DP1xMYO

— Baseball Quotes (@BaseballQuotes1) August 17, 2019
Cubs Birthdays: Celebrating yesterday, were ex-Cubs Justin Wilson (32), Paul Popovich (79), Bob Humphreys (84), and posthumously, Bernie Friberg (120), Jonathan "Mandy" Brooks (122), Burleigh Grimes (126), William Marriott (126), and Eddie Hickey (147).
THIS WEEK'S NL CENTRAL SCHEDULE:
(Wins in green, losses in red)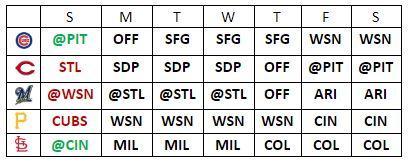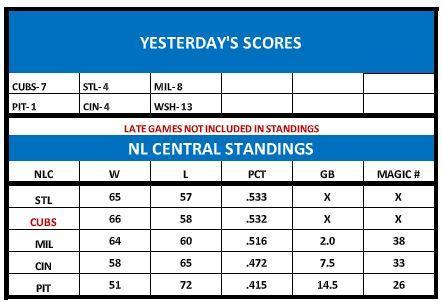 Tags: Cubs Baseball
,
Cole Hamels
,
Jose Quintana
,
Jason Heyward
,
Kyle Schwarber
,
Anthony Rizzo
,
Yu Darvish
,
Kyle Hendricks
,
Duane Underwood
,
Mark Zagunis
,
Steve Cishek
,
,
Albert Almora Jr
,
,
Willson Contreras
,
Ben Zobrist
,
Justin Wilson
,
Joe Maddon
,
Theo Epstein