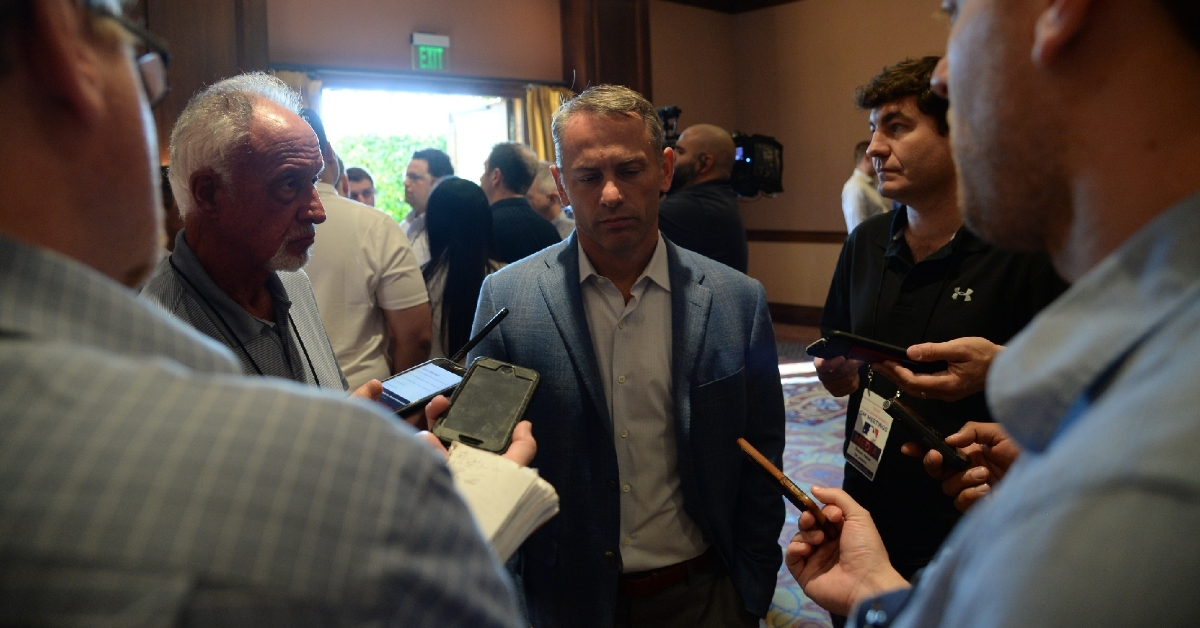 | | |
| --- | --- |
| Cubs News and Notes: Hoyer on offseason, Bryant's future, Jeffress, Addison Russell, more | |
---
| | | |
| --- | --- | --- |
| Sunday, February 2, 2020, 8:14 AM | | |
CUBS NEWS AND NOTES
Next Game: Next Game: 21 days – Saturday, February 22, 2020: Athletics vs Cubs (Sloan Park).
Opening Day: 55 days – Thursday, March 26, 2020: Cubs vs. Brewers (Miller Park).
Jed Hoyer: During an interview with Jesse Rogers, Jed Hoyer said the Cubs may not be done yet.
"This is obviously likely to be one of our less active offseasons. We've had some incredibly active ones. That said, the offseason is not over. For the Cubs, things probably got pushed back a little bit. We're probably at a different place in the offseason, calendar-wise, than we normally would have been. We're not necessarily finished making moves going into spring training."
No, kidding, Jed?
Kris Bryant By now, it's blatantly obvious that the Cubs want to deal someone from the core and that somebody (with about 99.99% certainty) is likely going to be Kris Bryant. I suggested in 2018 that Bryant's grievance would eventually result in him being traded, and boy, the "fan" (hate) mail that I received. Suddenly, though, it seems like more and more fans are on board with the idea, if for no other reason than preparing themselves for what I think will be the inevitable.
Rogers touched on that subject with Hoyer, but Jed pushed back immediately, stating he wasn't at liberty to speak about Bryant, his future, and trade talks. He did say that there is no animosity between Bryant and the Cubs.
The grievance is done. Is Bryant's Cubs career?https://t.co/vLfBlZB30s pic.twitter.com/FD963UfI4E

— MLB Trade Rumors (@mlbtraderumors) February 1, 2020
Cubs sign Jeffress: The Cubs made it official today, signing righty reliever Jeremy Jeffress. This is a one-year deal with a base pay of 850k, $200k available in incentives. The Cubs 40-man roster is now full again.
Jeffress could make an excellent bounce-back candidate if he's returning healthy. Overuse, last year by Craig Counsell and the Brewers, left Jeffress sidelined for most of the season. He was out from March 28th through April 16th for a shoulder injury (20 days missed), but then never returned to form, posting a 5.02 ERA in 48 appearances (52.0 innings pitched), before being released by Milwaukee on September 1st.
If nothing else, Jeffress will lend veteran leadership to a young Cubs' bullpen. At this point, the vets are Craig Kimbrel (8.161 years of service time) and Tyler Chatwood, who has 8.039 years of service. I wouldn't look for Chatty to be in the pen though, as the Cubs will need a fifth starter. Jeffress now has 6.090 years of service.
Stranded at second: Scott Boras has raked the cash this year for himself and players both. Using his "super-agent" powers, Boras managed to collect well north of a billion dollars (no typo there – a $BILLION) in contracts this season, with his most recent big-name signing being Nick Castellanos. For everything Boras has accomplished this year, one of his promising mega-stars is still unemployed: Addison Russell.
Russell, who just turned 26, remains on a shortlist of available players, with his name listed as the top available shortstop now that Jordy Mercer has re-signed a minor league deal with Detroit. The only other two on that list are Tim Beckham and Tyler Saladino, who are both 30.
It's a shame that a talented 26-year-old kid with a World Series ring and no real injury problems doesn't have teams chomping at the bit to sign him, but as we all know, Russell brought this upon himself. The Cubs agreed to stick with him through the suspension and counseling while also standing by his ex-wife, Melissa Reidy, and the couple's kid. Epstein and the Cubs made no promises beyond Russell's most recent one-year deal, and they even tendered him a contract after the 2018 season (while still under suspension).
For a long time after the story of domestic violence broke, people speculated that Reidy's accusations were false and some form of payback amidst a series of ongoing problems between the couple. I pointed out then that to render allegations of domestic violence (false or not) would ultimately serve to financially hurt herself and her child, which is why I believed them to be true. Russell pays a pretty sum in child support, so for him to be suspended, fined and possibly unemployed would endanger the income (Reidy's) of someone who many felt was just seeking an extra payday.
I hope for the sake of the family that they find closure and peace, if for no other reason than for the sake of their child, but in the interim, Russell looks like he may be washed up.
Cubs' Birthdays: Celebrating yesterday, were ex-Cubs Brett Anderson (32), Austin Jackson (33), Phil Norton (44), Kent Merker (52), Eddie Zambrano (54), and posthumously, Vince Barton (112), Carl Reynolds (117), Walt Golvin (126), and Lew Brown (162).
Baseball Quotes: "I'm very proud of my area around the plate. I don't want anyone messing with my dirt." -Jorge Posada
Baseball is a game of averages, but over a short period of time, to have a little luck going is not a bad thing. -Bill Buckner pic.twitter.com/mEnaEanveQ

— Baseball Quotes (@BaseballQuotes1) January 29, 2020
MLB News and Notes:
Francisco Lindor: "The Indians "haven't offered me the right thing" for a contract extension.
Francisco Lindor Addresses Future With Indians https://t.co/BMBaFl69vs pic.twitter.com/uEQPpD2nnb

— MLB Trade Rumors (@mlbtraderumors) February 2, 2020
Angels: The Angels have signed RHP Michael Kohn to a minor league deal.