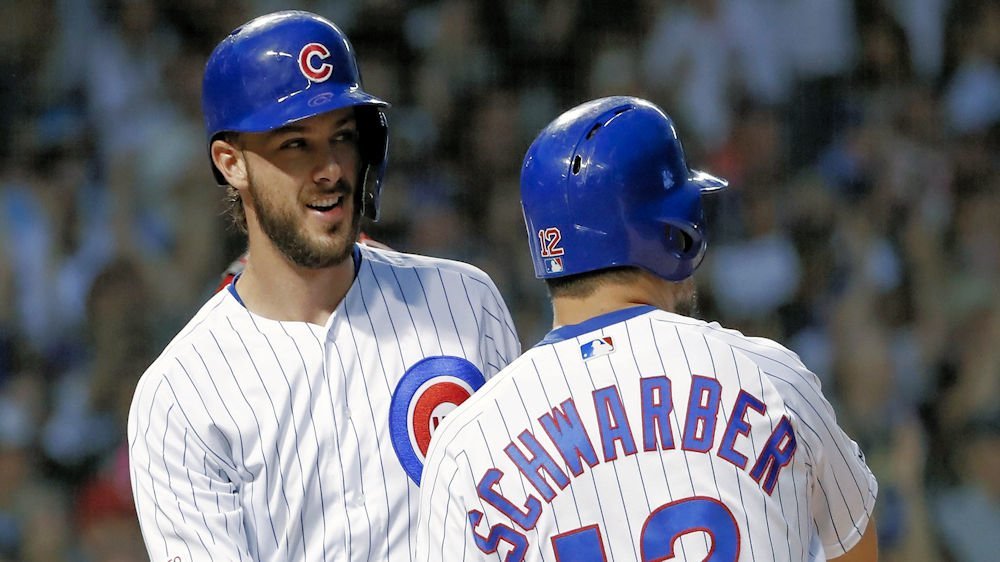 | | |
| --- | --- |
| Cubs News and Notes: Trading the Cubs' core, Venables, Hamels' future, Hot Stove, more | |
---
CUBS NEWS AND NOTES
"Will" Venable return? Pardon the pun with "Will," but despite reporting that Will Venable will return as one of the Cubs' base coaches, rumors are circulating that Venable could be in the running for the manager's spot in Pittsburgh. Also being considered is Joe Espada of the Astros.
"The bottom line is that we haven't been able to sign a lot of our key players to contract extensions, so we have to face that reality," Epstein said. "You can't operate in a theoretical world where a few more of these guys have signed. But (Kyle) Hendricks signed, obviously, (Anthony) Rizzo signed, and that extends their years of club control and gives us a little bit more freedom/flexibility.
"If we could pull that off with another couple guys, it would certainly put us in a better position. We've certainly been trying, and it hasn't happened yet. No ill will. It takes two sides to think a deal makes sense for it to happen. We'll see if anything comes of those talks, or if there will even be significant talks." -Theo Epstein
Trades coming: According to Jed Hoyer, chances are, the Cubs will be dealing from the core this winter. Not that this isn't something that I and others have been saying for months, but it appears to be becoming more and more "official."
Cubs are clear that they will consider trading from their excellent core — Bryant, Contreras, Baez, Schwarber, etc. "We've had a stable core for 5 years ... We're going to have change." — Cubs GM Jed Hoyer

— Jon Heyman (@JonHeyman) November 12, 2019
Getting closer: The Cubs are trying to nail down the final two coaching spots for David Ross and his 2020 team, still short a quality assurance coach and one base coach. Ross will have a strong say in the base coach slot.
Cubs close to officially naming coaching staff. David Ross will have strong say on last base coach decision . Will Venable will be one of the base coaches .

— Bruce Levine (@MLBBruceLevine) November 12, 2019
More Morrow? When I saw the MLB Trade Rumors article this morning, I couldn't believe my eyes, but according to them, the Cubs are still interested in a relationship with Brandon Morrow. Brandon did a fantastic job – even if it was just for 35 games in two years – but to sign up for more of the same seems insane to me.
Cubs Interested In Re-Signing Brandon Morrow https://t.co/LgYL8OupgD pic.twitter.com/V3dJJE7Pgj

— MLB Trade Rumors (@mlbtraderumors) November 13, 2019
One possibility that I'm now reading is that Morrow could re-sign on a minor league deal.
Hamels is ready: According to Jon Boggs (Cole Hamels' agent), Hamels has at least five good years left in him. Boggs stopped short in his comments as to whether or not at least some of those years could be spent as a reliever.
Almost half the league has shown interest in Cole Hamels https://t.co/mOwAl0oCeH pic.twitter.com/SJQQCSM7fN

— MLB Trade Rumors (@mlbtraderumors) November 13, 2019
Theo's sounding like Maddon: Although the ultimate outcome may be different than Joe Maddon's, much is being made about the fact that Theo Epstein's contract is set to expire just as many of the Cubs' core reach free agency.
Hoyer on Andy Green: "Excellent in-game strategy. Always thought ahead, very well, in-game. We thought it was a good pairing with David [Ross]."
Hoyer also says that "very soon," the Cubs will be able to end what he's referred to as a "six-week HR process" with the coaching staff and turn their full attention to fixing the roster.
The "Chi" Young award? Yu Darvish gets my vote.
The 2019 NL Cy Young will be awarded later today, but who would you say was the #Cubs' best pitcher this year:

Kyle Hendricks or Yu Darvish? pic.twitter.com/AwwSoBvkeA

— Cubs Talk (@NBCSCubs) November 13, 2019
Cubs' Birthdays: Celebrating yesterday were former Cubs Arodys Vizcaino (29) and posthumously, Steve Bilko (91), Bob Garbark (110), and Johnny Kling (144).
Baseball Quotes: "I don't have to get a pitch down the middle. If I like the pitch—even if it's 15 inches off the plate, and that's the pitch I wanted—I'm swinging." -Vlad Guerrero
George Constanza showing Derek Jeter and Bernie Williams a thing or two about hitting ??

pic.twitter.com/VNoOdqGRyI

— Baseball Quotes (@BaseballQuotes1) November 12, 2019
MLB and the Hot Stove
Could be a wild ride at the top of the free agent market. A lot of the big clubs have financial flexibility — Yankees, Dodgers, Phillies, Rangers, Angels, Braves, Astros, White Sox. Two notably do not (Red Sox, Cubs)

— Jon Heyman (@JonHeyman) November 12, 2019
NL Central Hot Stove:
Reds: "What held us back last year was the offense . . . We'll be looking for ways to get more out of the existing group, but we'll be looking high and low — free-agent market and trade market — for offense."
From the rest of MLB:
Managers of the Year: I certainly thought Craig Counsell would have been a lock, but apparently not.
Congratulations to Managers of the Year Mike Shildt and Rocco Baldelli. Both surprising choices in my opinion. I expected the winners to be Craig Counsell and Aaron Boone. What I wrote: https://t.co/qskqb16Lvk

— Ken Rosenthal (@Ken_Rosenthal) November 13, 2019
Giants: The Giants have also announced that Gabe Kapler will serve as their new manager, leaving Joe Espada to look elsewhere- although the Pirates are still looking for a guy.
Espada came in 2nd for 2 huge managing jobs — Cubs and Giants — losing out to someone who was close to the decisionmaker both times. Espada will be a big-League manager, and it'll happen fairly soon.

— Jon Heyman (@JonHeyman) November 13, 2019
OF Mike Gerber has been outrighted to Triple-A Sacramento, elects free agency; RHP Ricardo Pinto clears unconditional release waivers, plans to join SK Wyverns of the KBO.
Rays: The Rays have one goal this winter: acquire offensive pieces to help them score more runs. The Reds have now emerged as the frontrunners to land Howie Kendrick.
Nationals: Because they were able to stay under the luxury tax while winning the World Series, the insiders are saying that the Nats' chances of retaining Strasburg and Rendon have dramatically increased.
Former Oriole Bob Johnson , Rocky, passes away in Minnesota. Rocky was there in 1965, my first year, with the O's. One of the "good guys"! On the 1966 team that swept the Dodgers. #RIP @masnOrioles

— Jim Palmer (@Jim22Palmer) November 13, 2019
Rays: Tampa will have a pair of two-way players in camp next year; Brendan McKay and Jake Cronenworth. A two-way player is now defined as a guy who can pitch and play the outfield for a certain number of innings (games) per year, and this strategy will factor heavily into proposed rule changes. Erik Neander of the Rays says, "We're going to allow them to continue to develop on both sides of the ball."
Padres: SD says they're looking to extend Fernando Tatis Jr; also, the club intends to spend big this winter, looking to escape the dungeon in the NL West.
Astros: To cut down on sign stealing (wink), the Astros say that they intend to add veteran stars to this year's roster.
Marlins: Miami is said to have interest in Jose Abreu. However, the team is concerned about losing the draft pick.