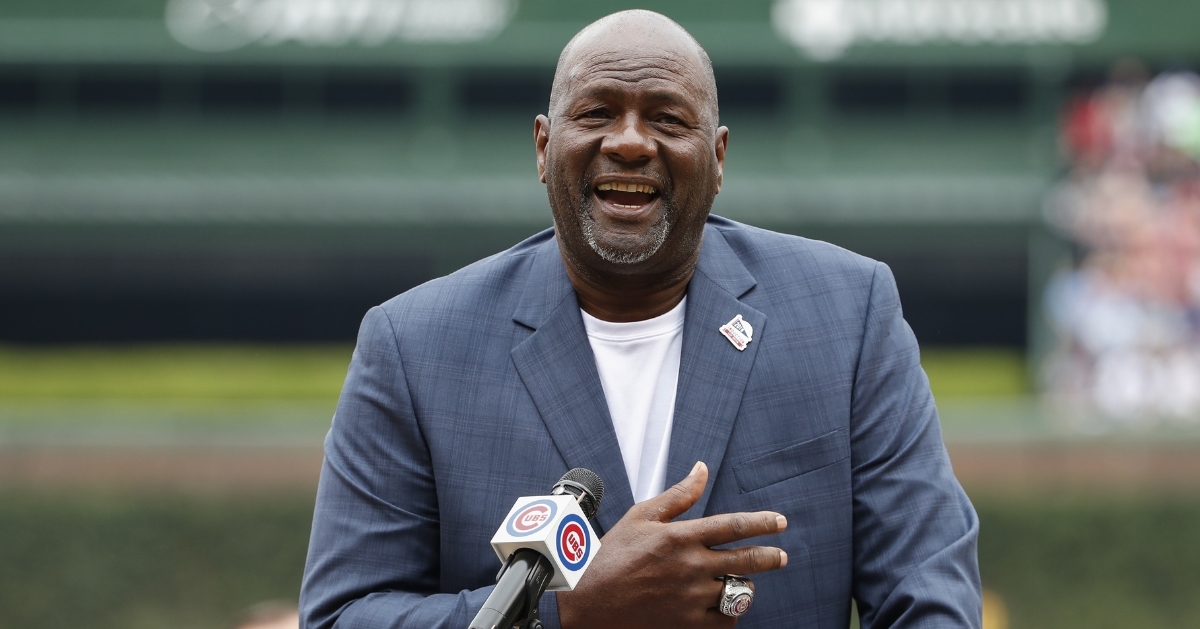 | | |
| --- | --- |
| Cubs News and Notes: Welcome home Zo, Roster moves, Zobrist quotes, Lee Smith's day, more | |
---
| | | |
| --- | --- | --- |
| Monday, September 2, 2019, 9:52 AM | | |
Next Game: > Monday: RHP Kyle Hendricks (9-9, 3.47 ERA) vs LHP Justus Sheffield (0-1, 7.94 ERA). Game information: 1:20 PM CDT; Televised on WGN and SAP WGN.
Sunday's Game Recap:
With a setback on Saturday (2-0 loss), the Cubs looked to buckle-down and secure a series win over Milwaukee on Sunday. The Reds were unable to help the Cubs' cause on Saturday, dropping both games over their doubleheader with the Cards, after leading 2-0 in each game. The Cards and Reds played another doubleheader yesterday, as the teams scrambled to get makeup games in.
Yu Darvish would become a late scratch (arm tightness) and was replaced by Tyler Chatwood. Darvish has apparently been dealing with the issue for his last five starts but has pitched through it.
Cubs pitching coach Tommy Hottovy on Yu pic.twitter.com/G5dqm9Iyqu

— Paul Sullivan (@PWSullivan) September 1, 2019
As per the norm, Chatty got off to a rough start in the first (bases jammed) but pitched his way out of it without allowing a run; by the end of the third, the Brewers were still scoreless and Chatty had already raked a total of seven strikeouts. Gio Gonzalez was having control issues of his own,
walking four men over the course of two innings, but he, too, would escape damage. Nothing-nothing after three.
Chatwood would finally yield a run in the fourth and was promptly removed by Joe Maddon, who chose to give Brad Wieck his Cubs' debut. Wieck was acquired in the deal that sent Carl Edwards Jr. to the Padres (for more on Wieck, see my commentary on grading the roster moves). In addition to trying to keep the Cubs in the game, I'd dare suggest that Wieck's mission was to lower his 6.57 ERA. Yikes. Wieck would grab a K to end the fourth, with the Brewers leading 1-0.
While Chatwood only lasted 4.2 innings, Gio Gonzalez only made it through three. Despite not giving up any runs, Gonzalez was frustrated with his lack of control, and thinking in terms of the win, Craig Counsell turned it over to his bullpen.
For the next handful of innings, the game would remain 1-0 in the Brewers favor, despite both teams having several opportunities to score. The Brewers would, however, get to Craig Kimbrel in the ninth, when Yelich homered with two-men aboard. All down hill from there, baby. Pedro Strop got through the rest of the ninth, but the Cubs' offense remained stagnate. Final score: Brewers-4; Cubs-0.

CUBS NEWS AND NOTES
Cubs/Mariners Probable Pitchers (September 2-3): Tuesday: LHP Jon Lester (11-9, 4.36 ERA) vs RHP Felix Hernandez (1-4, 6.02 ERA). Game information: 7:05 PM CDT; Televised on NBC Sports Chicago.
Cubs/Brewers Probable Pitchers (September 5-8; info only available for the 5th and 6th, thus far): Thursday: LHP Jose Quintana (12-8, 3.90 ERA) vs Chase Anderson (6-4, 4.58 ERA). Game information: 6:10 PM CDT; Televised on NBC Sports Chicago. Friday: LHP Cole Hamels (7-5, 3.69 ERA) vs RHP Zach Davies (8-7, 3.76 ERA). Game information: 7:10 PM CDT; Televised on NBC Sports Chicago.
St. Louis pouring on the steam: Hang onto your hats, boys and girls, this ride is about to get very bumpy. Saturday became disastrous for the Cubs, losing 2-0 to Milwaukee, while St. Louis stole a pair from the Reds (10-6 in game one, then 3-2 in the nightcap). This put the Cubs down 2.5 games by the time Saturday night ended, with the chance that yesterday's action could bury the Cubs by another game-and-a-half.
Same story, different day. As the Cubs were finishing up their 4-0 loss to Milwaukee on Sunday, the Red Birds downed the Red Stockings by a final of 4-3 in their first game of their second-consecutive double-bill with Cincinnati. With that, the Cubs dropped to 3.5 games back (Milwaukee was at 6.5 games back), with each team in a position to lose another half-game with the nightcap. Fortunately, the Reds salvaged one out of the four, winning game-2 by a final of 5-3 (What took you so long?).
Roster Moves: Yesterday, the Cubs activated Ben Zobrist from the restricted list and placed him on the 25-man roster, with the corresponding move being designating OF Mark Zagunis for assignment. Zobrist is eligible to compete in the playoffs.
The Cubs also optioned David Bote to Triple-A Iowa- another head-scratching move, in my opinion. Other moves included:
Daniel Descalso, Albert Almora Jr., Taylor Davis, Robel Garcia, Duane Underwood, Alec Mills, Brad Wieck all added to active roster. Roster now at 33. #Cubs

— Russell Dorsey (@Russ_Dorsey1) September 1, 2019
Hamels on Zo's return: "Thank God I won't be the oldest anymore. That will be nice."
ESPN 1000 Poll: An ESPN 1000 poll asked whether Ben Zobrist's return would (a) Help the Cubs, or (b) Have no impact. With 300 votes cast, 62% say that Ben's return will help the Cubs. Personally, I'm with the 38% that say he'll have no impact.
Ben Zobrist's return will...

— ESPN 1000 (@ESPN1000) September 1, 2019
The Cubs latest streaks: No, don't get excited, this isn't good news. After losing yesterday, the Cubs have now started a two-game losing streak, have lost two-straight series at home, and haven't scored a run in the last 18 innings.
The Cubs' bullpen got lucky this weekend, as they dodged a ton of bullets, but Chicago's offense (unfortunately) deserves the blame this time. I realize that Joe Maddon now has a treasure trove of new faces to choose from, but for whatever reason, the unconventional lineup that he used on Friday yielded seven runs and a win. Field your best nine, Joe, and when something works, please don't change it.
June visit from Ben: It was revealed today that ben Zobrist came and talked to the team in June. Part of Zo's message was that he "…asked them to be patient and told them I would do all I could to get back. I also wanted to let them be, they didn't need me."
Zo on leaving the team in May: "It was a very easy decision to put my family before baseball. That was where my heart was. My heart is here to play now."
Zo's philosophy going forward: "I told Theo, while I'm here I'll give you everything I got. And as soon as I'm out the door, I'm out the door. He gets 100 percent while I'm here."
Where did Yu go? Joe Maddon says that Darvish has been battling arm tightness for over a month now but has been able to pitch through it. While it was bothering Darvish enough for Maddon to scratch him yesterday, Maddon says the Cubs wholeheartedly believe that he'll make his next start. (Whew.)
Maddon very confident Darvish will miss just one start. Precautionary move to scratch him today.

— Jesse Rogers (@ESPNChiCubs) September 1, 2019
Lee Smith Day: Without being at the ballpark, I got the feeling that what became "Ben Zobrist Day" overshadowed "Lee Smith day." Certainly, it was nothing that Zo did, but with the amount of the press coverage and spotlight that was placed on him, Lee Smith's accomplishments appeared to become some sort of side-show.
Lee Smith. #Cubs #HOF pic.twitter.com/pha4SltOGY

— Bruce Miles (@BruceMiles2112) September 1, 2019
Granted, the Cubs could have adjusted Smith's day, but yesterday happened to mark the 39th anniversary of Smith's MLB debut- a debut that he made as a Cub. The other option would have been to have brought Zo up yesterday, but then that would have meant someone had to be optioned, as the official roster expansion occurs on September 1. Just unfortunate, all the way around. Congrats Lee, your number will soon rise above the stands in the outfield.
Join us as we celebrate Lee Smith Day at #WrigleyField in honor of his recent induction into the @baseballhall! https://t.co/yRCxplT0rx

— Chicago Cubs (@Cubs) September 1, 2019
The Brewers "strategy": For some reason, the higher-ups in the Brewers organization have decided to release veteran righty, Jeremy Jeffress, who is currently on the 10-day IL for a hip issue. Jeffress has struggled some this season but had been extremely potent for the Brewers over the previous two seasons, posting a 1.29 ERA in 2018 (76.2 innings pitched). This move comes on the heels of the Crew releasing Jhoulys Chacin earlier in the week.
Baseball Quotes: "If I keep taking my good swings, swing at the right pitches, good things will happen." -Aaron Judge
My motto was always to keep swinging. Whether I was in a slump or feeling badly or having trouble off the field, the only thing to do was keep swinging. -Hank Aaron pic.twitter.com/tTXxMNfYph

— Baseball Quotes (@BaseballQuotes1) August 13, 2019
Cubs Birthdays: Celebrating yesterday, were ex-Cubs Kevin Orie (47), Rico Carty (80), and posthumously, Joe Marty (106).
THIS WEEK'S NL CENTRAL SCHEDULE:
(Wins in green, losses in red)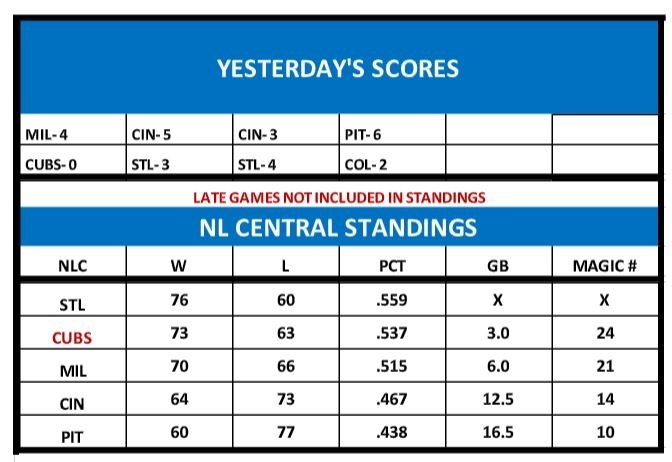 Tags: Cubs Baseball
,
Kyle Hendricks
,
Yu Darvish
,
Tyler Chatwood
,
Pedro Strop
,
,
Jose Quintana
,
Cole Hamels
,
Ben Zobrist
,
Mark Zagunis
,
David Bote
,
Daniel Descalso
,
Albert Almora Jr
,
Taylor Davis
,
Robel Garcia
,
Duane Underwood
,
,
Joe Maddon
,
Tommy Hottovy