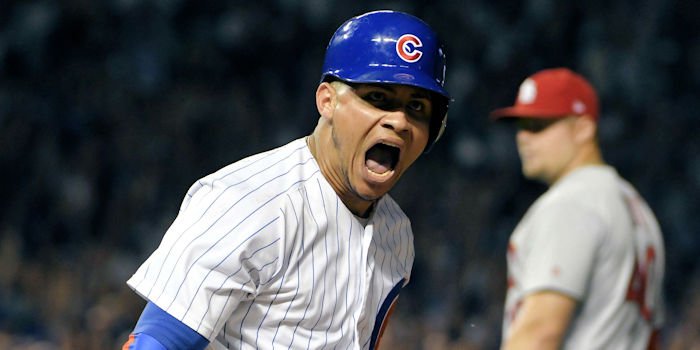 | | |
| --- | --- |
| Cubs News: Catch You Next Year: The Future of Willson Contreras | |
---
| | | |
| --- | --- | --- |
| Saturday, November 17, 2018, 9:35 AM | | |
Do you remember what you were doing when you were 24 years old? Was playing the toughest position in baseball - in the World Series no less - on your list? After six years in the minors, Willson Contreras geared up and caught Jake Arietta, Mike Montgomery, and Aroldis Chapman in game two against the Indians. The Cubs won 5-1, and Contreras had a solid game both behind and beside the plate. Two walks and 12 put-outs. Not bad for a rookie playing in the shadow of fan-favorite David Ross.
With Ross retiring and Miguel Montero unable to keep his foot out of his mouth, the mantle would almost immediately be passed to Contreras as the established starter. He caught 108 games in 2017, followed by an exhausting All-Star year in 2018 with 133 games behind the dish. He quickly established himself as a catcher with a rocket arm, a fiery attitude, and reliable hitter. Being the field general for a team coming off it's first World Series win in 108 years couldn't have been easy, but his 2017 stats were stellar.
During the 2017 season, with 377 at-bats, Contreras hit 21 home runs and had 74 RBI's. He had a .276 average and wound up with a .855 OPS. He added two HR's in the postseason and had 782 putouts for the year. The Cubs and their entire fan base were dazzled; a new gunslinger was in town, and snuffing out base stealers was just one of his highlight reel skills. He could hit, he could stand his ground at the plate, and he could call a game. Watching him fist-pump after an out shot energy through Wrigley and his teammates.
Then 2018 happened. He was the starting catcher on the NL All-Star team, and had arguably the best three months of his career leading up to the break. Yet, sports writers engulfed in minutiae have been money balling him recently. They decry his pitch framing as poor and complain he has lost his swing, among other, apparently less egregious offenses. Speaking as both a fan and a writer, I think such "findings" are meaningless pap. Contreras is the Cubs undisputed – and wildly talented – field general. He is the hardest working, most exciting catcher in baseball bar none.
Anyone remember the great Contreras vs. Molina vs. Posey "controversy"? Before the 2018 season began, Contreras said, "I know I'm going to be better than [Yadier Molina and Buster Posey]. That's my plan. That's my [mindset]."? He caught the contrived flak from that perfectly, and Joe Maddon upped the ante when Contreras was named the NL starter for the All-Star game, declaring, "…I think he is the best catcher in baseball". High praise from a stat-centric Manager.
Consider: By September 10, 2018, Contreras had caught over 1,000 innings of baseball since the opener, more than any other catcher in MLB. He wasn't hitting as well as he had before July 17, but he inarguably worked harder behind the plate than, well, any other catcher in baseball. Imagine being blog-bashed after catching 133 games by sports writers that study stat sheets for a living. He must have been just crushed to read that his bat had gone cold and that he's lousy at framing pitches.
Or not. The one thing no one can say is that Contreras is thin-skinned. To call him a true competitor is an understatement. Further, to start being all Nervous-Nancy about his pitch framing and hitting is absurd. The Cubs and their fans are lucky to have him, period. He brings an energy and baseball IQ to the game that few can or do. Maddon asked a lot of him last year, more than any team in baseball asked of their backstop.
2019 is just around the corner. Pitchers and catchers report in under three months, and make no mistake, Contreras will show up. With a vengeance.