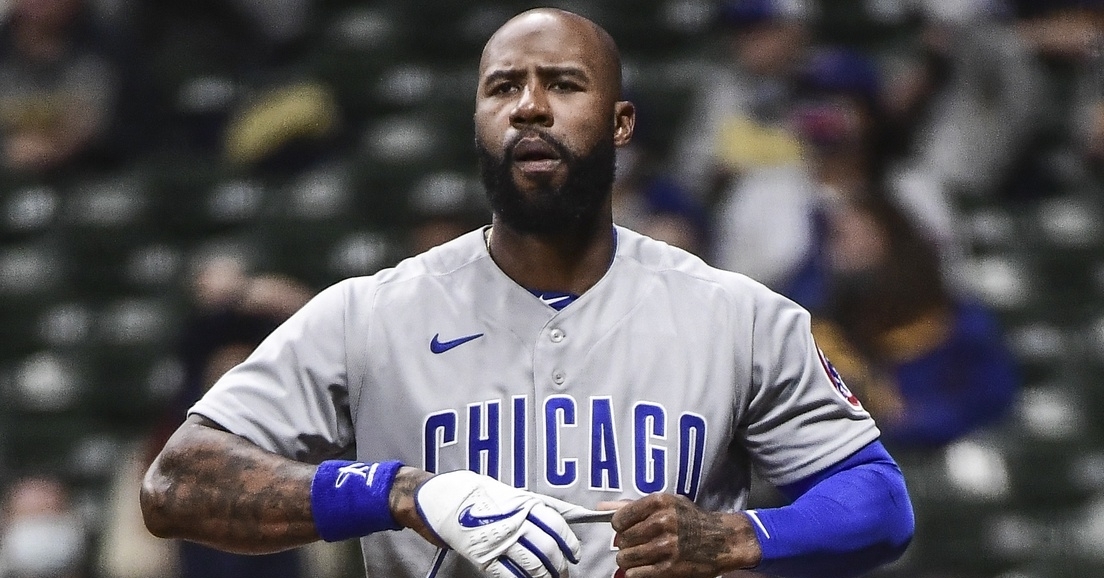 | | |
| --- | --- |
| Cubs News: 2021 Season Report Cards: Jason Heyward, Greg Deichmann, Trayce Thompson | |
---
We have reached the final position of our season report card series before grading out the Cubs pitchers. Today we focus on right field, as this was perhaps the biggest disappointment on the roster. From a 23 million dollar man who continues to underachieve at the plate to several players who chipped in along the way, the Cubs right field position was a liability all season long.
A big reason for their struggles came from Jason Heyward not only having a hard time staying healthy this season, but having a hard time doing anything on offense from start to finish. He did have a one-month run where he was hitting the ball exceptionally well, but outside of that, this was another less than appealing season for him as most Cubs fans are counting down the days until his contract is over.
Jason Heyward
When the Cubs signed Heyward during the 2016 offseason, he was coming off a career year with the St. Louis Cardinals and was looked at as the missing piece for the Cubs lineup. Not only does Heyward bring gold glove defense with him to the diamond every day, but his offense seemed to be trending in the right direction, which is what the Cubs were banking on.
Now six years into his eight-year deal, the Cubs have found out the hard way that dishing out big contracts to average players doesn't work, and they have been handcuffed because of it. Yes, Heyward has flashed his gold glove in right field plenty of times, but even that part of his game is going away.
Add in four seasons where he has done next to nothing offensively with 2019 as the lone exception, and this deal is looking like one of the worst free-agent signings in Cubs history. A .259 career hitter, Heyward tends to have one good season after having a bad season. Next season should be a bounce-back year if that remains true, as this was the worst year of his career.
Across 104 games, Heyward managed to hit just .216 while connecting for eight homers and 30 RBIs. He also walked 28 times compared to 67 strikeouts, as he did next to nothing offensively. With two years remaining on his deal, Heyward needs to have a strong season next year, or it wouldn't surprise me at all to see the Cubs cut ties with him.
Grade F: There are not many instances where I would ever give a player an F for a grade, but this is the one case where I will. Granted, Heyward was hampered by some injuries throughout the season, but even at that, he simply wasn't able to get in a groove. Heyward seemed lost at the plate all season and looked overmatched at best. That is not something you want to see when he has two years left.
There will be plenty of players under the microscope next season, but Heyward will be the one examined the most. The sooner his contract is up, the sooner the Cubs can get back to being big spenders.
Greg Deichmann
Acquired in the Andrew Chafin deal with Oakland, Deichmann was a top 30 prospect in the Athletics organization and was viewed as someone who could challenge for the starting left fielder spot in 2022. Although that can still happen, his first season in Chicago didn't go as planned, hitting just a .133 with one RBI across 14 games.
Digging a little deeper and looking into his Minor League numbers, you will see a guy who performed well, hitting .274 across 94 games with seven homers and 48 RBIs. However, in 30 games with Iowa, Deichmann never seemed comfortable. Not only did he hit just .227, but he added three homers and 13 RBIs.
Grade D-: Hopefully, next year will be better for Deichmann.
Trayce Thompson
One of the surprisingly good mid-season acquisitions made by the Cubs was adding Trayce Thompson to their roster. Older brother of Golden State Warriors guard Klay Thompson, Trayce has bounced between the minors and majors as part of four organizations. While his playing time may be sporadic at best, he has contributed when given a chance, which was the case this year.
In 15 games after getting called up from AAA, Thompson held his own, hitting .250 while adding seven walks and 11 strikeouts. What stood out the most was his power, as he connected for four homers and nine RBIs. Looking at his season in Iowa and that shouldn't shock you as he hit a .233 across 88 games, but hit 21 homers and drove in 63. Both led the Cubs system.
Grade B-: You could argue that Thompson deserves at least a B- for a grade mainly because of his AAA numbers and power numbers in his brief stint with the Cubs. A free agent once again, Thompson will be looking for work in 2022, but I would like to see him back with the Cubs in 2022.