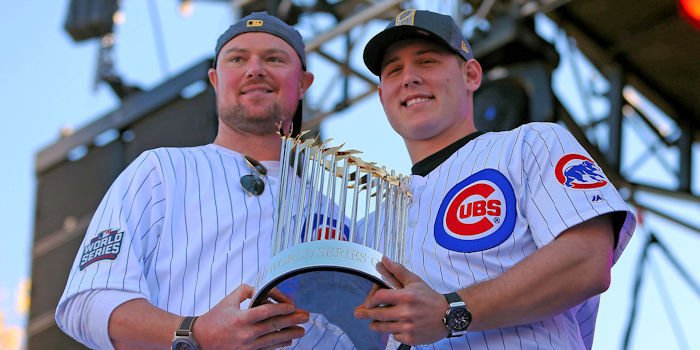 | | |
| --- | --- |
| Cubs News: 2022 playoffs are a good example of the value in spending money | |
---
The MLB playoffs are always a fun spectacle.
Excellent hitting, stellar pitching, and curious coaching are always on display. Unfortunately for Cubs fans, they are not watching their favorite teams share in some of baseball's best moments — instead, their watching teams who have tried to win, something the Cubs did not do in 2022.
While it would be immature and flat-out wrong to say that spending money equals wins — we saw this on display with the Cubs post-2016. Throwing money at free agent fliers to fix organizational infrastructure issues did not work — just look at Brandon Morrow, Cole Hamels, Craig Kimbrel, Tyler Chatwood, Yu Darvish etc.
However, it is no secret that spending money on players is something that team's trying to compete do. And when you try to compete, more wins come.
For example, 12 teams made the playoffs in 2022. Of those 12 teams, nine were ranked in the top 12 of the highest MLB payrolls in 2022. Eight of the top 10 payrolls made the playoffs.
Now the Cubs, despite being in baseball's third biggest market, had just the 14th highest payroll and are in the organization's second rebuild in a decade — all while charging fans the most expensive fan experience to attend games and being one of most exclusive teams to watch on TV.
This article is not about the Cubs' promising prospects, their organizational choice to finally focus on pitching or how long it will be until this team is relevantly competing again — it's about how disgraceful it is for a team that makes that much money to not spend it on trying to win baseball games at the highest level.
The Dodgers won 111 games, the Braves won 101 games, the Mets won 101 games and all three are eliminated — the two teams left in the National League are the Philadelphia Phillies and the San Diego Padres. Despite not being favorites in their own division, both teams have spent money and been aggressive — and are getting rewarded for it in October.
The Padres were baseball's most aggressive team a season ago — acquiring Yu Darvish, Blake Snell, Victor Caratini, Mike Clevinger, Adam Frazier, and Ha-Seong Kim for the 2021 season.
They followed that up by acquiring Sean Manaea, Luke Voit, Juan Soto, Josh Bell, Brandon Drury, and Josh Hader at the deadline in 2022.
The Phillies had a disappointing 2021 and added a ton to their team for 2022. Inking Kyle Schwarber and Nicholas Castellanos to big deals as well as Zach Wheeler — and then supplemented that with acquisitions of David Robertson, Noah Syndergaard, and Brandon Marsh during the 2022 season to make a playoff push.
Point is, these front offices being aggressive despite not even being division favorites has paid off in the biggest way — a chance to play in the 2022 World Series.
And what the Cubs organization — who seems hellbent on making money rather than spending on the product on the field with business ventures in the neighborhood, a sportsbook, hotels, restaurants, a TV network, and joining ownership groups for other franchises — spending money on the teams gets you more money.
Fans are for more inclined to purchase tickets, subscribe to television networks, buy merchandise, go to Wrigleyville and watch the team when they are watchable, have and pay all-stars, play in penant races and are trying to win. That seems self explanatory, but if you sign a player like Trea Turner (who is an incoming free agent) fans are going to buy his jersey, and pay to watch him play.
The Cubs should take a page out of the books of the Padres and Phillies and speed up their return to relevancy.