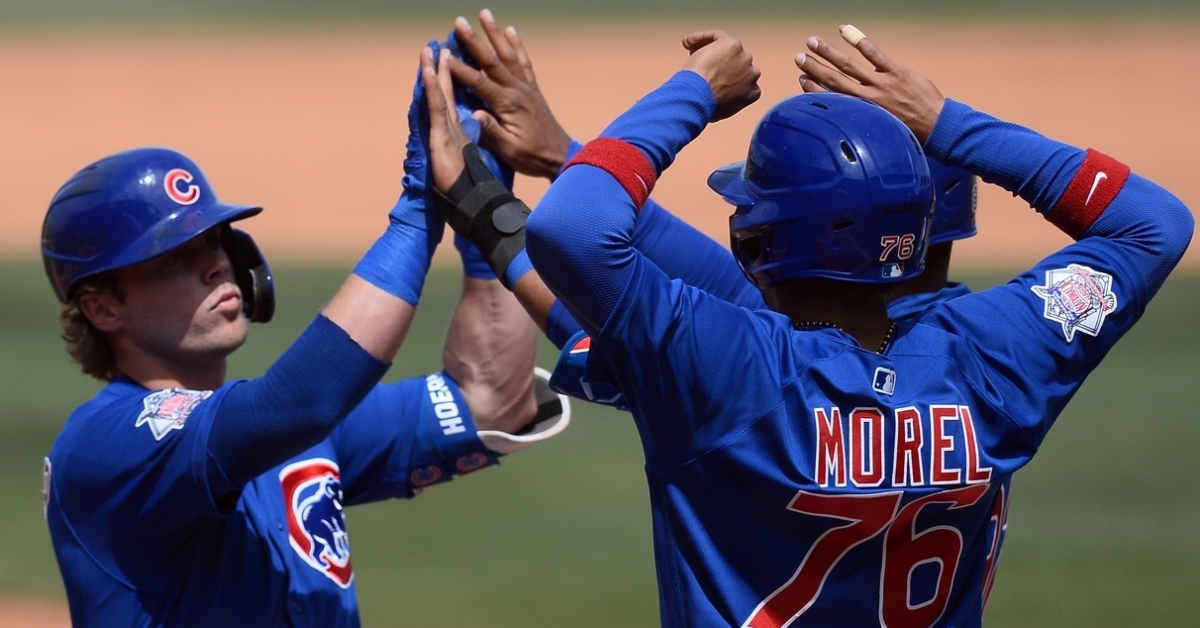 | | |
| --- | --- |
| Cubs Prospect Focus: Christopher Morel | |
---
| | | |
| --- | --- | --- |
| Friday, December 3, 2021, 9:08 AM | | |
One of the more intriguing prospects in the Cubs system is Christopher Morel. Signed as an international free agent in 2015, Morel was viewed as the third basemen of the future for this team, especially when you considered Kris Bryant's versatility to move around the diamond.
After Bryant was dealt to the Giants, it created a void for a long-term fixture at third base, which Morel could very easily fill in the near future. However, that may no longer be his long-term decision with this organization as he spent more time in the outfield this season as opposed to third base.
The once top 10 prospect who was ranked as high as 9th at one point now settles in at No. 20, which goes to show you how much deeper the Cubs system is.
Morel isn't the only Morel in the system, as the Cubs turned around and signed his little brother Rafael a few years later. Not only is Rafael inked for $850,000, but with Christopher signed for $800,000, the Cubs are heavily invested in the Morel family as both could have a bright future with this team.
Despite being signed in 2015, Morel didn't make his professional debut until 2017 as he cut his arm in a household accident, which forced him to rehab for over a year.
Even though he was delayed by two years, Morel has proven to be well worth the wait as he has some of the best overall tools in the system. Not only was he added to the 40-man roster because of those tools in 2020, but he spent the entire season working at the team's alternate training site with no minor league season to be had. Although that was a year without game action, Morel benefitted a lot from that in hopes of breaking out in 2021.
When Morel turned pro, he played in 61 games during the 2017 and hit just a .220 over the process. Average aside, Morel flashed plenty of potential connecting for seven homers and 40 RBIs while adding 23 steals. He also took 35BB compared to 37K, so the patience and plate discipline were there. 2018 was a bit more of a struggle for Morel hitting just .216 over 54 games to go with three homers and 20 RBIs. His 11BB/57K was also a concern as his plate discipline took a drastic hit.
Looking to bounce back; not only did Morel do that in 2019, but he did that in a big way while playing in 73 games for South Bend. Over that season, Morel hit a career-best .284 with six homes and 31 RBIs while swiping nine bases. Once again, the patience at the plate was a growing concern taking 11BB compared to 60K. The sudden improvement from one season to the next was a credit to the work Morel put in during the offseason, but it also showed the type of player he could be.
After having 2020 taken away, Morel returned in 2021 as one of the prospects to watch in the system. During the spring, he saw some time giving the Cubs some quality at-bats and eventually landed with AA Tennessee, where he spent the entire season. Expected to take some bumps along the way, Morel played in a career-high 110 games this season, with 101 of those coming with Tennessee and the remaining nine with Iowa.
His average may not have been where he wanted it, hitting just .223, but his power numbers took a drastic increase as that portion of his game showed up in a big way. Not only did he belt a career-high 18 homers to go with 66 RBIs, but 17 of those homers also came with AA Tennessee as he led the Smokies in both homers and RBIs.
His 45 walks were a nice increase from recent seasons, but his 134 punchouts were also a career-high as he does have some swing and miss to sort through. Morel once again showed off some sneaky good speed with 18 steals and continued to show why he is a highly regarded prospect who is often coveted by other teams looking to make a deal with the Cubs.
If you haven't had a chance to watch Morel play yet, I encourage you to do so next season. He is a right-handed hitter with a smooth swing that produces some of the best bat speed and power in the entire system. Should his plate discipline get back to the 2017 levels and he continues to add strength, you are looking at someone who has the potential to be a .280 hitter and give you 30 plus homers per season.
Primarily a pull hitter, which was exposed at the AA level, Morel has legitimate opposite-field pop and has shown that since the beginning of his career. He gets excellent lift generated from that bat speed and has little trouble going gap to gap with a line drive approach. He needs to get away from the pull-happy approach that he had last season, as that could be the final step of his development.
The thing that most people don't realize about Morel is his above-average speed which has allowed him to swipe plenty of bases. He may be a third baseman by trait, but that speed and overall athleticism will allow him to bounce around the diamond, which he did with Tennessee this season. Versatility may be his best overall asset. He spent 2017 and 2018 playing shortstop and third base before moving to third base in 2019. Then comes 2021, where he moved to the outfield, seeing most of the action in center field. He is a guy that brings plenty to the table and will have no trouble finding a spot on this roster when ready.
https://www.youtube.com/watch?v=TgP11YP63lo
https://www.youtube.com/watch?v=Or_teIWU1vE
https://www.youtube.com/watch?v=3_viPTGB0VU&t=44s