| | |
| --- | --- |
| Cubs Prospect Focus: Ethan Hearn | |
---
| | | |
| --- | --- | --- |
| 2022-01-28 09:33:09.0 | | |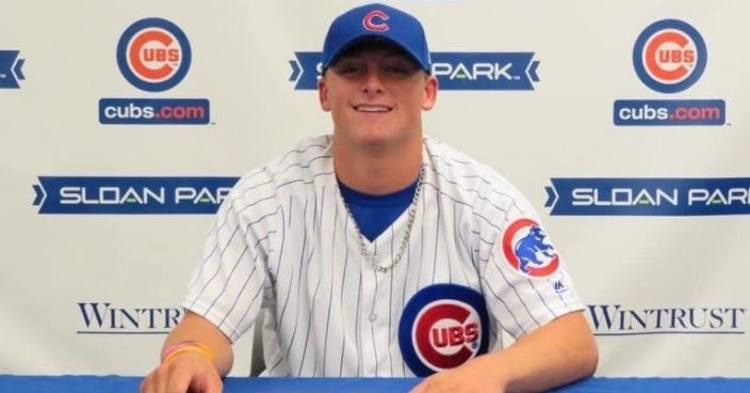 Despite falling to third place in the standings in 2019, that season was very good for the Cubs, especially on the catcher side of things. Willson Contreras was coming off perhaps his best season as a pro, Miguel Amaya was starting to emerge as a legitimate top-five prospect, and the Cubs filled their minor league system with catching depth that can help down the road.
They added the top international catcher in Ronnier Quintero during the IFA period, but they also nabbed the top high school catcher during the draft to give the Cubs plenty of options for the future. 21-year-old Ethan Hearn was that top high school backstop, and the Cubs drafted him in the sixth round of the 2019 MLB draft because of it.
At the time, Hearn was a highly regarded prospect who entered 2020 as the team's number 18 overall prospect. After making a few trades and adding more pieces, Hearn fell out of those rankings, but has the potential to land back in the top 30 this season. Considering he was ranked the top high school catcher on the market, Hearn was projected to go in the first three rounds, given his talent level alone.
Once he fell to the sixth round, most teams felt he would honor his Mississippi St. commitment. However, the Cubs had other plans and signed him to a second-round slot value of 960,000, making it hard for him to pass up. That signing proves the Cubs not only see plenty of value in him, but wanted to make sure they would be able to hold on to him as opposed to another team drafting him a few years later.
A few weeks after being drafted, Hearn wound up in the ACL where he split time with the ACL Cubs 1 and 2 teams. Like most high schoolers that make the jump from Prep ball to professional ball, Hearn struggled over the summer, but few expected him to struggle as much as he did. Across 23 games and 80 at-bats, Hearn hit a .163 with a microscopic .286 OBP. He managed to hit two homers and drive in 14, but his 36 strikeouts were the most among rookies that season as he nearly struck out 50% of the time.
The Cubs knew Hearn would struggle, but not at the magnitude he did, which meant he was not only a prospect, but a project. 2020 could have been an enormous year for Hearn had there been a season, but after COVID took care of that, he had to sit for a season while working on things at home. Once 2021 began, Hearn came into camp in great shape and looked impressive, so the Cubs sent him to Myrtle Beach that summer.
Not only did Hearn nearly triple his games, playing in 63, but he logged almost 200 at-bats which is more than a small sample size. If you thought his first season was a mess, then this one was worse as he hit .176 for the season with a .271 OBP. Hearn started to display that raw power a bit more, hitting six homers to go with 33 RBIs, but his 22 walks and 100 strikeouts show a lack of discipline as he struck out more than 50% of the time this season. That will have to change in a hurry if he wants to make it in this league.
One of the biggest reasons the Cubs drafted him was his raw power from the left side of the plate. He generates plenty of bat speed and strength that allows him to drive the ball all over the field even if that hasn't come yet. Although the raw power is there, Hearn has been overaggressive and way too pull-happy since turning pro. The results from that are a high strikeout rate and a higher than average ground ball rate which is not his game.
That is going to be the biggest key to his development. Yes, the pull side power is where his strength is, but he has the power to go to all fields. If he can stay aggressive, but relax a lot more, you are looking at a catcher who can give you 20 plus homers from the left side of the plate for years to come.
The other parts of his game are often overlooked as Hearn is an excellent defensive catcher for his age. Sure, his speed is typical for a catcher, but he is extremely athletic behind the plate and moves very well. He lacked concentration as an amateur at times, but showed a lot more focus, especially at Myrtle Beach to become a better receiver.
One thing that separates him from perhaps the rest of the catchers is his throwing ability behind the plate. Not only does he possess a strong and accurate arm, but his quick release makes it next to impossible to steal bases consistently off him. His 1.9 pop-times to second base is close to Yadier Molina company and is slightly ahead of Contreras. That is something the Cubs will lean on for the next several years. Now they are hoping the bat follows.