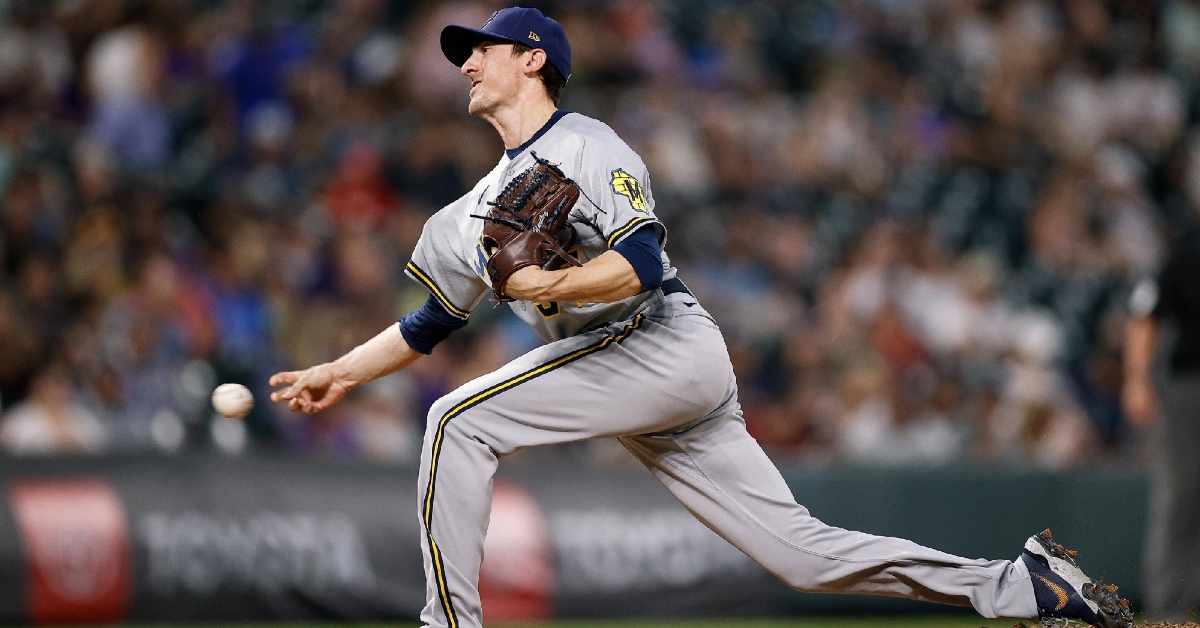 | | |
| --- | --- |
| Cubs sign former Brewer Eric Yardley to Minor League deal | |
---
Not only has news on the MLB side of things started to pick up as the two sides continue to talk, but we could start seeing minor league news pick up also. Earlier in the week, we found out that the Frontier League is introducing sudden-death baseball, which is very intriguing when you think about it. Outside that, there hasn't been a ton of minor league news to follow, especially when it comes to player signings.
However, the Cubs have made a deal, and it is a sneaky good move if you ask me as they have signed former Milwaukee Brewer reliever Eric Yardley to a minor league deal. It has been a while since we could announce a signing by the Cubs, but he is one of those signings that is allowed per MLB lockout rules.
The 31-year-old Yardley is not a power arm, but is one of the best when it comes to pure deception on the mound. He is the definition of a sidearm pitcher and someone the Cubs are hoping can build off a solid run with the Brewers. His sidearm style makes it tough on hitters, but he generates plenty of ground ball action to go with soft contact. That bodes well at Wrigley Field, especially on days when the wind is blowing out.
Yardley gets impressive results and is a pure contact manager where he knows how to get the softest contact. He registered an eye-popping 60% ground ball rate a season ago, which is unheard of for anyone. Yardley was a long-time Padres farmhand before signing with the Brewers in 2020. Despite his age, he doesn't have a ton of experience in the majors, as most of his experience and success came at the minor league level.
It wasn't until 2019 when he reached the show for the first time and has appeared in the majors every season since. Going back to 2019, Yardley had a small sample size, but produced well enough to draw the attention of other teams. Over 10 games that season, Yardley went 0-1 with a 2.31 ERA and induced 64% of his as ground ball outs.
The Padres took a long look at those numbers and considered adding him to their 40-man roster for 2020. That was not the case, and the Brewers ultimately pounced on him to claim him off of waivers. That worked out really well for them as Yardley had a break-out season in 2020, turning the heads of many people.
Although it was a COVID shortened 2020 season, Yardley saw plenty of action appearing in 20 games and tallying 23 1/3 innings of work in the process. He posted a 2-0 record with a career-low 1.54 ERA, so Yardley was doing something right. Along with that came a career-high strikeout rate and a ground ball rate north of 61% as Yardley was emerging as a trusted option for Craig Counsell out of the pen.
One year later, Yardley was back with the Brewers as he was looking to build off an impressive 2020. Things didn't go as planned last season as Yardley bounced between AAA and the major league team, but had significant struggles at the major league roster. Yardley was limited to just 17 games in 2021, totaling just over 18 innings in the process. Not only did he have a career-high walk rate and a career low strikeout rate, but his ground ball rate dipped below 60%.
That means Yardley was much wilder last season, but the hard contact rate was also rising. When you post a 6.75 ERA, you can see why he spent more time in the majors than in the minors. This signing is not going to wow anyone, but you can see why the Cubs did it. By adding Yardley, you are bringing in a guy who has pitched in the majors the last three seasons and has had some success along the way.
Not only that, but the minor league side of things in terms of success is a good thing as it gives the Cubs more options on the minor league circuit to play around with. As we await Major League baseball to end this lockout, these are the signings fans like to see. They are flyer deals that don't hurt the team at all, and could pay off. You are looking at moves that will help this team in 2022.