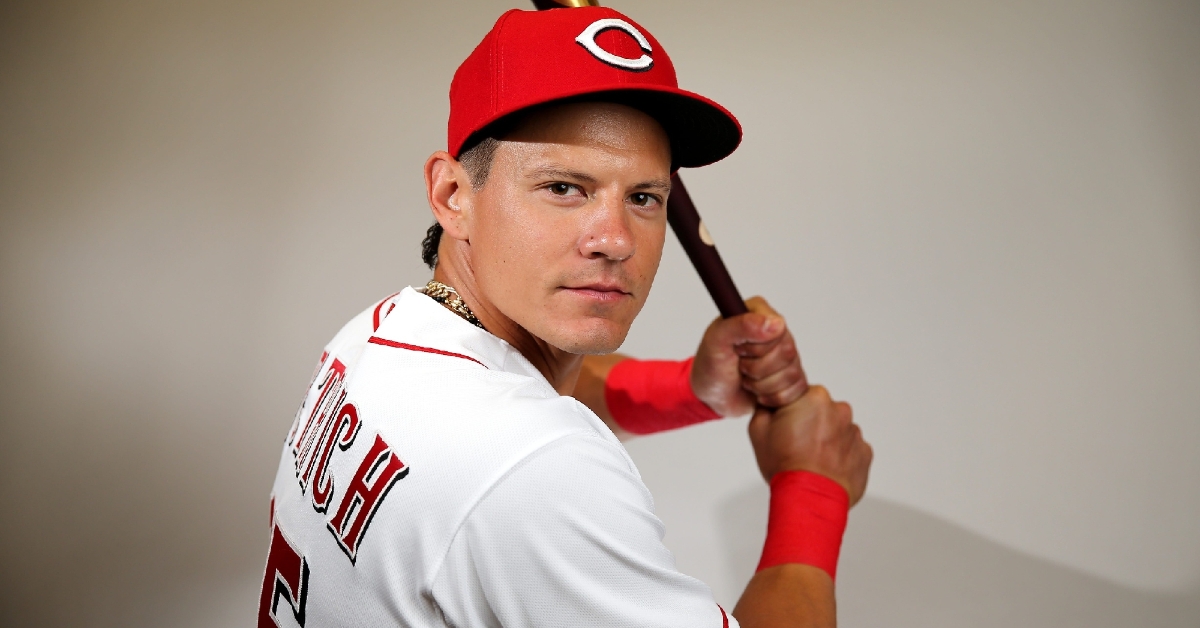 | | |
| --- | --- |
| Cubs sign veteran utility player right before season opener | |
---
| | | |
| --- | --- | --- |
| Friday, July 24, 2020, 8:28 AM | | |
In the parallel universe that we are living in this summer, anything is possible at this point. As the Cubs are getting ready to open the 2020 regular season against Milwaukee today, Chicago made an under the radar signing late last night, inking the recently released Derek Dietrich to a Minor League deal.
With the Cubs initial 30-man roster set, there is no telling when Dietrich will arrive at South Bend or what the Cubs plan is for him, but I honestly like the signing. When David Ross released the opening day roster last night, I was surprised by a couple of things. The first thing I was surprised about was Chicago going with 16 pitchers and 14 hitters. That took one bench spot away, which I thought would be Ian Miller's. He is now at South Bend camp as the Cubs are set to begin the season.
With rosters shrinking to 28 in two weeks and then 26 two weeks after, there is no telling if this 16 pitcher decision is here to stay long term or if Ross may decide in a week or so to drop one pitcher for another position player. If that is the route, he elects to go with look for Dietrich to be an option to fill that final roster spot.
With Daniel Descalso being placed on the 45-day IL, there is no reason to expect we will see much this season, making it easier to land on the big squad this summer. Dietrich not only can play second base but gives the Cubs the utility man option they have loved to have ever since Ben Zobrist set the team's mold for that position in 2015.
Dietrich has always been a thorn in the Cubs side, especially when he was with the Reds last season. Not only is he a multi-positional player, but he is a heck of a pinch hitter who was often called upon late in games to make something happen. Even if he didn't put the bat on the ball, Dietrich was great at getting on base as he was not afraid to get hit by pitches leading the league in that category. Once on base, Dietrich played with a reckless approach that toed the line of dirty at times, but that is the kind of emotion the Cubs need on this roster.
Since the signing happened last night and the opening day roster is set, it remains unclear how long it will take for Dietrich to get to the Cubs. With COVID testing still a thing, I anticipate that he will need to get tested and wait for the results before joining South Bend. We have seen how long that can take and some of the testing complications that have arisen all summer.
Once he gets to South Bend, the next question remains how long will he stay there? I expect him to be there at least a few days to get some live action before the Cubs consider bringing him up. Unless the Cubs decide to drop a pitcher or drop their third catcher in Josh Phegley, there isn't a spot on the roster right now for Dietrich, so Chicago doesn't have to rush to make a decision.
However, at some point this season you are going to want his bat on your team in some capacity whether you trade away someone and need him there, you feel the need to have him there because of other players struggling or released (Jason Kipnis) or the most likely course of action some injury occurs to someone on this roster.
I think option two or three is the most likely scenario at this point as injuries will happen to this team. When you go through what every squad did this offseason, it is not a matter of if, but when these injuries will occur. Once they do, you need big-league ready players to step in immediately, and Dietrich will be the Cubs primary option from South Bend, I'm sure.
The other reason to bring him in has to do with COVID itself as the Cubs have been lucky not to have a single-player test positive right now. What happens when that does happen? Not only will that player have to quarantine, but there is a chance other players may get it at that point as well. That is where the Taxicab roster will fully come into play, and you can bet Dietrich knows his position on this team right now and knows he must be ready.
I am not going to sit here and tell you what the Dietrich plan is because I don't even know that. What I can say is Dietrich is a great bench option that I have wanted the Cubs to sign in the past. Now that they have, I would like to see what he can do. With guys like Descalso, Souza JR, and Kipnis all on one-year or the final year of their contracts, roster spots will be open next season. I think Dietrich is undoubtedly capable to not only lock down one of those spots next season but could end up signing a multi-year deal with the Cubs if things go right in 2020 for him.
Cubs' deal with Dietrich is a Minor League pact. He'll be joining the South Bend group. Team hasn't officially announced. pic.twitter.com/0txEQ0l4K4

— Jordan Bastian (@MLBastian) July 24, 2020
Derek Dietrich on the #Cubs. Reminded me of his intro to @VictorCaratini in 2018 where @WContreras40 was ready and @KrisBryant_23 got into a tickle fight w Starlin Castro. Lol. @BleacherNation @realcubsinsider @WatchMarquee pic.twitter.com/Rel6CaNm9k

— MBDChicago (@MBDChicago) July 24, 2020
Hit By Pitchers Leaders (since 2016)
1. Derek Dietrich 88
2. Anthony Rizzo 87
3. Kris Bryant 65

— Uncle Jeff (@ebsoftball) July 24, 2020
When you go 2015-present...
Hit by pitch leaders

117 Anthony Rizzo
101 Derek Dietrich
74 Kris Bryant
74 Brandon Guyer#Bruizzo

— Christopher Kamka (@ckamka) July 24, 2020